10% of VA employees seek exception to the coronavirus vaccine mandate
by
Nikki Wentling
Stars and Stripes
November 30, 2021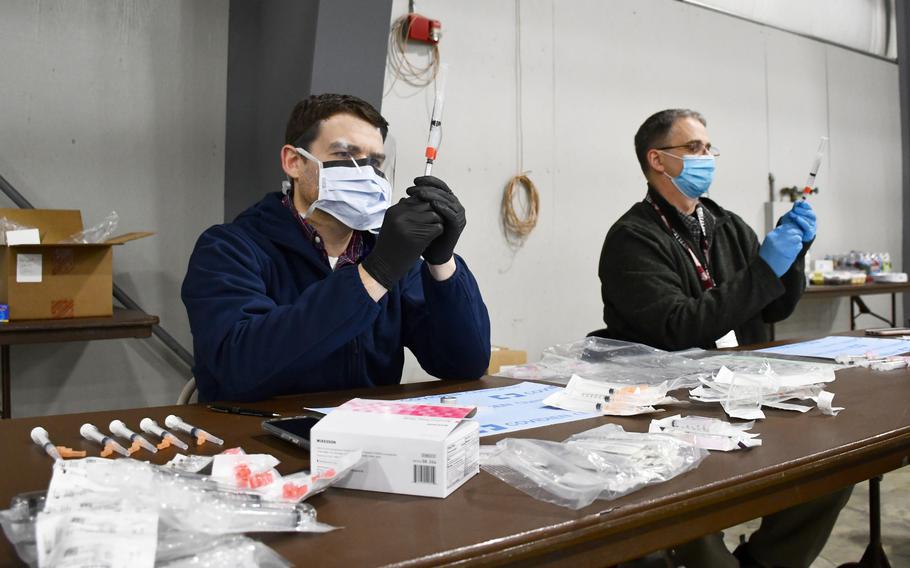 WASHINGTON – About 10% of employees at the Department of Veterans Affairs have requested an exception to the federal policy that government workers must be vaccinated against the coronavirus.
The VA has one of the lowest vaccination rates among all federal agencies. According to data released Monday by the Office of Management and Budget, only one agency – the Social Security Administration – has a lower rate than the VA.
As of last week, 87.8% of the VA's 426,000 employees had received at least one dose of the coronavirus vaccine. About 52,000 haven't gotten any shots.
VA Press Secretary Terrence Hayes said Tuesday that about 10% of employees, or 42,600 people, have requested a medical or religious exception. The remaining employees haven't complied with the policy to share their vaccination status. Those workers are going through a disciplinary process, which begins with counseling, Hayes said.
VA Secretary Denis McDonough said during a news conference earlier this month that, in most cases, the exception requests would not be questioned. The VA will only deny requests in instances where there aren't enough vaccinated health care workers to treat veterans, he said.
"There are certain areas in the administration of health care – oncology, intensive care, spinal cord injury facilities, community living centers – where it's possible the concentration of religious exceptions reaches a level that we can't assure veterans we've done everything we can to ensure their safety because not enough staff are vaccinated," McDonough said. "If that's the case, we have no choice but to deny the religious exception."
If their exception requests are denied, employees will have a "reasonable timeframe" to be vaccinated and come into compliance, Hayes said.
The deadline for all federal workers to be vaccinated was Nov. 22. A spokesman for the Office of Management and Budget said Monday that 96.5% of the federal workforce had complied. Some employees had begun the disciplinary process, but any suspensions or removals won't occur until 2022, the spokesman said.
---
---
---
---