ANALYSIS
Duterte turns Philippines toward US again as his term ends and China policy sours
by
Seth Robson
Stars and Stripes
November 4, 2021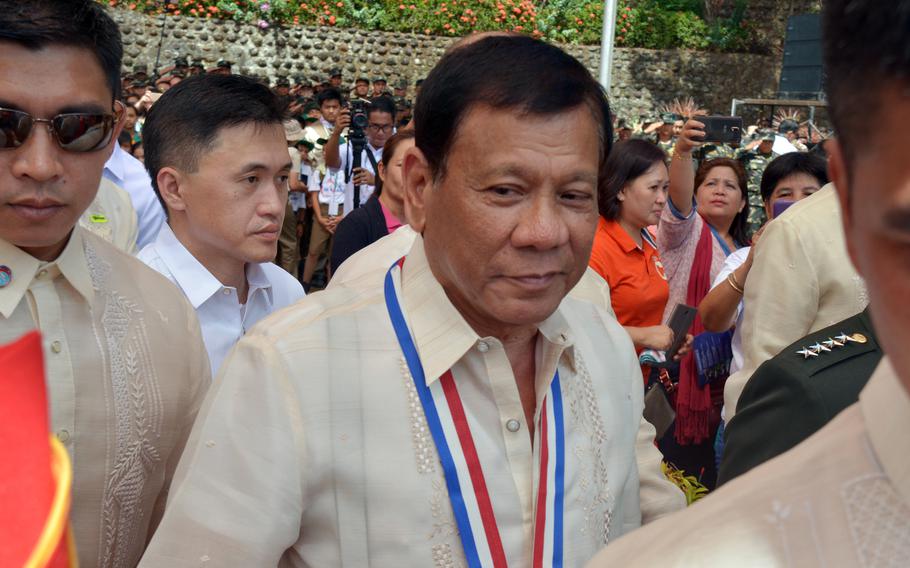 Philippines President Rodrigo Duterte is pivoting his country back to its longtime ally the United States after years of wooing China failed to bear fruit, according to defense experts.
The maverick leader began his term in 2016 by hurling insults at then-U.S. President Barack Obama and offering warm words to America's strategic competitors.
"I realign myself in your ideological flow and maybe I would also go to Russia to talk to [President Vladimir] Putin and tell him that there are three of us against the world — China, Philippines, Russia," Duterte said that year on his first trip to Beijing.
As he prepares to step down after six years in office, however, the Philippine strongman has "effectively ended" his China-friendly policy, a senior defense analyst at the Rand Corp. argues.
"Now, just as easily as he flipped one way, he's flopping the other," Derek Grossman wrote in a commentary posted Tuesday on Rand's website, "… and he's doing his best to align the Philippines with the United States again."
The evidence for that includes recent visits by top U.S. military leaders, the Philippines' endorsement of the AUKUS defense pace between Australia, the United Kingdom and the U.S., and plans for expanded bilateral military exercises next year, Grossman wrote.
In July 2020, Duterte authorized his Department of Foreign Affairs to call on China to recognize an international tribunal's rejection in 2016 of Beijing's claims to areas of the South China Sea inside the Philippines' exclusive economic zone.
He told the U.N. General Assembly two months later that the ruling was "beyond compromise."
During an online conference in September, Philippine Ambassador to the United States Jose Manuel Romualdez said the U.S. and the Philippines "plan to move fairly quickly" on facilities for U.S. forces at five Philippine bases that were authorized under the 2014 Enhanced Defense Cooperation Agreement.
The head of U.S. Indo-Pacific Command, Adm. John Aquilino, visited the Philippines in late August and last month said the U.S. wants to "increase the complexity and scope" of exercises in the islands and invite new partners to join, Bloomberg reported Oct. 14.
Duterte's pro-China policy failed to clinch a deal on joint prospecting in the South China Sea or persuade the Chinese to fund infrastructure projects in the Philippines through its Belt and Road initiative, Grossman wrote.
Meanwhile, China has continued to send its maritime militia into waters claimed by the Philippines and, in January, authorized its coast guard to fire upon foreign vessels.
In March, more than 200 Chinese fishing boats moored at the disputed Whitsun Reef.
"Duterte thought he could play China against the U.S. but ended up being played by China," Ralph Cossa, president emeritus of the Pacific Forum think tank in Hawaii, said in an email Wednesday.
China made Duterte look bad and never delivered on many of its promises, he said.
"Meanwhile support for U.S. runs deep among Philippine people and especially among military," he said, adding that the pro-China, anti-U.S. position isn't a vote-getter in the Philippines.
However, the Philippines can't afford to shun China, its biggest trading partner, said Patricio Abinales, a professor at the University of Hawaii's School of Pacific and Asian Studies, in an email Wednesday.
"What the Philippines is doing is returning to the pre-Duterte approach of dealing with China — the international court, diplomatic pressure," Abinales said, "all of which will irritate China but not to the point of ending a mutually beneficial trading relationship."
---
---
---