AUKUS defense pact draws support from some Southeast Asian nations, concern from others
by
Seth Robson
Stars and Stripes
September 21, 2021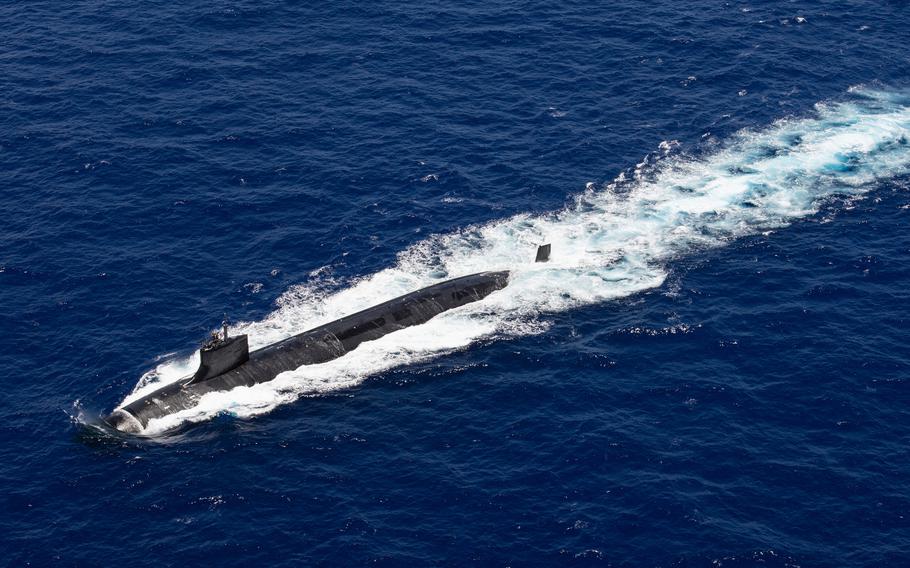 TOKYO – Some Southeast Asian nations are concerned a new security agreement between the U.S., Australia and the United Kingdom could lead to an arms race and more aggression in the region.
The three allies announced the AUKUS alliance last week to help Australia build its first nuclear-powered submarines with assistance from the United States and Britain. The deal provoked an angry response from China, widely seen as the threat that the nations are focused on, but leaders in Indonesia and Malaysia have also expressed concerns.
Indonesia's Foreign Ministry, in a statement Friday, called on Australia to continue meeting nuclear non-proliferation obligations. It said Indonesia "is deeply concerned over the continuing arms race and power projection in the region."
Malaysian Prime Minister Ismail Sabri Yaakob told Australian Prime Minister Scott Morrison on Friday that "AUKUS could potentially provoke other powers to act more aggressively, especially within the South China Sea region," Japan's NHK broadcaster reported Monday.
Some Southeast Asian nations, including Thailand and Vietnam, didn't immediately comment on AUKUS. Singapore, however, issued an upbeat statement Thursday, detailing a phone call that day between Prime Minister Lee Hsien Loong and Morrison.
Loong told Morrison that he hoped the new deal would "contribute constructively to the peace and stability of the region and complement the regional architecture," according to the statement.
Philippine National Defense Secretary Delfin Lorenzana in a call with Australian Defence Minister Peter Dutton on Friday acknowledged Australia's right to improve its submarine defense and noted that the Philippines is also building capability to protect its territories, according to a statement from the Philippines' Department of National Defense.
China has occupied and built military facilities on South China Sea islands claimed by its neighbors, including the Philippines – acts deemed a violation of international law by a United Nations tribunal.
However, Lorenzana told Dutton that Manila wants good bilateral defense relations with all countries in the region, according to the statement.
The U.S. military believes the agreement with the Australians and the British will add to deterrence in the Indo-Pacific, Pentagon press secretary John Kirby told reporters during a briefing Monday.
"It'll improve the Australian navy's reach and their warfighting capability, their defensive capability," he said. "And that's all to be welcomed in that particular part of the world. Given the dynamic, intense security environment that exists."
Paul Buchanan, an American security analyst based in Auckland, New Zealand, said Southeast Asian nations are worried about an arms race involving big-ticket items such as aircraft carriers and the potential for nuclear proliferation, since the new Australian submarines will likely involve weapons-grade enriched uranium.
"It is doubtful that the Australians would go that route given their commitment to a nuclear weapons free South Pacific," he said in an email Tuesday. "But just having a constant nuclear presence in and around the South China Sea, Malaccan Straits, Malay Archipelago, Solomon, Bismarck and Coral Seas will raise concerns that others may follow suit with a move to nuke-propelled platforms."
India already has a nuclear-powered submarine and South Korea may also be interested in developing the technology, Buchanan wrote.
"The concern is not just about an arms race but an arms race that may progress into acquisition of nuclear-powered platforms by current non-nuclear States," he said, listing Malaysia, Indonesia and South Korea as examples.
Such a move could lead to nuclear weapons acquisition if tensions continue to increase, regardless of U.S. security guarantees, Buchanan added.
"All of that could lead to … increased chances of conflict as China tries to maintain its strategic gains in the Indo-Pacific but is forced to increase its presence in the face of… containment strategies focused against it," he said.