Philippine president reverses decision to end US defense pact during Austin's visit
by
Seth Robson
Stars and Stripes
July 30, 2021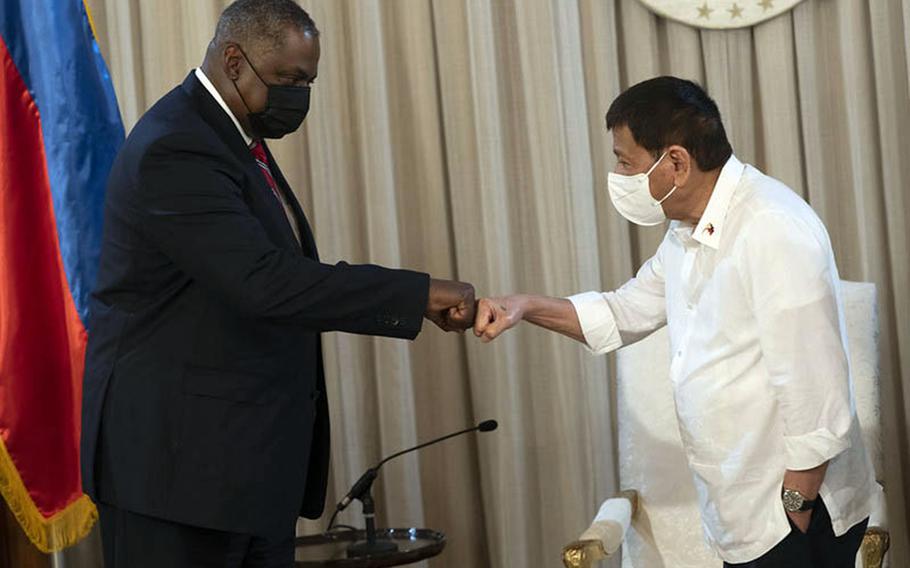 Philippine President Rodrigo Duterte has withdrawn a longstanding threat to cancel a defense agreement that allows U.S. military forces to train in his country.
The decision on the Visiting Forces Agreement, or VFA, was announced by Philippine Defense Secretary Delfin Lorenzana at a joint press conference Friday with his U.S. counterpart, Lloyd Austin, in Manila.
"The president decided to retract or rescind the VFA termination," Lorenzana told reporters during the conference, which was streamed online. "We are back on track."
The agreement, which governs bilateral training such as the annual Balikatan exercise, U.S. Navy port calls at Subic Bay and U.S. Air Force operations out of Clark Air Base, has been under a cloud since January 2020, when Duterte threatened to scrap it.
Its reprieve is the latest swing for an alliance that has been on shaky ground since the strongman took office in 2016.
Duterte began his presidency by insulting U.S. leaders and stating his intention to move closer to China and Russia.
That hasn't gotten much traction with China, which has continued to occupy and enlarge artificial islands in the South China Sea that belongs to the Philippines, according to a 2016 international court ruling.
Philippine diplomats in March protested after 220 Chinese fishing vessels were spotted by the Philippine coast guard near Julian Felipe Reef in the Spratly Islands.
Also called Whitsun, the boomerang-shaped reef lies about 175 nautical miles west of the Philippine province of Palawan, and inside the Philippines' exclusive economic zone.
Lorenzana that month told the vessels to sail away and for the Chinese to "leave our sovereign territories and abide by international law."
At the press conference Friday, Austin thanked Duterte for the decision on visiting forces and offered condolences following two recent military plane crashes in the Philippines.
"Our countries face a range of challenges, from the climate crises to the pandemic and, as we do, a strong, resilient US-Philippine alliance will remain vital to the security, stability and prosperity of the Indo-Pacific," Austin said. "A fully restored VFA will help us achieve that goal together."
The U.S. and the Philippines canceled Balikatan last year but held a scaled-down version of it this year due to concerns about the coronavirus.
On July 16 and 17, the United States delivered 3,240,850 doses of the one-shot Johnson & Johnson vaccine to the Philippines as part of its worldwide effort to help end the coronavirus, according to a July 19 statement from the U.S. Embassy in Manila.
Pacific Partnership 21, the annual U.S-led multinational humanitarian assistance and disaster-relief preparedness mission in the Indo-Pacific, kicked off Wednesday with an exchange of medical experts at Manila Naval Hospital, the Indo-Pacific Command said the next day.
The Military Sealift Command expeditionary fast transport ship USNS City of Bismarck arrived there July 14 and exercise participants conducted a 14-day quarantine as protection against importing the coronavirus, the command said.