Japan scrambled more fighters to intercept Chinese aircraft over the summer
by
Matthew M. Burke and Mari Higa
Stars and Stripes
October 20, 2021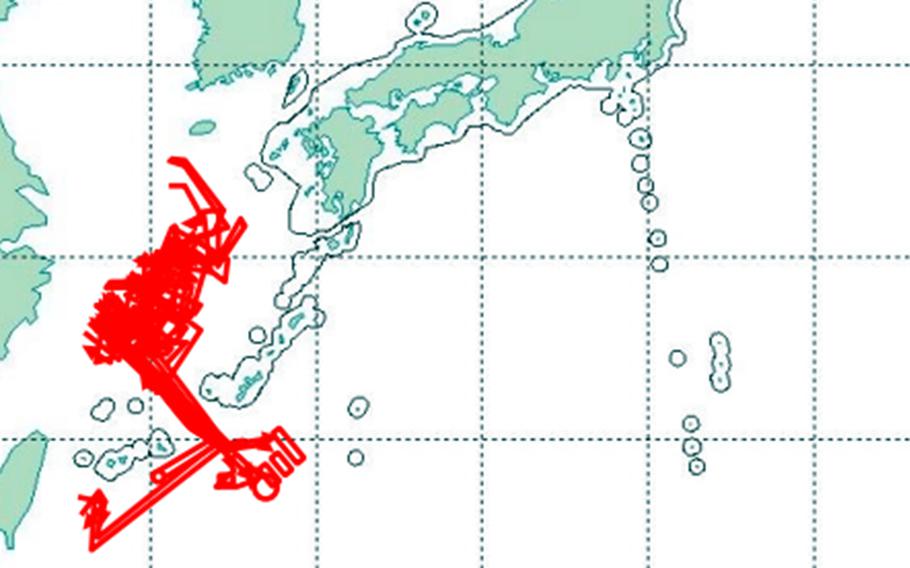 The number of fighter jets Japan scrambled to intercept Chinese aircraft approaching its airspace rose sharply over the summer, reversing months of declines, according to Japan's Ministry of Defense.
The Japan Air Self-Defense Force launched fighters 187 times between July 1 and Sept. 30, the second quarter of the current fiscal year, to intercept approaching Chinese drones, fighters, bombers and surveillance planes, according to statistics released Friday by the ministry.
That's nearly twice as many as the 94 sorties flown in the first quarter, between April 1 and June 30. A sortie is a single mission by a single plane.
Japanese Defense Minister Nobuo Kishi told reporters Friday that China was expanding its reach not only above the East China Sea but also above the Pacific Ocean and Sea of Japan.
"Chinese aircraft continue to be active," he said. "Long hours and long-distance flights were also confirmed."
Japan's Joint Staff could not be reached for comment this week, but security expert Toshiyuki Shikata, a former lieutenant general for the Japan Ground Self-Defense Force, said the rise in sorties is alarming.
"China is trying to show that they have power over the sea," he told Stars and Stripes by phone Tuesday. The increase in Chinese aircraft approaching Japanese airspace probably has "something to do with Taiwan," he said.
Taiwanese forces were on alert early this month after 149 Chinese warplanes entered its airspace over a four-day period beginning Oct. 1. Foreign Minister Joseph Wu said the self-ruled island, claimed by China, was preparing to defend itself against invasion.
The increasing flights may be a response to recent joint exercises between Japan, the U.S., the U.K. and the Netherlands, Shikata said. The Royal Navy aircraft carrier HMS Queen Elizabeth visited Japan in September, which rattled Beijing.
"Both sides are demonstrating and showing off power to each other," he said.
Through the first six months of this fiscal year, Japanese pilots responded more than twice as frequently to approaching Chinese aircraft, 281 times, than they did to approaching Russian aircraft, 102 times, according to the ministry's statistics.
During the same period in 2020, Japan launched 234 flights to counter Chinese aircraft and 134 for Russian aircraft.
While those numbers continue to climb, they're short of fiscal 2016, the peak year for Japanese intercepts. Japan logged 1,168 intercepts that year, the most in a single fiscal year since 1958, according to ministry statistics. Of those, 851 were flown against Chinese aircraft.
Numbers fluctuated in the intervening years from 500 in 2017 to 458 in fiscal 2020. Sortie numbers ticked up in fiscal 2018 and 2019 to 638 and 675, respectively.
Shikata believes the recent increase in Chinese flights challenging Japanese pilots may be the start of a new cycle of one-upmanship. Japan will have to increase sorties accordingly, he said.
"I think China will increase their activities in the region especially after the 2022 Olympics," Shikata said. "China wants to successfully host the Olympics, so they are not going to actually do anything apart from demonstrating their power, but China will be tougher on Taiwan after the Olympics."