Chinese, Russian warships pass together through narrow Japanese strait for first time
by
Seth Robson
Stars and Stripes
October 19, 2021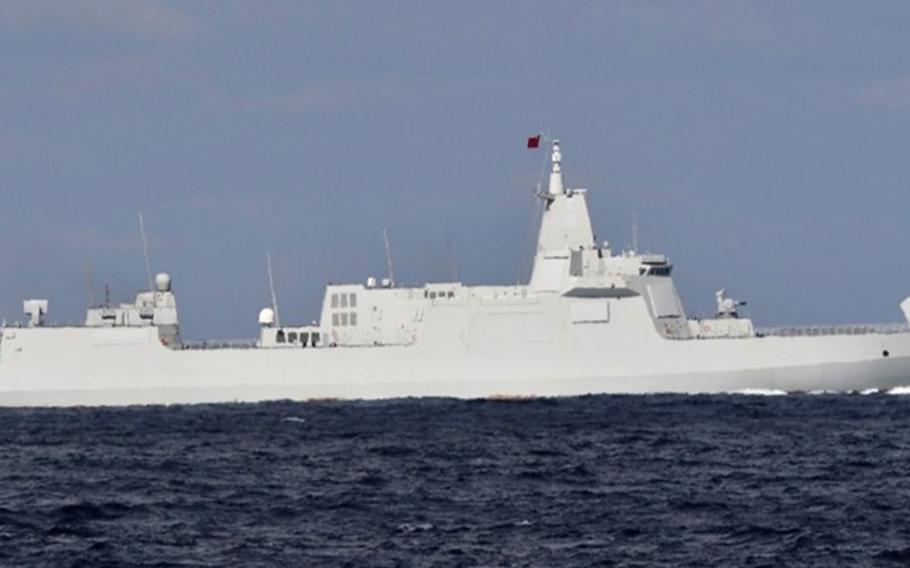 TOKYO — A flotilla of Russian and Chinese warships transited a narrow waterway separating the major Japanese islands of Honshu and Hokkaido for the first time on record Monday, according to the Japanese government.
Five Russian and five Chinese vessels, including destroyers and frigates, passed through the Tsugaru Strait — 12 miles wide at its narrowest point — from the Sea of Japan to the Pacific Ocean, Japan's deputy chief cabinet secretary Yoshihiko Isozaki said during a news conference Tuesday.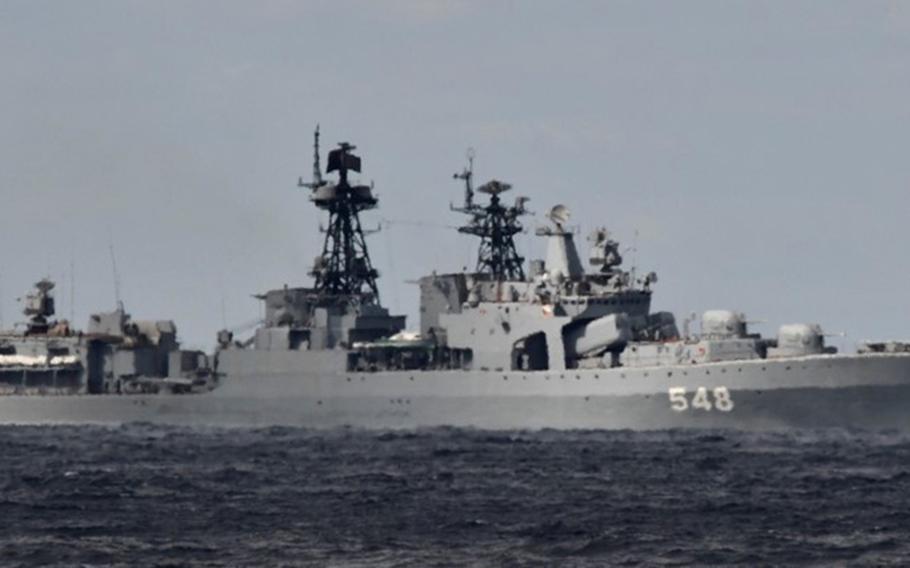 The transit is the first involving warships from Russia and China at the same time, Isozaki said.
"The Japanese government pays close attention with great interest to such activities of Chinese and Russian navies in the region," he said.
The vessels were first spotted by the Japan Maritime Self-Defense Force around 8 a.m. Monday about 68 miles southwest of Okushiri Island in the Sea of Japan, which is known as the East Sea in Korea, according to news release that day from Japan's Joint Staff.
Japan will take all possible measures to continue monitoring the surrounding waters and airspace, Isozaki told reporters.
The strait is one of the few passageways through the chain of islands, including the Japanese archipelago, that separates continental Asia from the Pacific Ocean. It is considered an international waterway, according to public broadcaster NHK.
The Chinese and Russian navies held an exercise in the Sea of Japan this month that included communications, sea mine countermeasures, air defense, live-fire shooting at maritime targets, joint maneuvering and joint anti-submarine missions, according to an Oct. 14 report in China's state-run Global Times newspaper that cited the Chinese navy.
"Not only did they do the exercise, but they did a joint transit at the end to catch Japan's attention," James Brown, an international affairs expert at Temple University's Japan campus, said in a telephone interview Tuesday.
Russian and Chinese forces have been training together since 2005 but the latest drills are sending messages about the "Quad" grouping involving the U.S., Japan, Australia and India, he said.
Naval forces from the four nations kicked off the second phase of Exercise Malabar in the Bay of Bengal Oct. 11 with an armada led by the aircraft carrier USS Carl Vinson.
"Russia and China don't like the Quad grouping," Brown said.
The Sea of Japan training and transit of the Tsugaru Strait sends a message that involvement in the group has consequences for Japan, he said.
Cooperation between Russia and China is happening at a tense time in Europe with Russia shuttering its permanent mission to NATO and suspending the alliance's liaison office Monday in Moscow.
The move came less than two weeks after NATO expelled eight members of the Russian delegation, accusing them of working as undercover spies.
"I don't think anyone thinks China is going to come to Russia's defense over issues in Europe," Brown said. "Likewise, I don't think Russia would see it in their interest to support China if there was a conflict over Taiwan."
The two countries' security relationship is not on par with the U.S.-Japan alliance but it's more than just a partnership, he said.
Moscow and Beijing have a security relationship that has involved transfer of advanced weapons technology such as jet engines from Russia to China, Brown said.
The Russian navy may be helping the Chinese develop skills such as anti-submarine warfare, he said.
"For the Russians, it's mainly symbolic and showing they are close partners with a rising China," he said.
Stars and Stripes reporter Hana Kusumoto contributed to this report.