Defense experts put forward three responses to Chinese exercises targeting Taiwan
by
Seth Robson
Stars and Stripes
October 14, 2021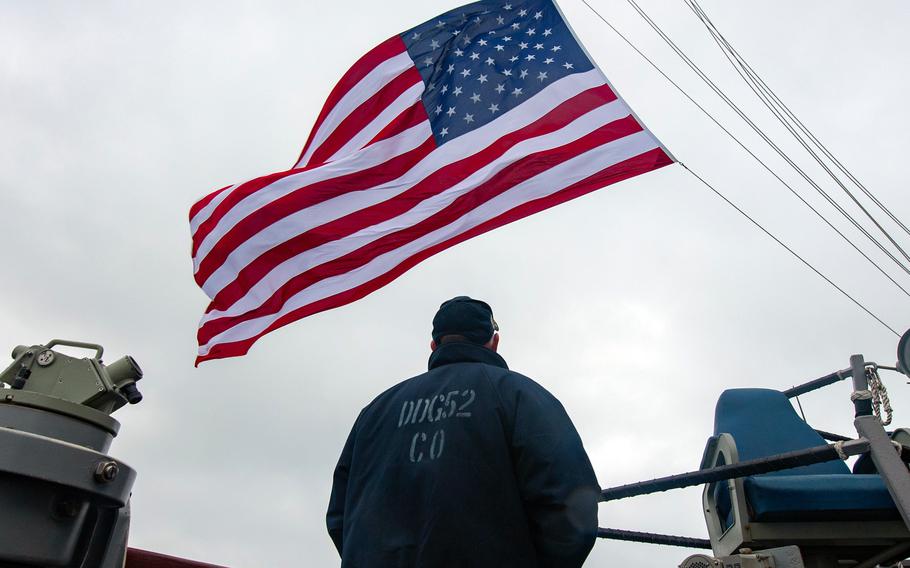 A trio of military affairs analysts disagree on the best U.S. response to a recent Chinese military exercise that appeared to be a dress rehearsal for an invasion of Taiwan.
One said the United States should demonstrate how it would respond to a Chinese move against Taiwan, while another said a defensive exercise is more appropriate. The third suggested countering China's moves that way would show weakness.
David Johnson, a former Army officer now with the Center for Advanced Defense Studies in Washington, D.C., said U.S. forces should conduct "counter-exercises" that simulate reinforcing Taiwan in the face of Chinese aggression.
"The most effective deterrent would be counter-exercises," he said Wednesday in an email to Stars and Stripes.
Johnson's suggestion came the same day that China's Taiwan Affairs Office said recent beach-storming drills by Chinese troops were "absolutely just actions."
Speaking at a regular news briefing in Beijing, Ma Xiaoguang, spokesman for the office, said the exercises were aimed at interference by external forces colluding with Taiwan's ruling Democratic Progressive Party, Reuters news agency reported.
In a separate demonstration, nearly 150 Chinese warplanes flew into Taiwan's air defense identification zone over a four-day period beginning Oct. 1.
China is testing the resolve of regional powers to resist reunification of the island, Johnson, a retired lieutenant colonel, wrote in his email.
"The Chinese regularly conduct exercises for geo-political signaling," he said, adding that an amphibious assault is an extremely complex and expensive operation.
Even if completely choreographed and without resistance, a well-executed exercise is a major indicator of intent and capability, Johnson said.
"This exercise likely signals the intention to ensure that Taiwan does not seek independence," he said.
A counter-exercise by the U.S. military should simulate the repositioning of forces and logistics that would reinforce any target of regional aggression, Johnson said.
New Zealand-based security expert Paul Buchanan agreed, up to a point.
U.S. officials should weigh the risk of provocation against the benefits of showing China the negative consequences of an attack on Taiwan, he said in a phone interview Thursday.
An exercise that involves potentially offensive weapons or includes allies such as Japan could be perceived as a threat to the mainland, Buchanan said.
"A defensive demonstration of capability and resolve is probably the best way to go should the option be exercised," he said.
That might involve mine-laying drills in international waters leading to Chinese ports
"Showing a blue water interdiction and disruption capability sends a serious message," Buchanan said.
Any exercise should convey the potential economic and political downside as well as the military costs of an invasion, he added.
However, Jeff Kingston, director of Asian Studies at Temple University Japan, in an email Thursday said a counter-drill would be counterproductive.
"There has been a lot of posturing on all sides that has recently escalated tensions and it would be a good time to not ratchet that up further," he said.
Polling conducted by think tank Intelligentsia Taipei last month showed six in 10 Taiwanese don't think there will be a war with China in the next decade, with only 18% of those polled expecting one, the South China Morning Post reported Oct. 1.
"Instead of defense of Taiwan exercises, it might be better to go low key and dial down the rhetoric and saber-rattling," Kingston said. "By overreacting, the risk is dancing to [Chinese President Xi Jinping's] tune, a sign of weakness rather than strength."