Taiwan says it's preparing to defend itself after 149 Chinese warplanes entered its airspace
by
Matthew M. Burke and Mari Higa
Stars and Stripes
October 5, 2021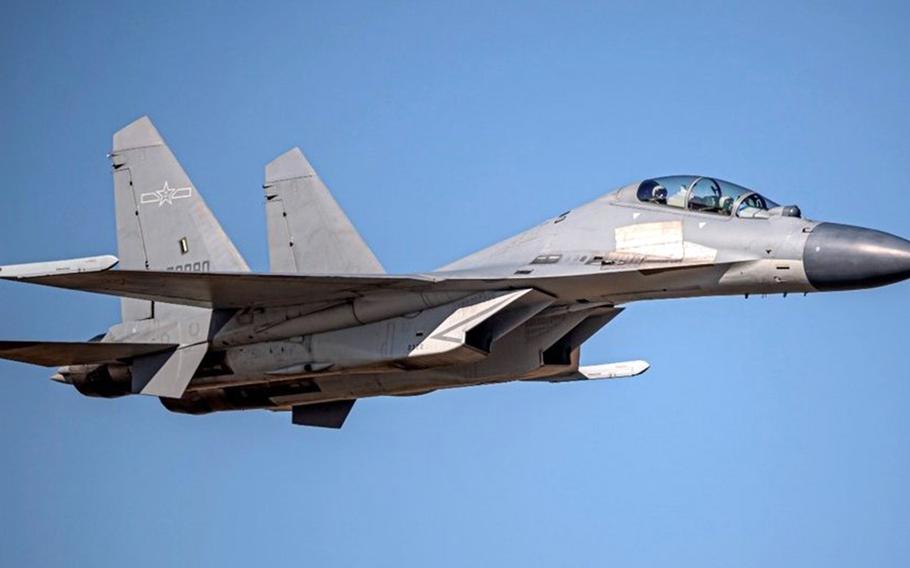 Taiwan says it is preparing to defend itself from its neighbor to the west after four days of record-breaking Chinese incursions into its airspace.
The comments were made Monday by Foreign Minister Joseph Wu on the Australian Broadcasting Corporation Television program "China Tonight." Nearly 150 Chinese military aircraft buzzed through Taiwan's air defense zone between Friday and Monday, the island's Ministry of National Defense said in a series of press statements.
"China has been threatening Taiwan, and the threat seems to be more serious than before," Wu said. "We are very concerned that China is going to launch a war against Taiwan at some point."
Beijing considers Taiwan, which has its own democratic government, a renegade province that must, at some point, be unified politically with the mainland.
The threat may not be imminent, Wu added, but the island is preparing to defend itself nonetheless. Taipei is carefully monitoring domestic discontent in China and any signs of an economic slowdown that could be used as a precursor for invasion, he said.
"Taiwan might become a target of this authoritarianism to divert its domestic attention," Wu said.
On Monday, 56 Chinese army aircraft, including dozens of fighters and nuclear-capable bombers, entered Taiwan's southwest air defense zone, the Taiwanese defense ministry wrote in a statement that evening. They traveled southeast off the island's southwest coast before turning around and heading back toward China. Four of the flights happened at night.
This followed 16 similar sorties on Sunday, 39 on Saturday and 38 on Friday, the ministry said in previous statements.
In response, Taiwan dispatched air patrols, issued radio warnings and readied air defense missile systems.
Taiwan's Mainland Affairs Council strongly protested the incursions and demanded that they stop, Bloomberg news reported Tuesday.
The sorties coincided with China's National Day celebrations that mark the 72nd anniversary of the founding of the People's Republic.
The Biden administration is watching the situation "very closely," White House Press Secretary Jen Psaki told reporters during her daily press conference Monday.
"We remain concerned by the People's Republic of China's provocative military activity near Taiwan, which is destabilizing, risks miscalculations, and undermines regional peace and stability," she said. "We urge Beijing to cease its military, diplomatic and economic pressure and coercion against Taiwan, and we have an abiding interest in peace and stability across the Taiwan Strait."
Psaki said the U.S. would continue to assist Taiwan in maintaining its ability to defend itself.
Beijing was quick to fire back with a response from Foreign Ministry spokeswoman Hua Chunying.
"Taiwan belongs to China and the US is in no position to make irresponsible remarks," she said in a statement. "For quite some time, the US has been making negative moves by selling arms to Taiwan and strengthening official and military ties, including the launch of a $750 million arms sale plan to Taiwan, the landing of US military aircraft in Taiwan and frequent sailing of US warships across the Taiwan Strait."
China vowed to "resolutely crush" any move toward independence for Taiwan, Hua said. She chided the U.S. to "correct its mistakes" and stop "supporting and emboldening separatist forces."