Russia says it launched and intercepted 10 missiles during drills near Japan
by
Alex Wilson
Stars and Stripes
October 12, 2021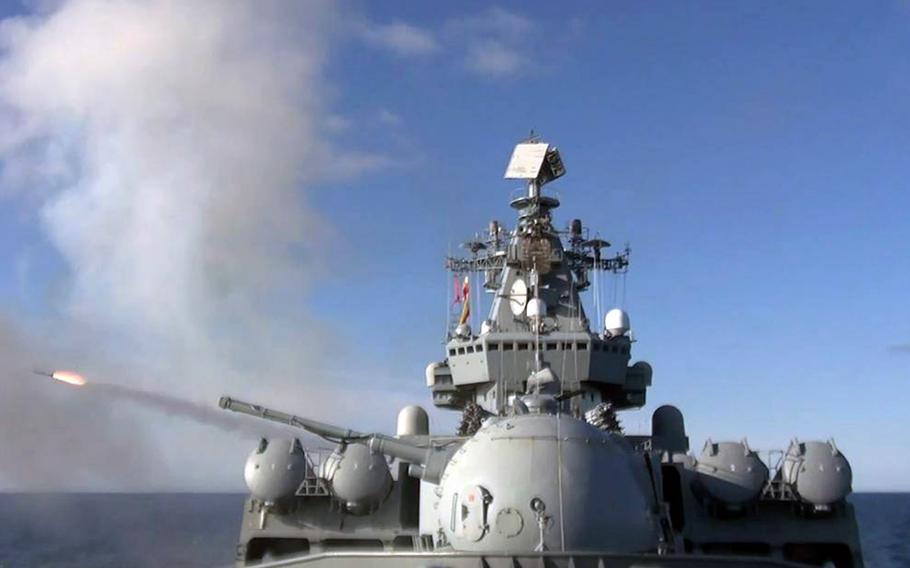 A fleet of 12 Russian ships, including an anti-submarine cruiser, launched and intercepted missiles in the sea between Japan and the Korean Peninsula on Monday.
The exercise, held by Russia's Pacific Fleet, featured the guided-missile cruiser Varyag and 11 other warships and support vessels, according to Russian state-sponsored news agency TASS. Ten missiles were launched and intercepted by the Varyag, which employed three surface-to-air missile systems.
The fleet released video of the exercise, which showed numerous missiles being launched from a Russian vessel. Additional weapons systems, including the AK-630 rotary cannon and heavier artillery, are shown firing in the footage.
The exercise was part of a final inspection prior to the end of the summer training period, according to TASS.
Russia previously announced the training, part of which took place inside Japan's exclusive economic zone, according to a report from Yahoo! Japan.
The United Nations Convention on the Law of the Sea does not prohibit military drills within a nation's exclusive economic zone, according to a 2014 study published by the U.S. Naval War College. The zone may extend up to 200 nautical miles from a nation's shores, or baseline.
A spokesperson for Japan's Ministry of Defense was not immediately able to comment on the drills on Tuesday.
Russia's exercise comes as tensions continue to escalate in the Indo-Pacific region.
China dispatched a record number of aircraft into Taiwan's air defense identification zone over the past two weeks. The dispute between China and Taiwan, which Beijing considers to be a breakaway province, has led to an increase in protests from both sides and other nations, including the United States.
Tensions between North Korea and the global community are also heightened following a series of North Korean missile tests in September.