US Forces Korea broadens travel bans after post-holiday coronavirus surge on peninsula
by
David Choi
Stars and Stripes
September 30, 2021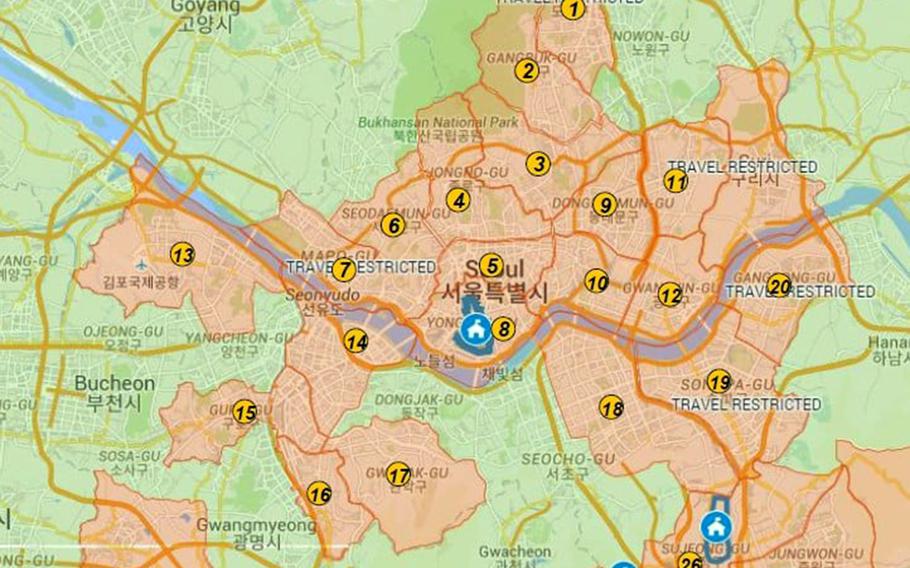 CAMP HUMPHREYS, South Korea — The military command responsible for U.S. troops in South Korea has temporarily restricted troops from traveling to 41 districts following a surge in COVID-19 cases in the country.
The updated travel guidelines announced by U.S. Forces Korea on Wednesday reflect a recent increase in coronavirus cases around the country, according to a post on the USFK official Facebook page. The Korea Disease Control and Prevention Agency on Saturday reported 3,271 new cases, a new daily record in the country.
The surge comes days after Chuseok, the nation's harvest holiday. South Korean health officials previously said they expected a dramatic increase in cases and warned residents to limit their travel plans during the three-day holiday Sept. 20 to 22. Nearly 33 million people traveled during the holiday week, according to the Ministry of Land, Infrastructure and Transport.
USFK has divided the country into roughly 230 districts to reflect changing rates of coronavirus infection. USFK service members, civilian employees, family members and contractors are prohibited from traveling to districts with 50 or more confirmed COVID-19 patients per 100,000 people over a seven-day period. The command updates its district guidelines every week.
Almost half of the restricted districts are in Seoul, which frequently records higher case numbers than any other South Korean city. Roughly 80% of metropolitan Seoul is off-limits to U.S. personnel based on the updated guidelines.
The capital city is under its highest level of social-distancing measures, and health officials are expected this week to decide on whether to extend the restrictions.
The number of new cases in South Korea fell to 2,564 on Thursday, according to KDCA. Over 75% of the population received a first dose of a COVID-19 vaccine and nearly 50% are fully vaccinated.
USFK personnel who already live or work in "hotspot" districts are allowed to travel freely within their own district but are advised to limit their activities in group settings, according to the command's policy.
Over 80% of USFK's personnel are vaccinated against COVID-19, according to the command.
Japan update
At Yokosuka Naval Base on Thursday, base commander Capt. Rich Jarrett dropped all travel and liberty restrictions inside Japan for anyone affiliated with the base.
Jarrett, speaking at a Facebook online town hall, cited the Japanese government's decision to end its state of emergency in 19 prefectures, a significant decline in coronavirs cases and an increase in the vaccination rate among Japanese citizens.
Some measures, including a mask mandate off-base and indoors in some places on the installation, remain in effect, he said.
The U.S. military in Japan has announced seven new cases of COVID-19 since Wednesday.
U.S. Army Japan reported six individuals tested positive since Sept. 22: three as close contacts of another infected person, two in restricted movement after arriving in Japan and one who fell ill with symptoms of COVID-19, according to a news release Wednesday.
Marine Corps Air Station Iwakuni reported one person tested positive while in restricted movement, according to a Thursday news release.
Japan registered another 1,722 new coronavirus cases on Wednesday and 50 deaths, according to Johns Hopkins Coronavirus Resource Center. Of Japan's 122.6 million people, 58.9%, or 74.4 million, are fully vaccinated.
Stars and Stripes reporter Joseph Ditzler contributed to this report.