US military bases in Japan count 58 new cases as coronavirus slide continues in Tokyo
by
Joseph Ditzler and Mari Higa
Stars and Stripes
September 10, 2021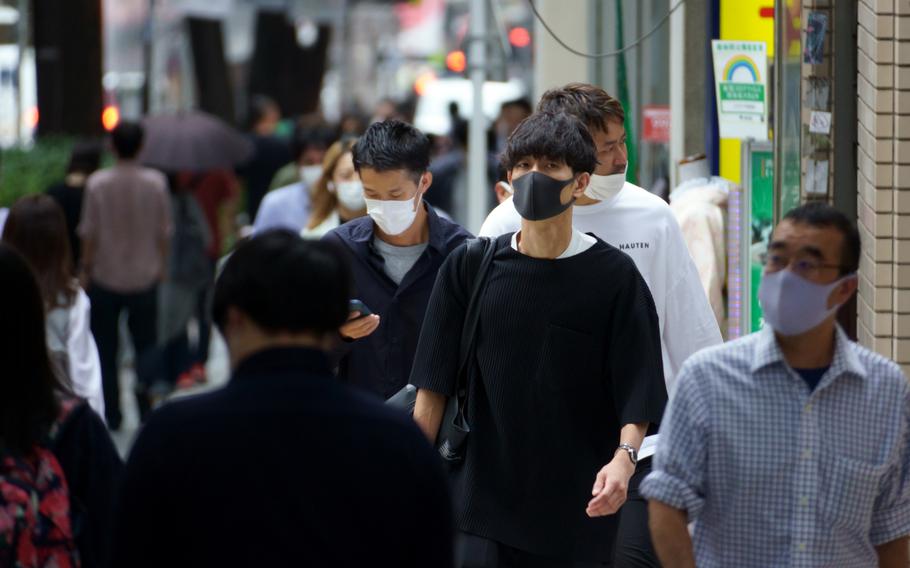 TOKYO – New coronavirus cases continued to decline in Japan's capital city Friday, the day after the national government extended a state of emergency across nearly half the country.
Tokyo reported another 1,242 infections, about half as many new cases as a week prior, according to public broadcaster NHK.
Meanwhile, U.S. military bases ended the four-day work week after Labor Day with 58 new cases of COVID-19, the coronavirus respiratory disease.
Japan on Thursday reported 10,389 new cases and 88 deaths, according to the Johns Hopkins Coronavirus Resource Center. Almost 50% of the country's 62.5 million people are fully vaccinated.
The government on Thursday extended to Sept. 30 a public health state of emergency scheduled to end Sunday in 19 prefectures, including Tokyo and Okinawa. Though infections are decreasing, Japan still registers high numbers, and its health-care system is strained.
Yokota Air Base, the headquarters of U.S. Forces Japan in western Tokyo, discovered 16 cases between Sept. 4 and Friday, according to a news release from the 374th Airlift Wing.
Two people were in restricted movement after traveling outside Japan and another nine were already quarantined as close contacts. Five were identified by public health authorities. The base has 21 active cases.
Also Friday, Principal Justin Treisch of Yokota's Joan K. Mendel Elementary School wrote in a letter to parents and staff that some individuals at the school had tested positive for COVID-19. He said contact tracing was underway but did not indicate the school would close or cancel classes. He did not respond to an email Friday seeking further information.
Yokosuka Naval Base, homeport of the 7th Fleet south of Tokyo, reported two people tested positive, according to a base news release Friday. One immunized individual turned up positive during contact tracing. An unimmunized person tested positive after recently arriving in Japan. The base is monitoring 58 patients.
Sasebo Naval Base on Kyushu Island has had four people test positive for COVID-19 since Tuesday after falling ill, according to an official Facebook post Friday. The base is monitoring 19 patients.
On Okinawa, Kadena Air Base reported Friday that 36 people had tested positive since Sept. 4. The base had 68 active patients Friday. It provided no further information on those cases.
Okinawa prefecture said another 301 people had tested positive on Friday, according to the prefectural Department of Public Health and Medical Care.
Okinawa Gov. Denny Tamaki on Thursday said the fifth wave of COVID-19 on the island had peaked. However, the number of positive cases remains high, and the health-care system is still overwhelmed, he said at a news conference.
He urged continued caution going into Silver Week, a pair of Japanese holidays on Sept. 20 and 23.
"We believe that infection control during this period is vital, because after the same consecutive holidays last year, the downward trend had turned to an increase," he said.