Japan to extend COVID-19 state of emergency, may ease health measures in November
by
Joseph Ditzler
Stars and Stripes
September 9, 2021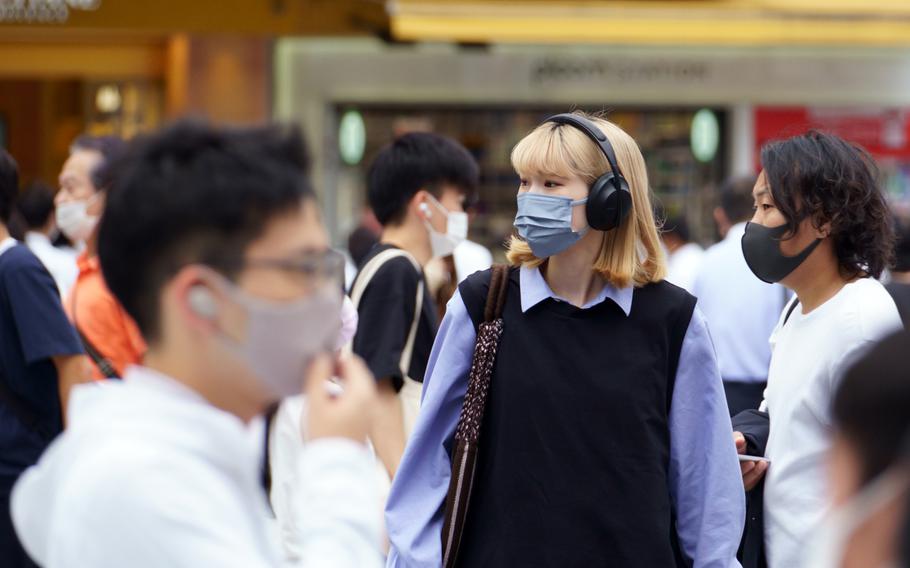 TOKYO – The Japanese government was poised Thursday to extend a coronavirus state of emergency in 19 prefectures, including Tokyo, to relieve an overburdened health care system, despite falling case numbers.
Tokyo reported another 1,675 people had tested positive for coronavirus Thursday, 1,424 fewer than one week ago, and continuing a declining trend now 18 days long, according to public broadcaster NHK and metro government data. Seriously ill patients in the city number 251, NHK reported.
Tokyo has been under this latest state of emergency since July 12.
Meanwhile, Marine Corps Air Station Iwakuni reported one new coronavirus case, an individual already in restricted movement, according to a news release Thursday.
Also Thursday, John O. Arnn Elementary School, at Camp Zama's Sagamihara Housing Area, had one person associated with the school test positive, according to a message Principal Edwin Munoz posted on Facebook. Camp Zama, 28 miles southwest of central Tokyo, is the headquarters for U.S. Army Japan.
The middle school at Camp Zama reported two people had contracted the coronavirus there Sept. 1 and Monday. The school did not close and no classes were interrupted, according to messages from Principal Henry LeFebre.
A panel of Japanese experts has recommended extending to Sept. 30 the emergency scheduled to end Sunday in 19 prefectures, according to Japanese media. Prime Minster Yoshihide Suga was scheduled to announce the extension Thursday evening.
Japan reported another 12,411 coronavirus infections and 90 deaths Wednesday, according to the Johns Hopkins Coronavirus Resource Center on Thursday.
Nishimura Yasutoshi, the minister in charge of the coronavirus response, said that of the 21 prefectures under the existing emergency, only the health-care systems in Miyagi and Okayama prefectures have seen relief, according to NHK.
Of 12 other prefectures under a quasi-emergency, six will be canceled, while the remainder will be extended until Sept. 30, according to NHK.
Under the emergency, residents are asked to refrain from unnecessary travel, telework when they can and avoid large gatherings. Businesses are encouraged to limit the number of people they admit, and bars and restaurants are to close early and refrain from alcohol sales.
The government is planning to ease some of those measures as more of Japan's population becomes vaccinated, according to a Kyodo News report Thursday. More than 49% of the population, or 62 million people, are fully vaccinated, according to Johns Hopkins on Thursday.
South Korea update
U.S. Forces Korea said another 17 people tested positive for COVID-19 since Aug. 31, according to a news release Thursday.
Six people had developed symptoms of the disease: a service member at Camp Hovey; a service member at Camp Casey; two family members and one South Korean contractor at Camp Humphreys; and one South Korean employee at Yongsan Garrison, according to USFK.
Contact tracing discovered another seven patients: two service members at Humphreys; one service member, a Defense Department civilian employee and two family members at Daegu; and one family member at Osan Air Base.
South Korea reported another 2,018 new cases: 660 in Seoul and 639 in Gyeonggi province, where Osan and Humphreys are located, the Korea Center for Disease Control and Prevention reported Thursday.
More than 37% of the South Korean population, or 19.1 million people, are fully vaccinated, according to KDCA.
Stars and Stripes reporter Yoo Kyong Chang contributed to this report.