70 percent of active-duty troops already fully vaccinated against the coronavirus, senior official says
by
Karin Zeitvogel
Stars and Stripes
September 9, 2021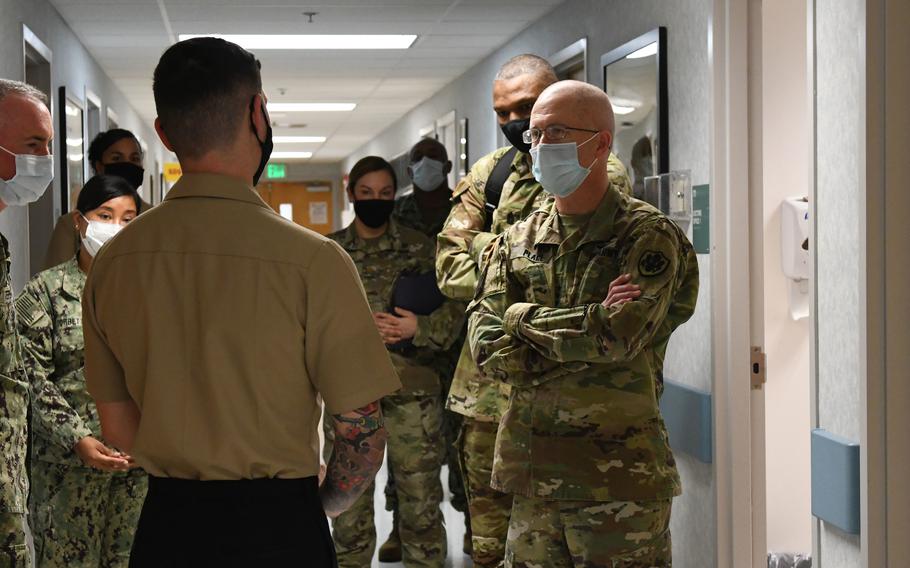 Coronavirus vaccination rates among service members are far outpacing that of the U.S. population as a whole, with just over 70% of active-duty troops already fully vaccinated against COVID-19, the general in charge of a joint-forces health agency said.
The high percentage of fully vaccinated services members is "particularly compelling (because) more than 80% of the active-duty force is 35 or under," Lt. Gen. Ron Place, head of the Defense Health Agency, told Stars and Stripes.
"And if you look across the rest of America, it's typically young men and women who are more reluctant to be vaccinated," he said.
Just under 53% of Americans were fully vaccinated against the virus as of Thursday, according to the Our World in Data website.  
Around 82% of troops have had at least one coronavirus shot, and infection rates in the military are significantly lower than they are across the general population, Place said. 
Service members have been stepping forward to get the vaccine since before Defense Secretary Lloyd Austin released a memorandum Aug. 24 making vaccination mandatory for members of the armed forces unless they have a medical or administrative exemption.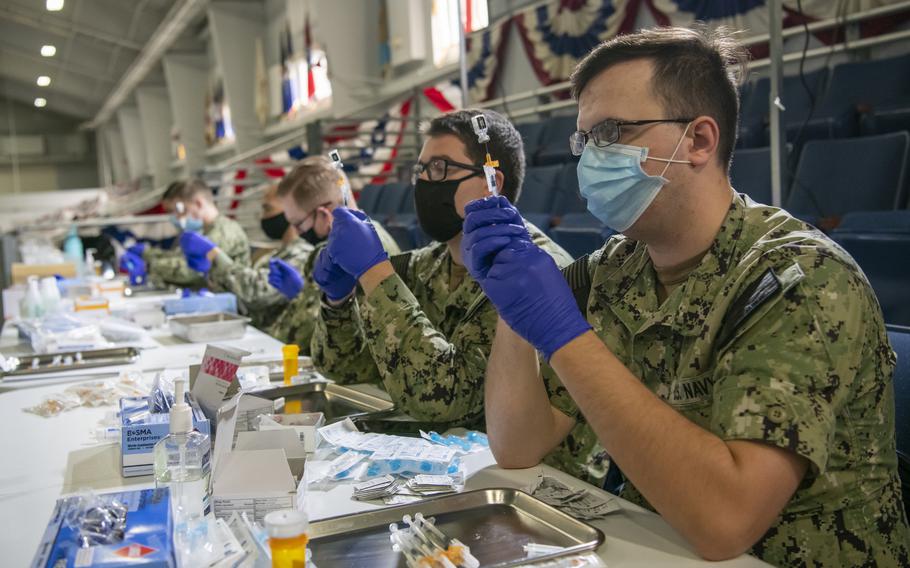 The Air Force and Navy have set deadlines for active-duty members, reservists and Guardsmen to be fully vaccinated, and the Army was expected to announce a timeline soon. The Coast Guard has said its members should aim to get the shot "as soon as operations allow, starting immediately."  
Austin's memo sparked a flurry of calls on social media for service members to seek exemptions, particularly if they have had COVID-19. Some studies have found that previous infection gives more robust immunity against the illness caused by the coronavirus than the vaccine does. 
But Place said he did not expect anything "unique about these exemptions compared to others."  
"This is just another vaccine that will go into that bucket of discussions about how leaders either validate or not a particular exemption that a service member may believe they are entitled to," he said. 
Place also said there has been no indication that service members would leave the military in droves over the vaccine mandate. 
Service members have to get up to 17 vaccines against infectious diseases depending on what their military occupation is, where they are being deployed, and what their mission requirements are. 
Eight vaccines are required just to get into boot camp, Defense Department spokesman John Kirby told reporters last month, before the coronavirus vaccine was mandated.  Once a vaccine has been mandated, it becomes a lawful order, he said.  
Hesitant service members are counseled by their chain of command and medical personnel, who explain the repercussions of not getting the shot, he said.  
But there is no blanket Defense Department punishment for refusing to get vaccinated, he added.