Coronavirus dip continues in Tokyo; US military reports 40 cases in Japan, South Korea
by
Joseph Ditzler
Stars and Stripes
September 1, 2021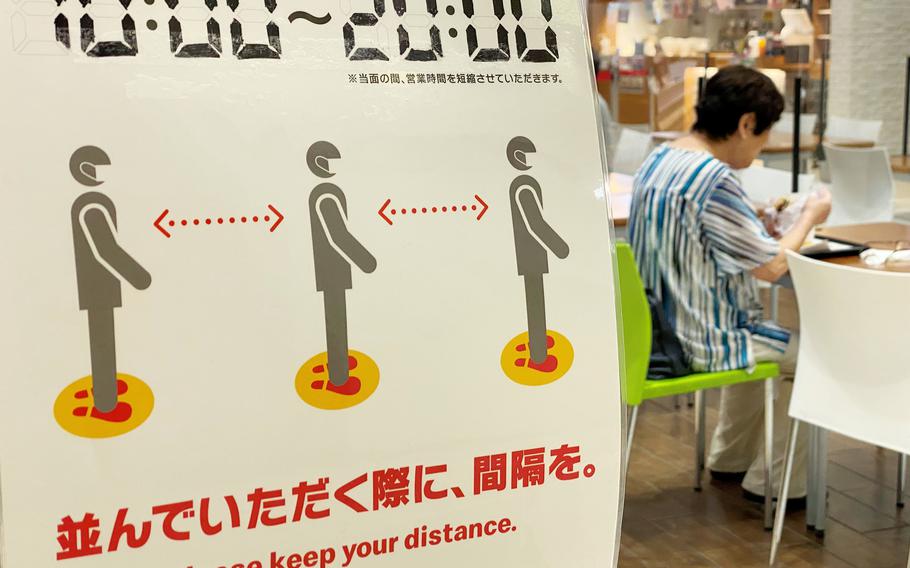 TOKYO ⁠— Japan's capital city added another 3,168 infections to its coronavirus total on Wednesday, fewer additional cases than a week prior for a 10th consecutive day, according to public broadcaster NHK.
Wednesday's total in Tokyo was 1,060 less than the count on Aug. 25, according to metro government data. The seven-day moving average was 3,971 and falling on Saturday, the latest data available. It reached over 4,700 in mid-August.
Japan on Tuesday reported another 17,667 newly infected people and 64 deaths, according to the Johns Hopkins Coronavirus Resource Center. It reported that 45.5% of Japan's population, or 57.4 million people, are fully vaccinated.
U.S. military bases in Japan reported 27 people had tested positive for COVID-19, the coronavirus respiratory disease, since Aug. 25.
U.S. Army Japan, headquartered at Camp Zama, 26 miles southwest of central Tokyo, had 21 people come up positive, according to an Army news release.
Five reported symptoms of COVID-19 and 15 were already quarantined as close contacts of a previously infected person. One person was tested in restricted movement after recently arriving in Japan.
Someone at Zama Middle School on Camp Zama tested positive for COVID-19 on Tuesday, according to a Facebook post by U.S. Army Garrison Japan. The school did not close nor were classes canceled, according to a message posted by Principal Henry Lefebre.
Marine Corps Air Station Iwakuni, south of Hiroshima, had another six people come up positive for COVID-19 since Tuesday, according to a base news release Wednesday. Three were already in restricted movement, three were not and the base provided no further information.
South Korea update
U.S. Forces Korea had 13 new arrivals to the peninsula test positive for the coronavirus between Aug. 9 and 26, according to a news release Tuesday.
Five service members arrived at Osan Air Base on U.S. military flights on Aug. 25 and 26, and eight service members arrived on flights at Incheon International Airport between Aug. 9 and 26, according to USFK.
Nine came up positive on their first mandatory COVID-19 test and four came up positive on the test required to exit quarantine.
USFK updated its list of districts designated as red zones, areas with 50 or more confirmed COVID-19 patients per 100,000 people over seven days. Those areas are off-limits to USFK personnel.
The list has grown from seven to nine districts since Saturday: Gangnam, Yeongdeungpo and Geumcheon in Seoul; Pyeongtaek, where Camp Humphreys and Osan are located; Hwacheon; Goesan; Nonsan; Jung, near Ulsan; and Jangheung.
Those who live or work in those districts may travel freely but are encouraged to minimize their activities as much as possible.
South Korea reported another 2,025 coronavirus cases Tuesday, according to the Korean Disease Control and Prevention Agency, including 662 in Seoul and 630 in Gyeonggi province, where Humphreys and Osan are located.
Nearly 15.8 million people — 30.7% of the population — are fully vaccinated; another 29 million, or 57%, have received the first of a two-shot vaccine regimen, according to the daily KDCA update Wednesday.
Stars and Stripes reporter Mari Higa contributed to this report.