Japan seeks record $50 billion defense budget to counter an increasingly aggressive China
by
Hana Kusumoto
Stars and Stripes
August 31, 2021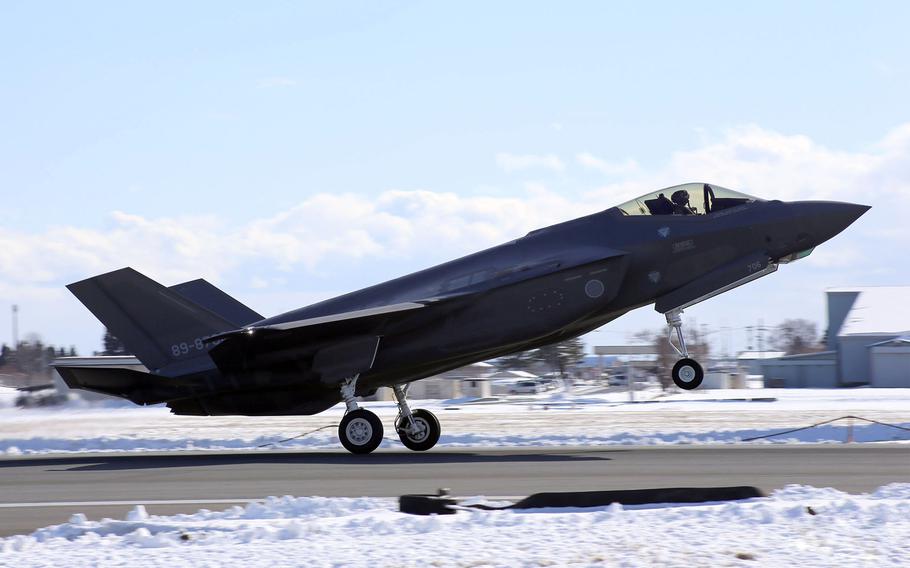 TOKYO — Japan's Defense Ministry has requested nearly $50 billion for the coming fiscal year, a spending plan that includes upgrades to two destroyers to accommodate F-35B Lightning II stealth fighters along with another 12 F-35s and space-related projects.
"As surrounding countries strengthen their military power significantly by increasing their defense budget, the security environment surrounding Japan is growing increasingly severe," Tuesday's budget request stated.
Japan's defense budget has risen each year for nine consecutive years, starting when former Prime Minister Shinzo Abe took office in 2012 for a second term. Abe expanded the role and capabilities of the Japan Self-Defense Forces, a trend his successor, Yoshihide Suga, continued with a record defense budget for fiscal 2021.
Japan faces, among many other challenges, assertive claims by China over the Senkaku Islands northeast of Taiwan that Japan administers. North Korea, which has a history of test-firing ballistic missile tests over Japan, may have restarted the reactor it uses to produce plutonium for nuclear weapons, according to the International Atomic Energy Agency.
Regional powers are challenging the status quo by eroding non-proliferation and developing missiles, Gen. Yoshihide Yoshida, chief of staff for the Japanese Ground Self-Defense Force, told reporters Monday. Yoshida spoke during a meeting with Gen. Charles Flynn, commander of U.S. Army Pacific, at the defense ministry headquarters on Camp Ichigaya in Tokyo.
"I recognize that the security environment surrounding Japan is very severe," Yoshida said, without mentioning any other states, "because there are regional powers and neighbors that are willing to change the status quo."
The ministry asked for the same amount for fiscal 2022 that it requested for the current year, 5.49 trillion yen, or $49.97 billion. For fiscal 2021, it received 5.3 trillion yen, or $48.7 billion.
Japan has focused recently on building up its defense in new domains, including space, cyberspace and the electromagnetic spectrum.
For space-related projects, the ministry requested 84 billion yen, or $765 million, to acquire space situational awareness laser-detecting capability and to establish a second squadron in its Space Operations Group, which works closely with U.S. Space Command.
"Japan needs to strengthen necessary defense power significantly and build multi-domain defense force," the ministry's budget proposal states.
The ministry requested 77.9 billion yen, or $709 million, to purchase eight F-35As and 52.1 billion yen, or $474 million, for four F-35B Lightning II stealth fighters.
The B model is capable of short takeoffs and vertical landings, making it suitable for Japan's flattop destroyers. To accommodate the aircraft, the ministry asked for 6.7 billion yen, or $61 million, to refurbish the flight decks on the JS Izumo and JS Kaga.
The ministry hopes to test the Izumo with U.S. Marine Corps F-35Bs by March, Defense Minister Nobuo Kishi said in July.
The budget request left blank the amount it seeks to upgrade the Self-Defense Force's fleet of F-15 Eagle fighters. Japan announced in August that it scrapped a plan to outfit the fighters with expensive, U.S.-made anti-ship missiles. Negotiations with the U.S. over the amended project cost are still underway, ministry officials said.
The budget request did not specify the cost to realign U.S. forces in Japan, which include shifting some Marine aviation assets from Okinawa to Guam. The ministry asks 202.9 billion yen, or $1.8 billion, to support U.S. forces, which may change with further negotiations between the two countries.
The agreement that specified Japan's share of that cost expired in March, according to the budget request.
Stars and Stripes reporter Alex Wilson contributed to this report.