'Stakes are higher': General calls out adversaries before relinquishing command of US Forces Japan
by
Theron Godbold and Joseph Ditzler
Stars and Stripes
August 27, 2021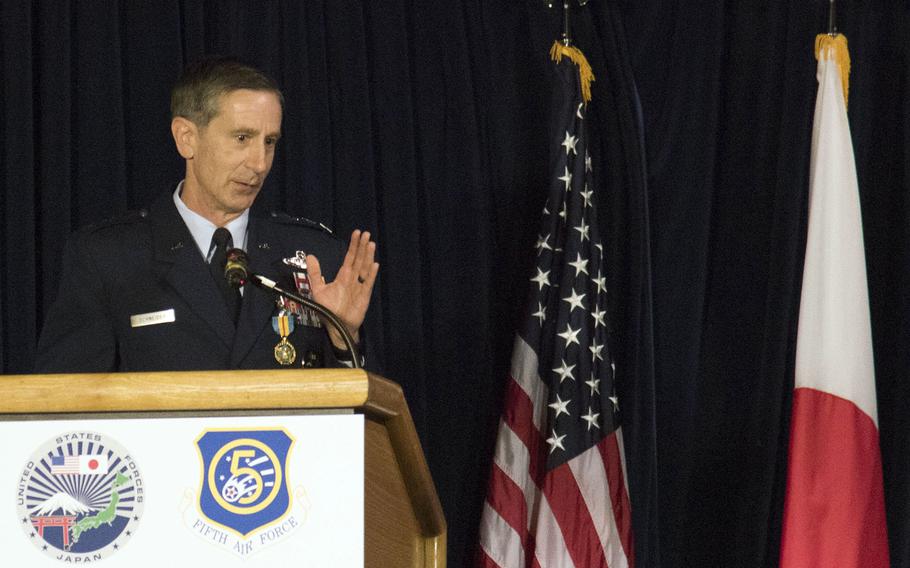 YOKOTA AIR BASE, Japan — Lt. Gen. Kevin Schneider called out China, North Korea and Russia as threats to regional security as he handed the reins of U.S. Forces Japan to fellow Air Force officer Lt. Gen. Ricky Rupp.
"Stakes are higher today than they were in February of 2019 when I came into this job," he said during a Friday ceremony that drew top brass and diplomats as guests. "Authoritarian regimes in Beijing, Pyongyang and Moscow continue to work to undermine peace and disrupt the security that has enabled economies to flourish."
Schneider's tenure was marked by heightened tensions with China in the western Pacific and a continuing coronavirus pandemic that began 18 months ago. He was in charge at USFJ headquarters at Yokota in western Tokyo less than a year when the virus appeared in China.
During 2020, it played havoc with U.S. military bases in Japan, prompting sporadic, temporary lockdowns and restrictions on everything from travel to shopping and dining. Hundreds of service members, civilian employees and family members were quarantined on any given day.
In his final speech as USFJ commander, Schneider never mentioned the coronavirus or COVID-19, the respiratory disease it causes.
He focused on America's adversaries and underlined the ties between Japan and the United States as "the most critical, the most consequential and the most important alliance we have," not just because it benefits two nations, but because "it touches the region, and it touches the globe."
From Tokyo, Schneider heads to the Pentagon to serve as director of staff at Headquarters Air Force, where he will "synchronize and integrate policy, plans, positions, procedures and cross-functional issues for headquarters staff," according to USFJ.
He handed the unit flags to Rupp in front of about 100 people, including Adm. John Aquilino, commander of U.S. Indo-Pacific Command, and Gen. Kenneth Wilsbach, commander of Pacific Air Forces, who presided over the ceremonies; Japanese Defense Minister Yasuhide Nakayama; Jan Adams and Julia Longbottom, the Australian and British ambassadors to Japan, respectively.
Attendees were masked but did not sit with space between them during the ceremony at Yokota's Enlisted Club.
"Our alliance, at all levels, ensures we remain a credible deterrent, ready to respond at a moment's notice to any threat, crisis or humanitarian disaster," Rupp said during his speech.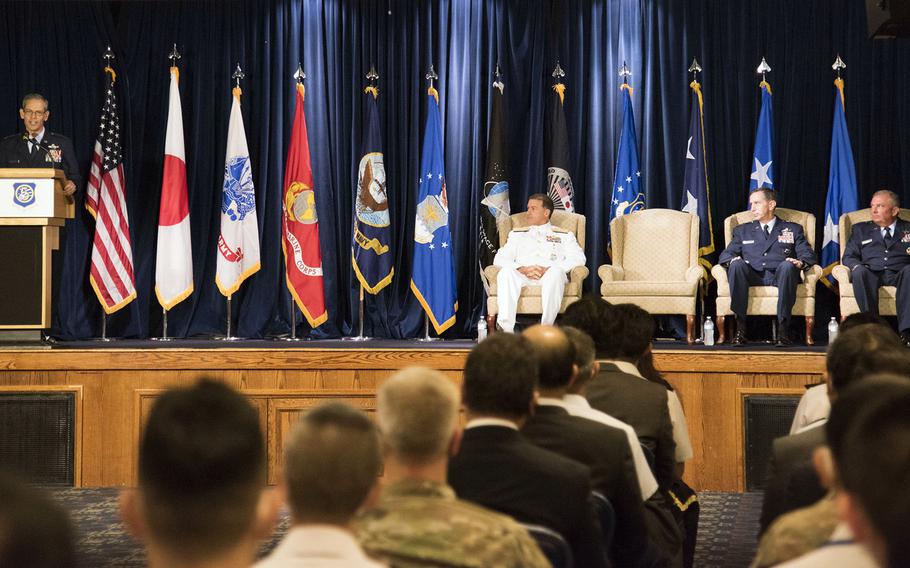 USFJ is a liaison with Japan for the U.S. Navy, Air Force, Army and Marine Corps and also helps manage the two nations' military alliance. The U.S. has approximately 135,000 service members in Japan, Schneider said.
It has authority over basing issues and the status of forces agreement, which governs the legal rights and responsibilities of U.S. military personnel in the country, and supports INDOPACOM, the combat command in the region.
As head of 5th Air Force, Rupp also leads about 15,000 airmen at three U.S. air bases in Japan: Misawa, Yokota and Kadena. Fifth Air Force provides a deterrent to would-be adversaries as well as airlift, combat and other aviation capabilities for the U.S. and Japanese militaries.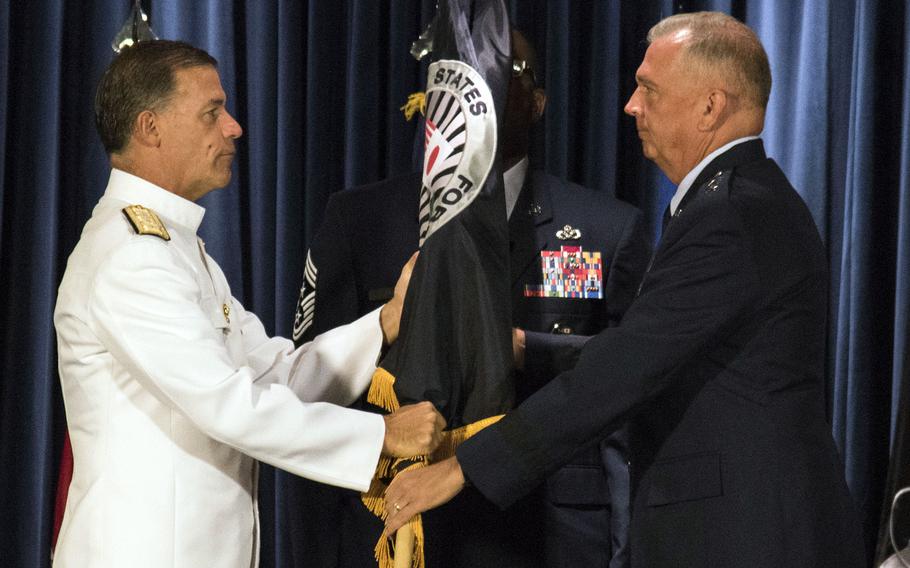 Rupp is a graduate of Southwest Texas State University and Embry-Riddle Aeronautical University. He comes to Tokyo from Joint Base Andrews, Md., where he commanded the Air Force District of Washington and the 320th Air Expeditionary Wing.
In his remarks, Rupp praised Schneider's hard work benefitting his commands, the Indo-Pacific region and the world. Schneider, he said, pushed the U.S.-Japan alliance to stay ahead of growing regional threats while coping with the pandemic.
Rupp can look forward to an increased tempo of maritime and aviation challenges from the Chinese military and coast guard, whose ships and planes add muscle to its territorial claims in the region and challenge those of Japan.
The U.S. response comes in the form of freedom-of-navigation patrols in the South China Sea by the Navy, bomber task force exercises by the Air Force and island-hopping exercises by the Marine Corps.