US military in Japan reports 81 new coronavirus cases; Tokyo hits third day of over 5,000 infected
by
Joseph Ditzler
Stars and Stripes
August 20, 2021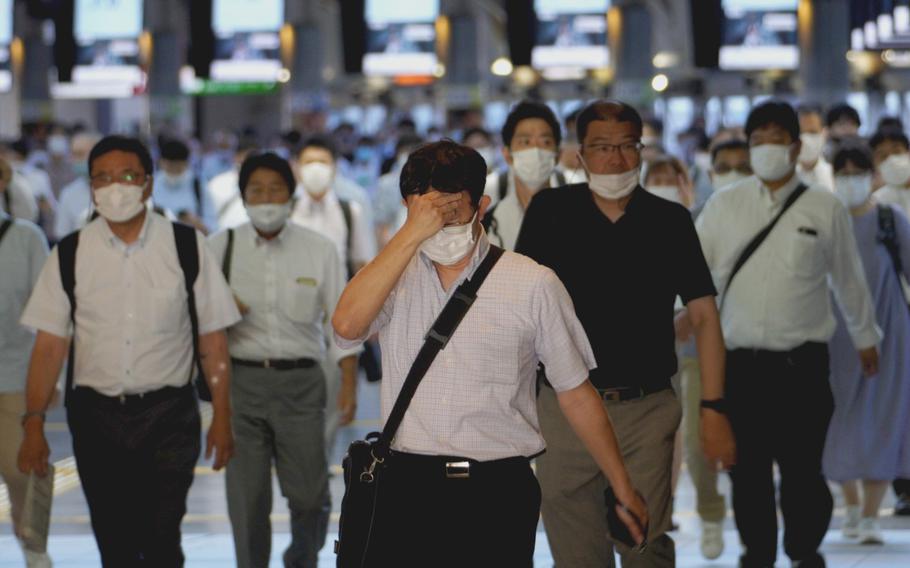 TOKYO —The capital city of Japan reported a third consecutive day with more than 5,000 people newly infected with the coronavirus, evidence the pandemic's fifth wave in the city has yet to peak.
Another 5,405 people in Tokyo tested positive for the the virus, public broadcaster NHK reported Friday, citing the metropolitan government. The number of newly infected individuals has exceeded 5,000 for three consecutive days for the first time during the pandemic that began in March 2020.
The city reported 5,386 new cases on Wednesday and 5,534 on Thursday. The one-day record is 5,773 on Aug. 13.
The U.S. military in Japan on Friday reported 81 newly infected individuals from the past week. U.S. Forces Korea added another 12 individuals on Thursday.
Kadena Air Base on Okinawa said 35 people tested positive for COVID-19, the coronavirus respiratory disease, between Aug. 14 and Friday, according to a weekly update on its homepage. The air base said it's monitoring 44 people with the virus. Kadena so far in August has reported 83 new coronavirus cases.
The Marine Corps on Friday said another 20 people associated with its forces on Okinawa also tested positive for the disease, according to a Facebook post by Marine Corps Installations Pacific. The Marines have reported 71 new cases so far in August.
Okinawa prefecture is also experiencing a record-breaking wave. It reported 743 new cases Friday, 25 fewer than the record set Thursday at 768, according to the prefectural Department of Public Health and Medical Care. With 321.1 cases per 100,000 people, the prefecture has the highest infection rate of all Japan's prefectures, according to the department.
Farther north, Yokosuka Naval Base, homeport of the U.S. 7th Fleet south of Tokyo, reported 19 new coronavirus cases since Tuesday, according to a news release from the base Friday.
Twelve people inoculated against COVID-19 tested positive: one person affiliated with the Navy and one base employee during a screening, another Navy affiliate during contact tracing and nine after falling ill, according to the base.
Another six people with the Navy and one base employee, all unimmunized, also fell ill and tested positive, the base said. There are 58 active cases at Yokota.
Naval Air Facility Atsugi, 26 miles southwest of central Tokyo, on Friday reported one person, a close contact, tested positive. The air facility has five people under observation.
Sasebo Naval Base, on the island of Kyushu, reported one person tested positive Wednesday, according to a Facebook post by the base on Friday.
Despite the record-breaking pace of new infections in Tokyo, the number of deaths attributed to COVID-19 are far fewer on a daily basis than during the last viral peak in January. The one-day record for coronavirus deaths in Tokyo is 38 on Jan. 31, according to metro government data.
By contrast, the highest one-day toll since June 1 is 10. Seven died Aug. 10. Currently, two people die each day on average in Tokyo from complications related to COVID-19, according to metro data.
However, 3,864 people were hospitalized Thursday with COVID-19 in Tokyo, 274 of them in serious condition.
Japan on Thursday reported 25,073 people newly infected with the coronavirus and exceeded the one-day record set the previous day, 23,987. Another 24 people died, for a pandemic total of 15,553, according to the Johns Hopkins Coronavirus Resource Center.
About 50 million people, 40% of Japan's population, are fully vaccinated, according to the center.
In South Korea, the U.S. command reported 12 people tested positive for the virus Monday and Tuesday.
A service member and a family member at Osan Air Base with symptoms of COVID-19 turned up positive after falling ill, according to a U.S. Forces Korea news release.
Contact tracing on Monday and Tuesday discovered five service members and two family members at Osan, a service member on temporary duty at USFK and two family members at the Army's Daegu Garrison
South Korea on Thursday added another 2,052 newly infected individuals to its pandemic total, according to the Korea Disease Control and Prevention Agency on Friday. Seoul accounted for 549 and Gyeonggi province, where Osan and Camp Humphreys are located, added 633.
KDCA reported that 21.6% of the population are fully vaccinated, about 11.1 million people. Another 25 million, or 48.3%, have had the first of a two-shot vaccine regimen.
Stars and Stripes reporters Mari Higa in Okinawa and Yoo Kyong Chang in South Korea contributed to this report.