'New' middle and high school at Misawa Air Base in Japan ready for the school year
by
Juan King
Stars and Stripes
August 18, 2021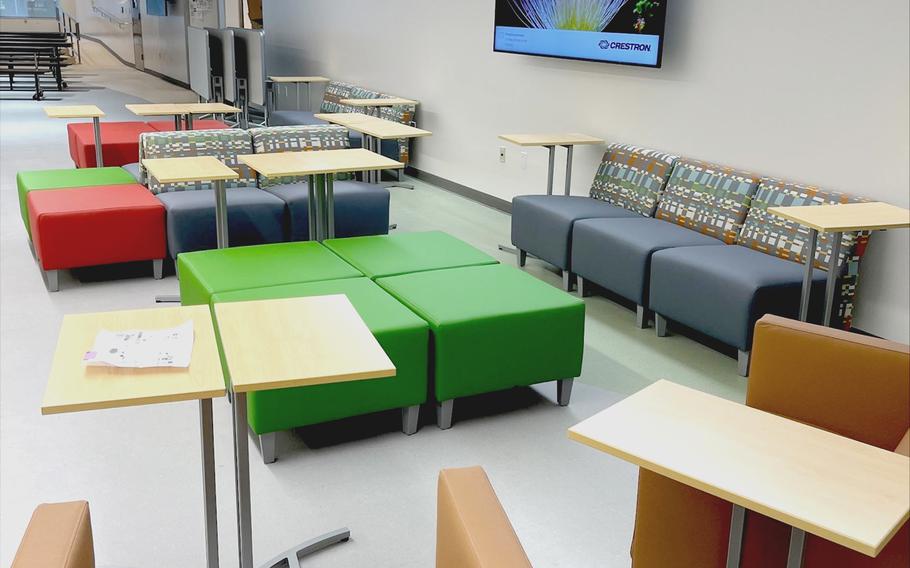 A pair of schools at Misawa Air Base, Japan, were renovated and consolidated into one school in time for the 2021-2022 school year.
Edgren Middle/High School opens its doors Wednesday to 350 students from sixth through 12th grades, according to an email Friday from Miranda Ferguson, spokeswoman for the Pacific Region of the Department of Defense Education Activity.
The newly configured school takes sixth grade from Sollars Elementary School and joins it with Edgren Middle School, which combined with the former Misawa High School into one institution.
During the $33 million renovation project, which started in 2017, the middle and high school classes were temporarily located at the former Cummings Elementary School, Ferguson said in an email to Stars and Stripes on Aug. 11.
"We are looking forward to welcoming our Edgren Middle/High School students and staff back to school in the new building," Ferguson quoted Pacific East District Superintendent Judy Allen as saying Friday.
The makeover includes all 84,000 square feet that three main buildings share. No additional construction was added, Ferguson said.
The school's namesake, Col. Robert D. Edgren, was a popular commander at Misawa Air Base in the 1970s.
The new school configuration conforms to DODEA's 21st century schools concept, which is designed to prepare students for the tech-focused jobs of the future.
"This long-anticipated opening will allow students to learn in a 21st century environment that fosters collaboration, creativity and community," Allen was quoted as saying.  
The 21st century schools include upgrades in education technology such as smartboards, new furniture and an open design that removes walls and doors to create a peer-to-peer learning atmosphere, according to Ferguson.
DODEA announced in February it was building a similar school, Bob Hope Elementary, at Kadena Air Base on Okinawa, to open in time for the 2021-2022 school year. That school was completed in time for first day of school on Aug. 26, Ferguson said.