Another 4,000-plus coronavirus cases reported in Tokyo; 39 for US military in Japan
by
Joseph Ditzler and Mari Higa
Stars and Stripes
August 17, 2021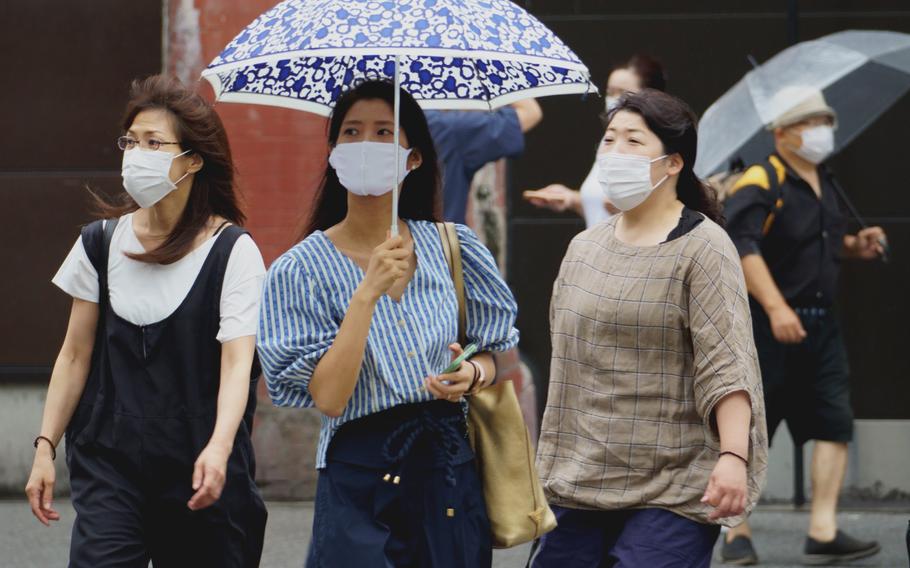 TOKYO — Japan's capital city reported another 4,377 people infected with the coronavirus Tuesday, the first day of an expanded state of emergency that lasts until Sept. 12, according to public broadcaster NHK.
The number of new cases is 1,765 higher than a week prior, according to data from the Tokyo Metropolitan Government. The number of seriously ill patients also increased for an eighth day to 276, NHK reported.
Meanwhile, U.S. military bases in Japan on Tuesday reported another 39 people infected by the coronavirus.
The national government extended the emergency in four prefectures that make up the greater metro area: Tokyo, Kanagawa, Chiba and Saitama, and also in Osaka and Okinawa, The Associated Press reported Monday. Emergency status was originally set to expire in those areas Aug. 31.
Prime Minister Yoshihide Suga was expected to announce late Tuesday that starting Friday until Sept. 12 the emergency would cover seven more prefectures considered coronavirus hotspots: Ibaraki, Tochigi, Gunma, Shizuoka, Kyoto, Hyogo and Fukuoka, according to NHK.
Under the emergency, residents are encouraged to travel less and work from home, and bars and restaurants are urged to close between 8 p.m. and 5 a.m. and curtail alcohol sales, among other measures.
Okinawa Gov. Denny Tamaki, dealing with a record-breaking surge on the island, on Tuesday called on Okinawans to celebrate a virtual Obon holiday this weekend, rather than with family gatherings.
How they spend the holiday will determine how the coronavirus spreads in the coming days, Tamaki said at a news conference. "Please utilize phone and internet and refrain from visiting parents and relatives," he said. He also called on tourists to "refrain from visiting Okinawa."
Three of the prefectures under a public health emergency are locations for U.S. military headquarters. The Army and Navy in Japan are headquartered in Kanagawa, the 5th Air Force and U.S. Forces Japan operate from western Tokyo and the III Marine Expeditionary Force is based in Okinawa.
Yokosuka Naval Base, homeport of the 7th Fleet and headquarters of Naval Forces Japan, on Tuesday reported 24 people have tested positive for COVID-19 since Friday.
Seven immunized individuals affiliated with the Navy developed symptoms of COVID-19, according to a news release from the base. Another 15 unimmunized people also fell ill, along with two unimmunized base employees, the release states. The naval base has 62 active cases.
The Marine Corps on Tuesday reported another 15 new cases associated with its force on Okinawa, according to a Facebook post by Marine Corps Installations Pacific. The Marines have reported 69 new cases of COVID-19, the coronavirus respiratory disease, on Okinawa so far this month.
The Okinawa prefectural Department of Public Health and Medical Care reported another 684 people tested positive for the coronavirus Tuesday, and one person died.
Marine Corps Air Station Iwakuni, 50 miles south of Hiroshima, on Tuesday subtracted one case it said was mistakenly reported as positive Monday, according to a news release from the air station. That individual was removed from isolation, according to the release.
Japan reported its highest one-day new caseload on Friday, 20,400 newly infected individuals, and another 14,922 on Monday, according to the Johns Hopkins Coronavirus Resource Center. More than 37%, or 47.2 million people, of the nation's total population are fully vaccinated.
The nation is enduring its most extreme phase of the pandemic, in terms of new cases of COVID-19 discovered each day and the stress on its health-care system. The fifth wave of coronavirus coincided with the 17-day Tokyo Olympics, which concluded Aug. 8, and may see the Paralympics begin Tuesday.