No Olympic golden ticket to exit military for South Korean high jumper 
by
David Choi and Yoo Kyong Chang
Stars and Stripes
August 12, 2021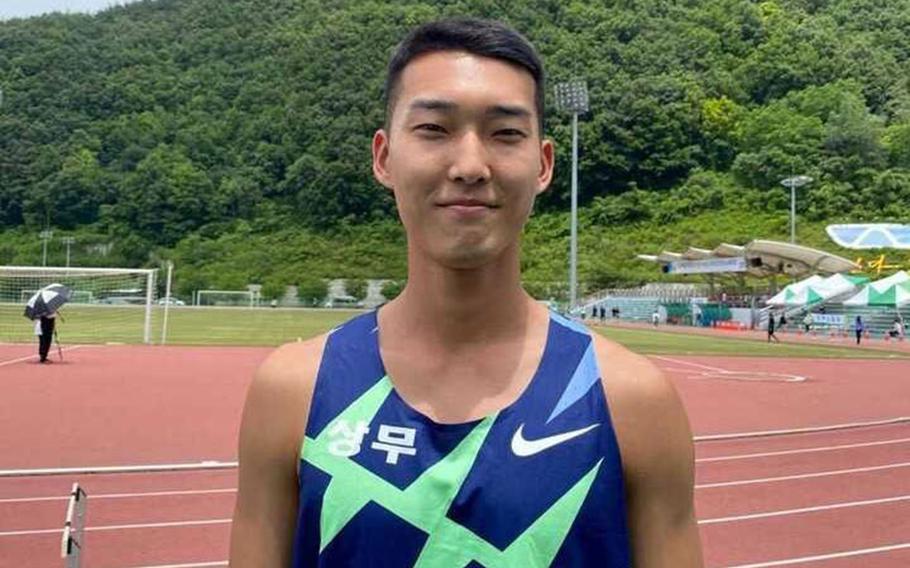 CAMP HUMPHREYS, South Korea — A South Korean high jumper hoping to win a medal at the Tokyo Olympics and qualify for an exemption from his country's mandatory military service may earn some extra vacation days instead.
Pfc. Woo Sang-hyeok, 25, of the Korea Armed Forces Athletic Corps, placed fourth in the men's high jump category after clearing a 2.35-meter bar. That performance broke South Korea's previous record of 2.34 meters, or 7.7 feet, set in 1997.
Higher jumpers from Qatar, Italy and Belarus edged out Woo with their 2.37-meter jumps in the final round. The Olympic record for the event is 2.39 meters and was achieved by American Charles Austin in 1996, according to the International Olympic Committee's website.
South Korean men are required to serve in the military for about 18 months, barring health exemptions and other extenuating circumstances. Athletes who win a gold medal at the Asian Games or an Olympic medal are also exempted from military service.
Notable South Korean athletes who recently served in the military include English Premier League's Tottenham Hotspur forward Son Heung-min. Son, who was exempted from full service after winning the gold medal for men's soccer in the 2018 Asian Games, served in South Korea's marine corps for three weeks.
Despite being unable to win a medal, Woo is being considered for up to 10 days of vacation, South Korean defense officials told Stars and Stripes on a customary condition of anonymity.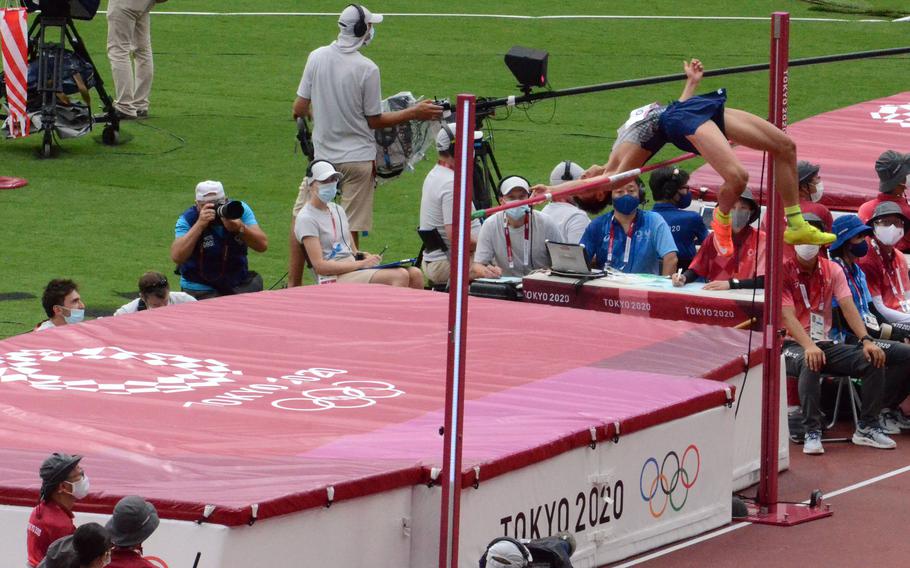 In addition to Woo, four other South Korean military-athletes are being considered for "reward holidays," defense officials said Thursday. South Korean troops are allowed an average of 24 days of vacation each year. South Korea won six gold, four silver and 10 bronze medals in Tokyo.
South Korean Defense Minister Suh Wook congratulated Woo for his "professional military spirit and superb performance," in an Aug. 4 letter.
"The military praises/pats on the back him for the hard work of him, who stunned the people, and conveys its appreciation to him," he wrote. "The military believes Pfc. Woo Sang-hyeok's passion and efforts will bear fruit as greater accomplishments and hopes everything goes well with him."
Woo conducted his off-season training in the U.S. earlier this year and received his mandatory pre-Olympics COVID-19 vaccine in San Diego, Calif.
He joined the Korea Armed Forces Athletic Corps – the national military league that trains service members for sporting events – in March. It is a component of the Ministry of National Defense but does not belong to any specific branch of South Korea's military.
The U.S. military has similar athletic organizations, such as the Army's World Class Athlete Program. Nineteen American service members represented the U.S. for the Tokyo games.