Japan adds more military bases to long list of spots where personal drones can't be flown
by
Matthew M. Burke and Mari Higa
Stars and Stripes
August 12, 2021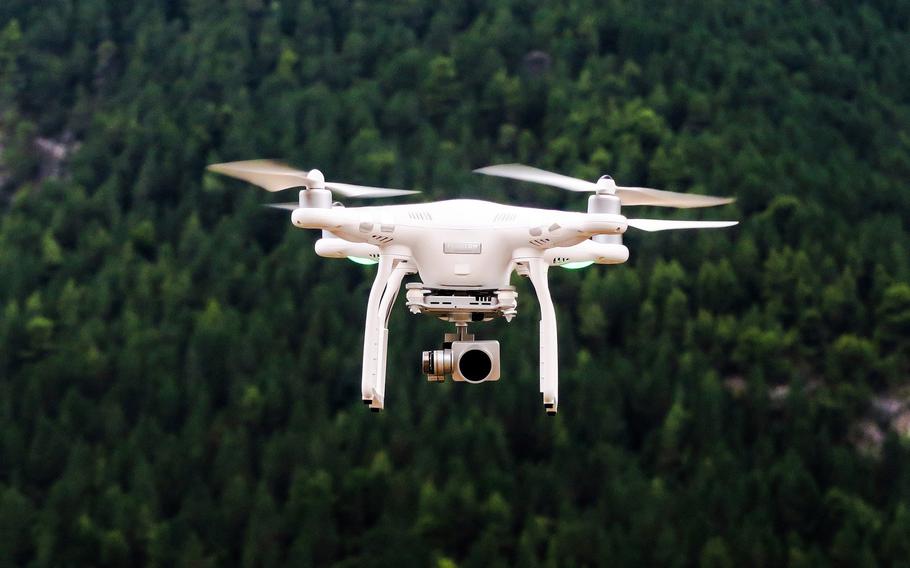 CAMP FOSTER, Okinawa — The Japanese government has added 15 U.S. and 38 Japanese military sites to a list of places where overflights by consumer-grade drones are banned.
Japan's 2016 Drone Act prohibits flying small, unmanned aircraft above or within about 984 feet of the fence line of a designated installation.
The prohibition takes effect Monday at newly listed Japanese Self-Defense Forces bases and on Sept. 5 at the U.S. bases, according to the Defense Ministry statement on Aug. 6.
"Selections were made prioritizing the facilities that have particularly high necessity to prevent the danger of terrorist attacks using drones," a ministry spokeswoman told Stars and Stripes by phone on Tuesday. It's customary in Japan for some government officials to speak to the media on condition of anonymity.
The Japanese installations include Camp Nerima in Tokyo, Camp Naha on Okinawa and Iwo Jima Air Base.
U.S. sites on the island of Honshu include Yokohama North Dock in Kanagawa prefecture, Camp Fuji in Shizuoka prefecture and Kure Pier 6 in Hiroshima prefecture.
On Kyushu Island, the U.S. sites are Itazuke Auxiliary Airfield, Sasebo Dry Dock, Sasebo Ammunition Supply Point, the Yokose Petroleum, Oil and Lubricants Depot and Harioshima Ammunition Storage Area.
On Okinawa, the U.S. sites are Henoko Ordnance Ammunition Depot, Kadena Ammunition Storage Area, Tengan Pier, Camp Courtney, Camp Shields, White Beach Naval Facility and Naha Port.
Some members of the Japanese media object to the Drone Act, saying it restricts reporting on military activities and hinders the right of the people to be informed.
Japan moved to address drones after one crashed into former Prime Minister Shinzo Abe's home in April 2015. They were first barred from flying over the Imperial Palace, national government office buildings, embassies and nuclear power plants.
The Japanese government took up smaller, personal drones a year later through the Drone Act. Violators face up to a year in prison or a fine up to about $4,500.
Last September, 15 U.S. bases were added to the list, including Yokota Air Base, headquarters of U.S. Forces Japan in western Tokyo, Yokosuka Naval Base, the homeport of the U.S. 7th Fleet, and several Marine bases on Okinawa.
Drone flyovers at U.S. installations occurred 70 times in 2018, U.S. Forces Japan said in 2019. Questions emailed Wednesday regarding recent drone incursions had not been answered by Thursday afternoon.
The drones pose a "considerable risk" to the safety and security of those living on the base and also those in the surrounding communities, the command said in 2019.
Twitter: @MatthewMBurke1
Twitter: @MariHiga21