Another pandemic record: Coronavirus cases surge above 5,000 in Tokyo
by
Joseph Ditzler
Stars and Stripes
August 5, 2021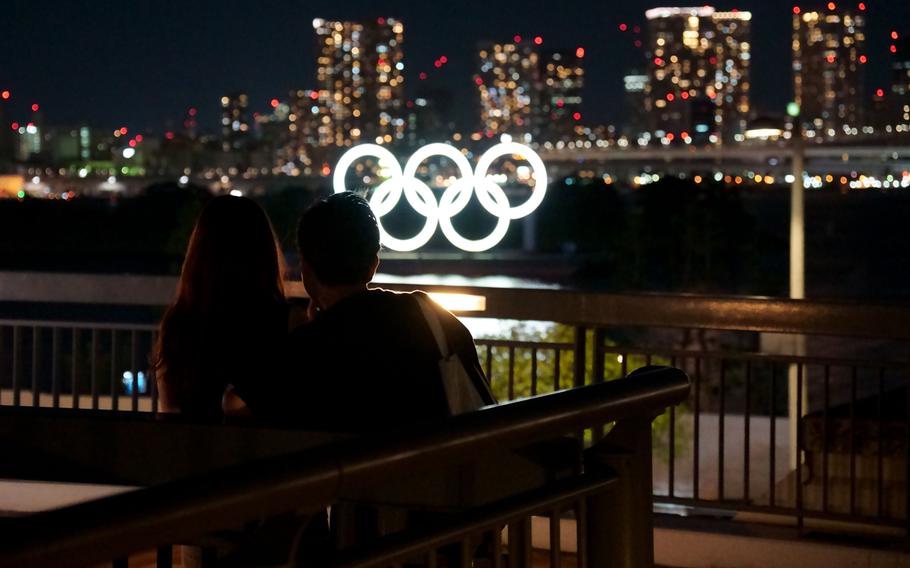 TOKYO – Japan's capital city, focus of global attention as host of the delayed 2020 Olympics, reported another pandemic record Thursday and exceeded 5,000 new cases on one day.
The Tokyo Metropolitan Government announced 5,042 people had tested positive, the highest ever in the city since the pandemic began, according to public broadcaster NHK and metro government data. There were 4,166 cases on Wednesday, also a record.
The number of coronavirus cases generated by the pandemic's fifth wave in Tokyo towers above highs reached in January during the previous wave. The record then was 2,520 on Jan. 7.
Tokyo and the surrounding prefectures of Saitama, Chiba and Kanagawa are under a state of emergency until Aug. 31, along with Osaka and Okinawa.
Meanwhile, one U.S. base in Japan reported six newly infected individuals Wednesday evening.
Naval Air Facility Atsugi, 26 miles southwest of central Tokyo, identified six people who tested positive after close contact with a previously infected person, according to a news release.
U.S. Army Japan, headquartered at Camp Zama, 28 miles from central Tokyo, on Thursday re-imposed a mask order for everyone on its installations, regardless of their vaccination status.
Everyone must wear masks indoors with exceptions for military readiness, personal offices, eating and drinking, physical fitness, official public speaking, musicians and private vehicles and spaces, according to the order signed by Brig. Gen. Joel Vowell, commander of U.S. Army Japan.
In Tokyo, about 3,400 people are hospitalized with the virus, 115 of them in serious condition, according to the metro government. The seven-day moving average, an ongoing measure of new infections per day, was 3,478.7 on Wednesday. Two months ago, it was 317.
The Olympic Games continued Thursday, one day closer to their conclusion Sunday.
Another 31 people associated with the games tested positive, according to the Tokyo 2020 daily update Thursday. They include 16 contractors, seven people associated with the organizing committees, three media members, two games employees, two volunteers and one athlete.
Since July 1, when reporting began, 353 people associated with the Tokyo Olympics have tested positive, including 29 athletes.
Thus far during the pandemic, Japan has reported nearly 972,000 coronavirus cases and 15,246 deaths, according to the Johns Hopkins Coronavirus Resource Center. It reported a one-day high Wednesday of 14,114 newly infected people, according to the center.
Japan has, so far, vaccinated 34.2% of its population.
New cases for US Forces Korea
In South Korea, the U.S. command reported 20 newly infected people between July 18 and Monday, all of them new arrivals to the peninsula, according to a news release.
One service member arrived July 20 at Osan Air Base from the United States on the Patriot Express, a government-chartered air service, according to U.S. Forces Korea. Eleven service members, three family members and a retiree arrived at Incheon International Airport on commercial flights on July 18, 19, 23 through 29, Sunday and Monday.
Twelve individuals tested positive upon arrival, four while in quarantine and four on the test required before exiting quarantine, according to USFK. They were all isolated either Osan or Camp Humphreys.
South Korea reported 1,776 new cases on Wednesday, according to the Korea Disease Control and Prevention Agency. Seoul accounted for 461 and Gyeonggi province, home to Camp Humphreys, the largest U.S. overseas military base, reported 475.
KDCA reported 14.4% of the population is fully vaccinated and 39.6% has had at least one dose of a two-shot regimen.
Stars and Stripes reporter Yoo Kyong Chang contributed to this report.
---
---
---