COVID-19 wave churns in Tokyo as Olympics' opening ceremony approaches
by
Joseph Ditzler
Stars and Stripes
July 20, 2021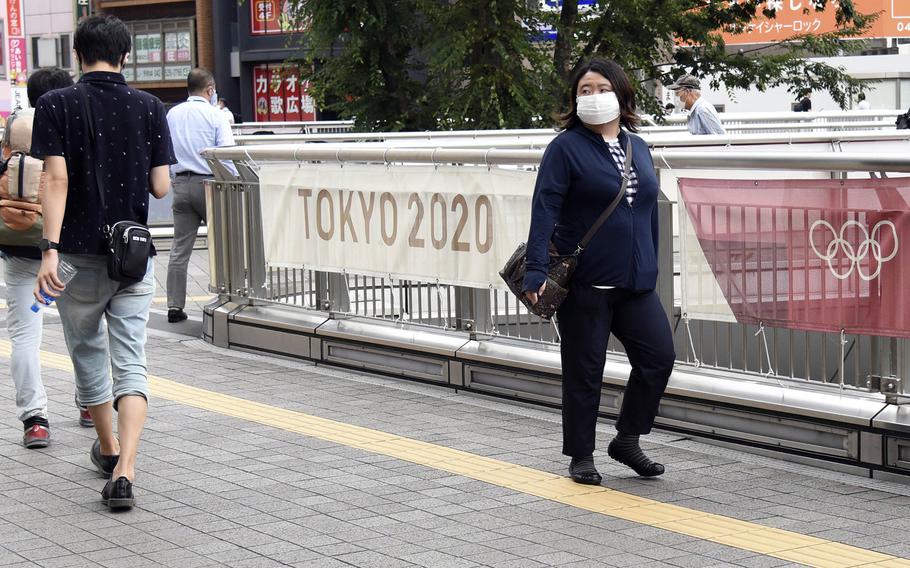 TOKYO – Japan's capital city reported another 1,387 people were infected with COVID-19 on Tuesday, part of a coronavirus wave sweeping the city just days ahead of the Olympic opening ceremonies, according to public broadcaster NHK.
The fifth wave has yet to lose momentum, according to metro government data. The seven-day moving average shows 1,100 people becoming infected every day in Tokyo. More than 190,000 in the capital have contracted the virus during the pandemic and more than 2,280 have died.
Prime Minister Yoshihide Suga, speaking Tuesday before the opening meeting of the International Olympic Committee, struck a positive note, according to NHK. The Tokyo Games, taking place under myriad pandemic restrictions, will be different, he said. But steps are being taken to ensure that Olympic athletes and staff can participate with peace of mind.
Meanwhile, the U.S. military in Japan reported two new cases of the coronavirus respiratory disease as of 6 p.m. Tuesday.
Yokosuka Naval Base, 43 miles south of central Tokyo, said an individual who had been inoculated against the disease tested positive after falling ill with symptoms of COVID-19. The base has two people with the coronavirus under observation, according to a news release.
Naval Air Facility Atsugi, 28 miles southeast of central Tokyo, also had one individual test positive after falling ill, according to base spokesman Sam Samuelson. NAF Atsugi has three COVID-19 patients under observation.
Tokyo experienced five consecutive days of at least 1,000 new coronavirus patients that began Wednesday and peaked Saturday at 1,410 new patients. That was the highest one-day total since the third coronavirus wave, the worst to hit Japan. The city on Jan. 7 reported its highest one-day total, 2,520 new COVID-19 cases. A fourth wave peaked at 1,121 patients on May 8, according to metro government data online.
On Tuesday, Japan reported 3,105 new COVID-19 cases, according to the World Health Organization, for a pandemic total of 841,537 and 15,048 deaths.
Olympics organizers said 71 people affiliated with the games have tested positive as of Tuesday, The Associated Press reported. That includes 31 people among the tens of thousands of people arriving from outside Japan to compete or work at the games.
On Monday, Kara Eaker, an alternate on the U.S. women's gymnastics team, and Czech beach volleyball team member Ondřej Perušič were reported to be positive for the coronavirus, according to AP. Both went into 14-day quarantine, the news service reported.
The games are scheduled to open Friday without the usual fanfare. No audience is permitted at the ceremony and no spectators will be allowed at the venues. The city itself is under a state of emergency aimed at quashing the nightlife revelry and mixing of international visitors typical of Olympic Games.
Infections in South Korea
U.S. Forces Korea reported no new COVID-19 patients Tuesday.
South Korea reported 1,278 new coronavirus patients Monday, according to a daily update Tuesday by the Korea Disease Control and Prevention Agency. Seoul accounted for 388 of those and Gyeonggi province, where the Army's Camp Humphreys and Osan Air Base are located, reported 375.
So far, 59,040 of South Korea's 180,481 COVID-19 infections have occurred in Seoul, the South Korean capital, according to KDCA. Second is Gyeonggi with 51,077.
However, the province has a lower incidence rate, 380 cases per 100,000 population, than Seoul at 610 per 100,000.