Gen. Charles Flynn, brother of former national security adviser, takes reins of US Army Pacific
by
Wyatt Olson
Stars and Stripes
June 5, 2021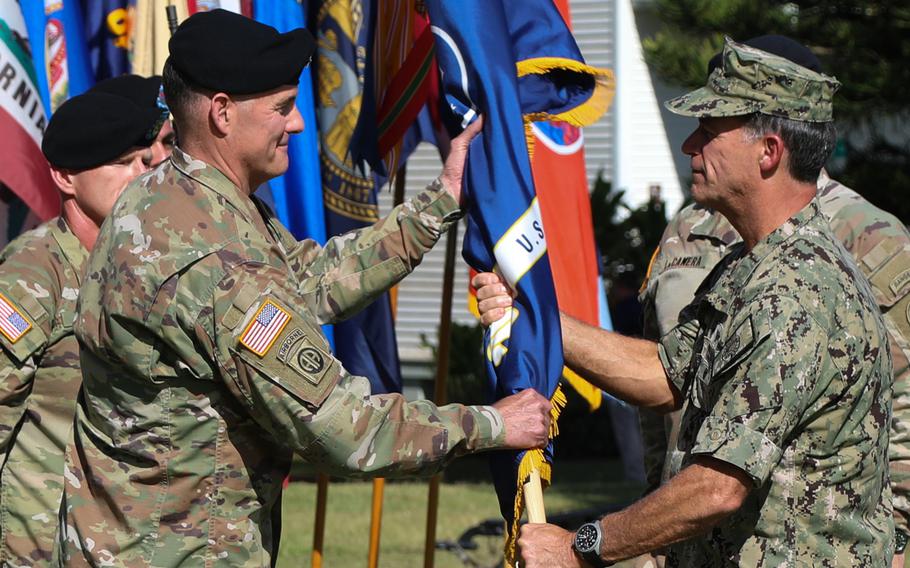 FORT SHAFTER, Hawaii — Gen. Charles Flynn took command of U.S. Army Pacific on Friday, vowing to continue transforming the 90,000-soldier force into one that can meet the challenge of a rising China.
"Today, as China trends on an increasingly concerning path, presenting challenge to the free and open Pacific, the Army is charged to change once more," Flynn said during a livestreamed ceremony at Fort Shafter. Media were not allowed to attend the event.
Flynn — the younger brother of Michael Flynn, who briefly served as national security adviser under former President Donald Trump — took the reins from Gen. Paul LaCamera, who will move on to command U.S. Forces Korea.
Flynn arrived from Washington, D.C., where he had served since June 2019 as deputy chief of staff for Army operations, plans and training. He has been stationed in Hawaii numerous times, most recently as deputy commanding general at U.S. Army Pacific.
Adm. John Aquilino, the head of U.S. Indo-Pacific Command, welcomed Flynn back to Hawaii during an address at the ceremony.
"I'm going to ask you to focus on seizing the initiative by thinking, acting and operating differently, to continue to execute the integrated deterrence needed to ensure the free and open Indo-Pacific," Aquilino said. "U.S. Army Pacific Command is a vital part of our approach to generate a lethal combined joint force distributed west of the international dateline that can be protected, sustained and capable of fully integrating with all of our allies and partners."
Addressing the audience, the Army's chief of staff, Gen. James McConville, praised LaCamera for his part in developing and testing the Army's first Multi-Domain Task Force, which is aimed at coordinating air, cyberspace, land, maritime, space and the electromagnetic spectrum in a battle environment.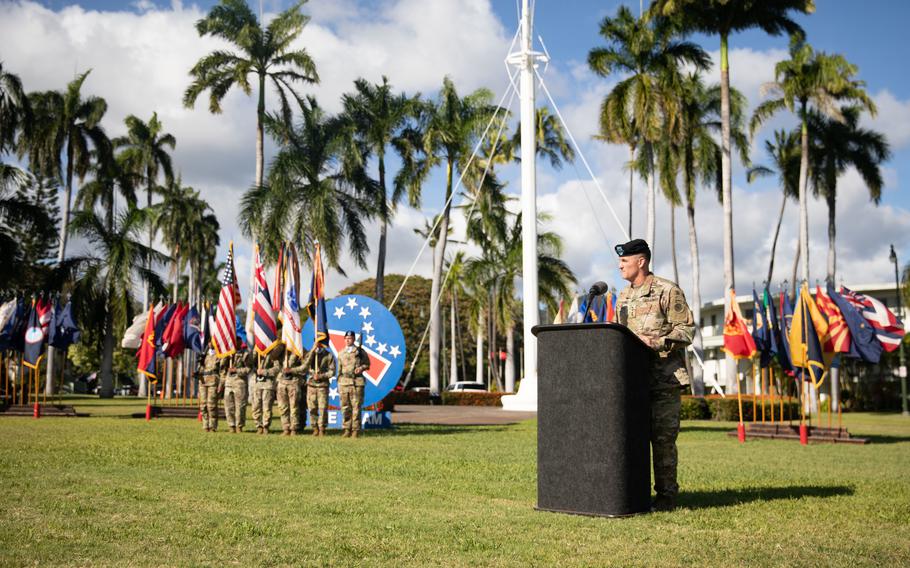 Flynn said he expected to build upon that soon by incorporating long-range precision fires and integrated air missile defense.
U.S. Army Pacific is also calibrating its force posture to be more agile through prepositioning supplies in the theater to sustain the force, he said.
"If we operate, compete and fight domain-on-domain, we will cede advantages and put our future at risk," Flynn said. "However, if we act, operate and fight as an integrated joint force – tightly linked to our allies and partners – there is no adversary on planet that can match this team."
Flynn is a graduate of the U.S. Naval War College, where he earned a master's degree in national security and strategic studies, according to his official bio.
Early in his career he was stationed at Schofield Barracks as operations officer for the 1st Battalion, 27th Infantry Regiment, 25th Infantry Division and later as operations officer of the division's 2nd Brigade Combat Team.
From 2014 to 2016, he commanded the 25th, after which he served as deputy commanding general of U.S. Army Pacific until 2018.
He has commanded troops at the battalion and brigade levels within the 82nd Airborne Division and was deployed on combat tours in both Iraq and Afghanistan, according to his bio.
Flynn's brother Michael, a retired Army lieutenant general, pleaded guilty to a felony count of "willfully and knowingly" making false statements to the FBI during its investigation looking into ties between Russia and Donald Trump's 2016 presidential campaign. Trump pardoned him in November.
Over Memorial Day weekend, Michael Flynn made headlines after seeming to agree with an audience member at the "For God & Country Patriot Roundup" conference in Dallas that a military coup would be desirable in the United States.
Twitter: @WyattWOlson