Top US commander in Asia reaffirms 'ironclad' alliance during first visit to South Korea
by
David Choi
Stars and Stripes
June 4, 2021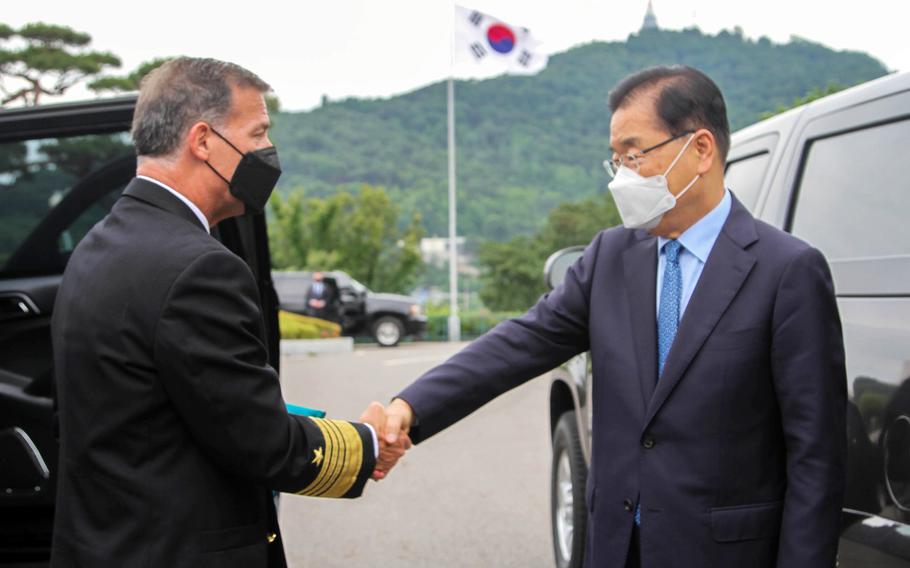 CAMP HUMPHREYS, South Korea — Adm. John Aquilino on Thursday reaffirmed the United States' commitment to "peace, security, and prosperity" during his first trip to South Korea as the head of Indo-Pacific Command.
The visit came days after North Korea pointed to a U.S. decision to lift restrictions limiting the range of South Korea's missiles to about 500 miles. Pyongyang warned the revision could contribute to an "acute and instable situation," according to The Associated Press.
The range is enough for a South Korean weapon to strike all of North Korea but is short of hitting potential key targets in other neighbors like China and Japan.
"The U.S. security commitment to [South Korea] is ironclad, and this visit provides the opportunity to listen to our allies' security concerns and learn how we can strengthen our combined defense posture to ensure peace and stability in the region," Aquilino said in a statement during his trip, according to INDOPACOM.
He met with senior South Korean officials, including the chairman of the Joint Chiefs of Staff, Gen. Won In-choul, Minister of Foreign Affairs Chung Eui-yong and Minister of National Defense Suh Wook.
Won emphasized the alliance between the two countries must be maintained, according to a Joint Chiefs of Staff press release, and that diplomatic efforts to achieve "the complete denuclearization" of the Korean Peninsula would continue to be supported.
Aquilino's visit to South Korea follows a trip to Tokyo on Tuesday, where he likened the U.S.-Japan alliance as "the cornerstone of peace and security in the Pacific."
The visits mark Aquilino's first overseas trip since taking charge of INDOPACOM on April 30. During his Senate confirmation hearing, he warned of the "rejuvenation of the Chinese Communist Party" and added that he believed Beijing was prioritizing its plans to annex Taiwan.
As the INDOPACOM commander, Aquilino leads roughly 380,000 U.S. service members and oversees the military's role in 36 nations.
The visits underscore the U.S.'s focus on the region's security, particularly as China and North Korean relations have stalled in recent months.
President Joe Biden hosted South Korean President Moon Jae-at the White House in May, which followed a separate trip from Japanese Prime Minister Yoshihide Suga in April.
Twitter: @choibboy
---
---
---