Aquilino calls on Japanese leaders during first overseas trip as INDOPACOM chief
by
Seth Robson
Stars and Stripes
June 1, 2021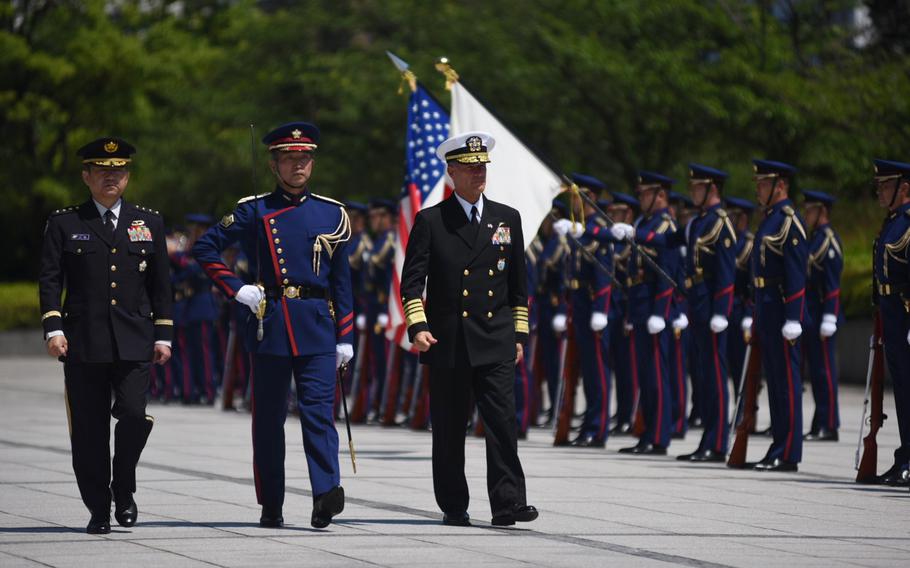 TOKYO — Adm. John Aquilino, on his first overseas trip as commander of U.S. forces in the Indo-Pacific, placed a wreath at a memorial to fallen troops Tuesday before meeting with Japan's top civilian and military leaders.
The day after Memorial Day, when America honors its own fallen, Aquilino called at Japan's Ministry of Defense in Tokyo and paid tribute to Japanese service members who died on duty. He assumed command of the Hawaii-based U.S. Indo-Pacific Command on April 30.
During World War II, over 2 million Japanese troops died fighting compared to 161,000 American service members.
More than 76 years after hostilities ended, the two nations are firm friends whose alliance is often described by U.S. and Japanese leaders as the cornerstone of peace and prosperity in the region.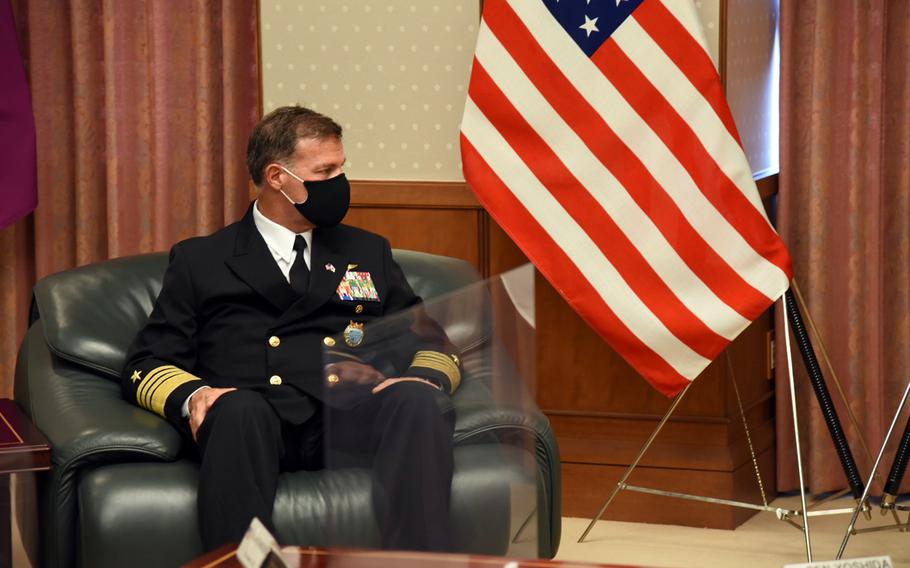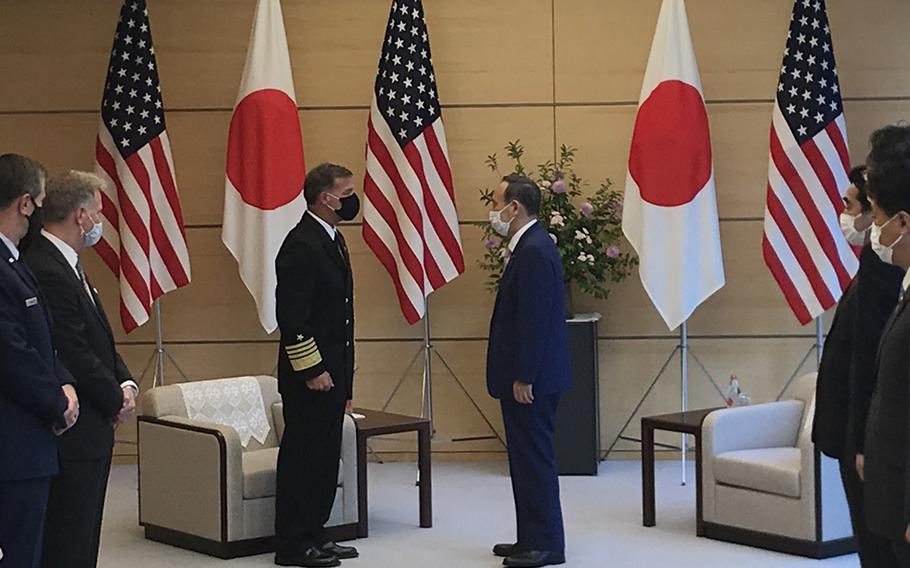 That sentiment was repeated Tuesday by Aquilino and those he met with on Tuesday, including Prime Minister Yoshihide Suga, Foreign Minister Toshimitsu Motegi, Defense Minister Nobuo Kishi and Japan Self-Defense Forces Gen. Koji Yamazaki, chief of staff for the Joint Staff.
Suga, at the start of a meeting at his office, told Aquilino that he built a personal relationship of trust with President Joe Biden during an April summit in Washington, D.C.
"Let us, Japan and the U.S., work closely," Suga said to the admiral.
Aquilino told Suga it was particularly important for him to visit Japan in his first overseas trip as INDOPACOM leader.
"The U.S.-Japan alliance is the cornerstone of peace and security in the Pacific today," he said.
Beyond praising the alliance, the leaders said little in public about security challenges they face, such as North Korean nuclear weapons and missiles and Chinese claims over the South China Sea and the Japanese-administered Senkaku Islands in the East China Sea.
Aquilino's predecessor, Adm. Philip Davidson, told the Senate Armed Services Committee on March 9 that China could invade Taiwan, 1,300 miles southwest of Tokyo, "in the next six years."
Aquilino, who commanded the U.S. Pacific Fleet before taking charge of INDOPACOM, is expected to maintain Davidson's hardline regarding Beijing.
During his confirmation hearing earlier this spring, Aquilino told senators the U.S. needs to bolster funding for the Pacific Deterrence Initiative to better challenge China's influence in the region. He also warned that Beijing was increasing its stockpile of nuclear weapons "faster than anyone previously believed."
Twitter: @SethRobson1
---
---
---