Vending machines selling ethnic hair care products may be coming to overseas military bases
by
Erica Earl
Stars and Stripes
June 4, 2021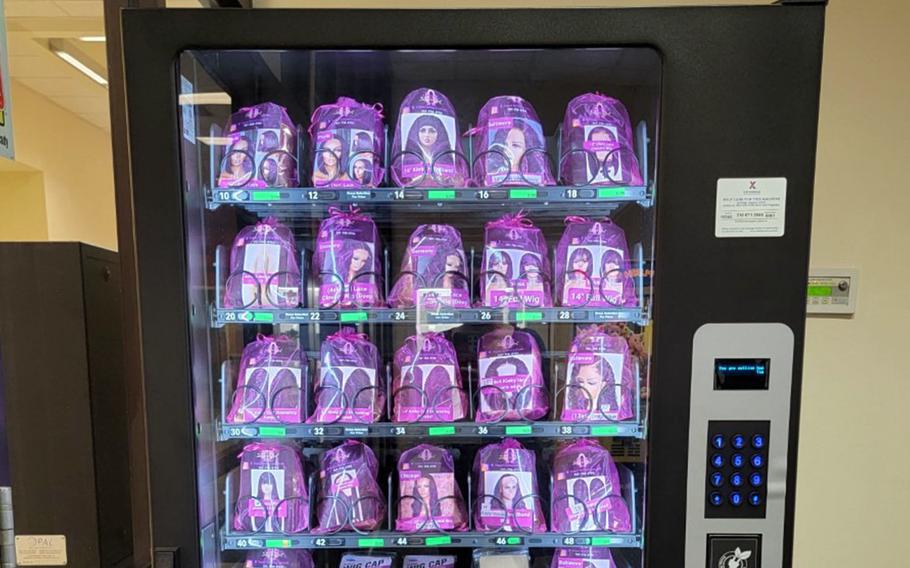 YOKOTA AIR BASE, Japan – Following their rollout at five stateside military bases, vending machines that sell wigs, eyelashes and ethnic hair products may be coming to Army and Air Force exchanges overseas.
Beauty product vending machines by Sugar Intoxicated, a company based out of Williamsburg, Va., were installed this year at Lackland Air Force Base and Fort Sam Houston in Texas; Forts Lee and Belvoir in Virginia; and Fort Jackson, S.C.
Sugar Intoxicated and the Army and Air Force Exchange Service are eying more locations, including several overseas, based on the machines' success stateside, AAFES spokesperson Chris Ward told Stars and Stripes via email Wednesday.
Air National Guardsman Latoya Duhart founded Sugar Intoxicated in 2019 after realizing military exchanges did not offer everything she needed to care for her hair, especially in a training environment where on-base stores were the only options. "I had also been told countless hair damage horror stories," Duhart told Stars and Stripes via email Friday. "After struggling for 6 weeks with my hair, I made a promise that if I could help it, no other woman who served would go without the beauty products they so desperately needed."
She also stocks machines with lip glosses made by her 10-year-old daughter, Olivia Miller.
Sugar Intoxicated started as a kiosk at Fort Lee, where Duhart sold everything that she felt was missing at the exchange. Because of monthly drill obligations, she had to regularly close the shop. This is how the vending machine idea was created.
"I needed to find a way to provide my products without being present," she said.
So far, Sugar Intoxicated machines are only on military installations, Duhart said.
"I will continue to do everything I can to make sure all ladies who serve are provided the products they need to enhance their beauty," she wrote. "I know firsthand wearing these boots isn't easy, but you don't have to look how you feel."
Antoinette "Tonie" Jimmerson, a licensed cosmetologist on Yokota Air Base specializing in natural hair care, said the product selection at the base exchange is often disappointing and lacks a broad selection of products for Black women and others with textured hair.
"While we have some quality hair products, the pattern I have noticed is that they provide 3-4 products from a line, which include shampoo, conditioner, and leave-in conditioner, or deep conditioner, leaving out styling products," she told Stars and Stripes via email May 26.
"It communicates that buyers are not educated in trends, or they simply do not care. When quality products are stocked, they often go missing from the shelves for several months at a time leaving consumers to buy online."
Ward said exchanges worldwide, including those in the Pacific region, carry more than 6,500 multicultural products to include cosmetics, hair and skin care for all backgrounds, but they are open to feedback.
"If there's a product a shopper would like to see carried at their local Exchange, they may contact their Exchange manager to inquire about that item being added to the stock assortment," he said.
The Navy Exchange has no plans to acquire the vending machines for now but are developing a new department called Hair Zone that will feature multicultural hair care products, spokeswoman Kristine Sturkie said in an email to Stars and Stripes on May 28.
"Over the last two years, NEXCOM has made an investment both in multicultural hair care products and assortment as well as their availability," especially outside the continental United States, based on patrons' feedback, she said.
Twitter: @ThisEarlGirl