US military reports 17 new COVID-19 cases at bases in Japan, South Korea
by
Matthew M. Burke 
Stars and Stripes
June 3, 2021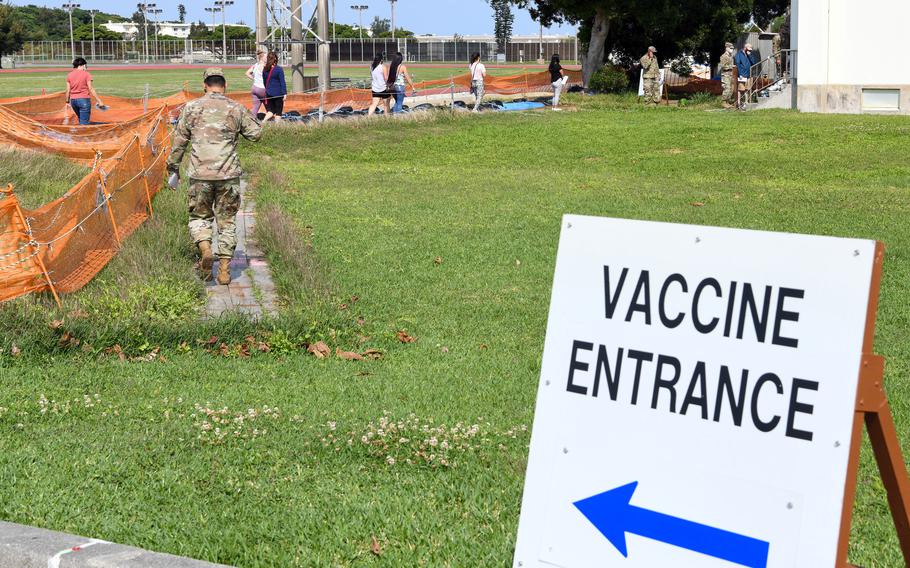 CAMP FOSTER, Okinawa — The U.S. military in Japan and South Korea reported 17 new cases of COVID-19 as of 6 p.m. Thursday.
Kadena Air Base on Okinawa had seven people test positive for the coronavirus respiratory disease "over the last few days," according to a base Facebook post Wednesday evening.
Four became ill with COVID-19 symptoms and self-isolated. The remaining three were already quarantined as close contacts of previously infected individuals.
Naval Air Facility Atsugi, 26 miles southwest of Tokyo, reported three new coronavirus cases Thursday, according to a post on its Facebook page. A sailor and two base employees tested positive after displaying symptoms. Their infections were confirmed sometime after May 24, said base spokesman Sam Samuelson.
U.S. Forces Korea had four service members and three family members test positive after arriving at Incheon International Airport on commercial flights May 16, 18, 25, 29 and Sunday, according to a U.S. Forces Korea news release Wednesday.
Five tested positive on the mandatory COVID-19 test before entering quarantine and two tested positive on the test required to exit quarantine. All seven were isolated at either Camp Humphreys or Osan Air Base, according to USFK.
Starting Friday, travelers to Japan from another 15 U.S. states, including Arizona, California and New York, are required to spend three days in quarantine in a government-designated facility upon entering the country, according to a Facebook post by the U.S. Embassy in Tokyo. The 15 states join a list that already includes Florida, Michigan, Minnesota and Tennessee.
However, travelers associated with the U.S. Defense Department are not required to comply with the quarantine order, according to U.S. Forces Japan.
The Enhanced Quarantine Alert by does not affect individuals under the status of forces agreement, according to an email Thursday to Stars and Stripes from USFJ spokesman Marine Staff Sgt. Jonathan Wright. SOFA defines the legal status of the U.S. armed forces stationed in host countries.
Japan reported 3,037 new coronavirus cases on Wednesday, down 1,496 from the same day last week, the Yomiuri newspaper reported. The government has counted 750,000 cases during the pandemic and more than 13,000 deaths, according to the World Health Organization.
Tokyo on Wednesday reported another 487 people newly infected with the coronavirus and 13 deaths, according to public broadcaster NHK. New infections are 256 fewer than the same day last week, continuing a trend.
Osaka prefecture, the nation's second-largest metro area, reported 213 new coronavirus patients Wednesday and 27 deaths, according to NHK. While the number of deaths is up 11 from a month prior, the number of cases has fallen dramatically in recent weeks. There were 845 new patients on May 3, according to prefectural data.
Okinawa prefecture reported 297 new infections Wednesday, according to NHK.
Japan's top coronavirus adviser on Wednesday called for the Tokyo Olympics, scheduled to begin on July 23, to be scaled down "as much as possible," Kyodo News reported Thursday.
Speaking to a House of Representatives committee in Tokyo, Shigeru Omi, an infectious disease expert and head of the government subcommittee on the virus, said hosting the games during a pandemic is "not normal."
Tokyo and nine other prefectures, including Osaka and Okinawa, are in a state of emergency through June 20.
Stars and Stripes reporter Joseph Ditzler contributed to this report.
Twitter: @MatthewMBurke1