Navy helps Japanese sailors mark first-ever Fleet Week in tandem with NYC event
By
Stars and Stripes
June 1, 2021
---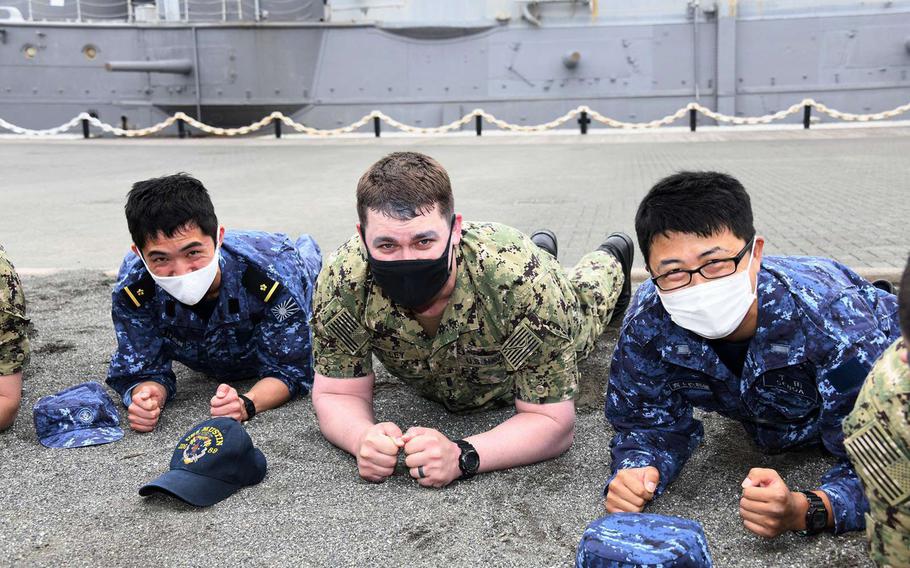 YOKOSUKA NAVAL BASE, Japan — The coronavirus pandemic did not halt the Japan Maritime Self-Defense Force's first-ever Fleet Week, a six-day event held in conjunction with Fleet Week in New York City, according to Naval Forces Japan.
The Navy and the JMSDF shifted what they hoped would be public events to a mix of real and virtual ones, like the Navy Sea Legs challenge, shared via social media.
"We are proud and honored to be celebrating Fleet Week Japan with an important partner," Naval Forces Japan spokeswoman Cmdr. Katie Cerezo told Stars and Stripes in an email. "For JMSDF to hold Fleet Week Japan at the same time as New York made sense; the ties between New York and Japan are deep and long-standing."
During Fleet Week, deployed vessels make a port call at a city for several days, their crews take in the sights and interact with the public, which is often afforded tours of the warships. Fleet Week ran in Japan and New York from May 26 through Monday.
In the Navy Sea Leg challenge, participants climbed stairs to reach the height of iconic landmarks in New York City and across Japan. A different landmark was featured each day, ranging from 354 steps May 26 for the Statue of Liberty to 19,600 steps over the weekend for Mount Fuji, according to a Navy news release May 19.
Anyone who took up the challenge was encouraged to post something with the hashtag #NavySeaLegs on social media platforms Facebook, Twitter, and Instagram to show they completed each event. Other hashtags associated with Fleet Week are #FleetWeekJapan, and #FleetWeekNYC.
A lunchtime event brought junior officers from the JMSDF and the guided-missile destroyer USS Mustin together after the stair challenges, according to Cerezo's email. They dined on their respective services favorite foods.
Wednesday is typically burger day aboard Navy warships, and the JMSDF looks forward to curry every Friday, Cerezo said.
"Despite the challenges of COVID, we still need to maintain and develop the strong relationships we've built with our JMSDF partners," Rear Adm. Brian Fort, commander of Naval Forces Japan, said in a statement provided May 25 to Stars and Stripes. "Celebrating Fleet Week jointly and with interactive challenges meant that we were able to continue to build on our ties and share our experiences together."
Twitter: @Beta_Stripes
---
---
---
---