Navy's Cameron Kinley, given an exemption to join an NFL team, released by Buccaneers
by
Cindy Boren
The Washington Post
August 16, 2021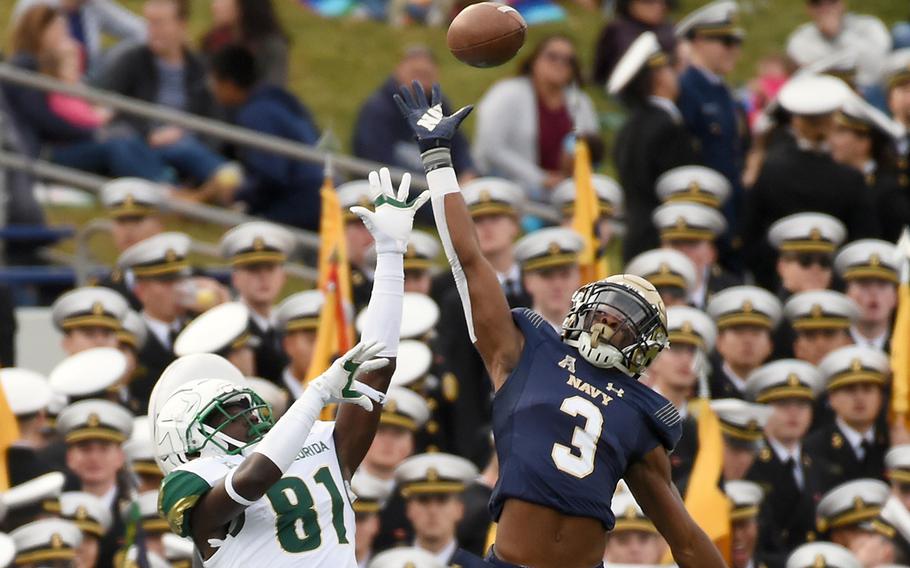 Cameron Kinley, the Naval Academy cornerback who was given a special exemption to delay his service commitment so he could try to make an NFL roster, was released Sunday by the Tampa Bay Buccaneers.
An undrafted free agent, Kinley was granted the exemption by Secretary of Defense Lloyd Austin in July after signing with the Bucs in May. Kinley was third on the team with six tackles, five of which were solo, in the Bucs' preseason loss to Cincinnati. But finding a spot on the Super Bowl champions was a tall order because all 22 of Tampa Bay's starters returned, and the team has depth at each position.
"I'm definitely grateful I had an opportunity to be a part of the organization," Kinley told ESPN. "I was able to learn a lot on and off the field from the players, coaches and support staff. I wish the Buccaneers the best this season and I look forward to what God has next for me."
Coach Bruce Arians called Kinley, president of his class at the academy, "a great young man."
Kinley's football career seemed over in May when his application to delay his five-year service commitment was denied, but Austin decided to allow him to attend training camp, saying in a statement that Kinley would be "enlisted in the Inactive Ready Reserve for the duration of his football career," as his situation began to receive national attention.
Other service academies handled such matters differently. For instance, Army's Jon Rhattigan (Seattle Seahawks) and Air Force's Nolan Laufenberg (Denver Broncos) and George Silvanic (Los Angeles Rams) were allowed to delay their service to play in the NFL, Ryan Williams-Jenkins, co-founder of Kinley's agency, Divine Sports and Entertainment, told The Post in July. Malcolm Perry, Navy's record-setting quarterback, has been with the Miami Dolphins since graduating in 2020.
"Upon completion of his playing time, we look forward to welcoming him back inside the ranks as a naval officer," Austin said in a statement in July. "In the meantime, we know Cameron will take every opportunity on and off the field to ably represent the Navy and the military to the American people and to assist us in our recruiting efforts. I applaud Navy leadership for finding this way to showcase both Cameron's athletic prowess, as well as the quality and professionalism of our student athletes and our personnel."
With less than four years of service time in the NFL, Kinley is subject to waivers and if he is unclaimed by another team, he will become a free agent.
Former president Donald Trump directed the Pentagon in 2019 to draft guidelines that gave service academy graduates a path to delay their service to capitalize on the opportunity to play professional sports and President Joe Biden said in a statement that he was pleased to learn that Kinley's request had been granted.