Cameron Kinley: 'I definitely have a chip on my shoulder'
by
Rick Stroud
Tampa Bay Times
July 8, 2021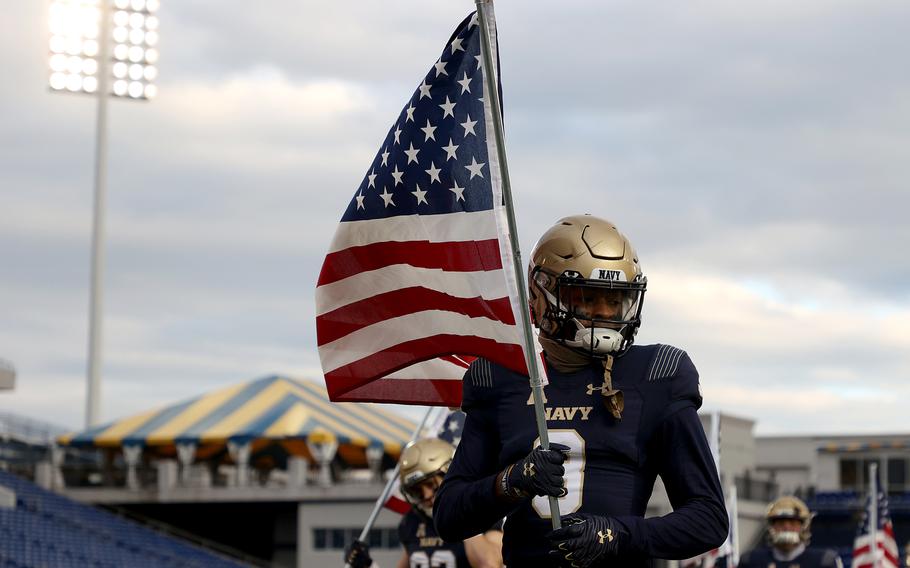 TAMPA, Fla. (Tribune News Service) — Navy defensive back Cameron Kinley already has demonstrated his ability to overcome adversity, which will serve him well during his service in the military and his pursuit of an NFL career with the Bucs.
He learned the Department of Defense did an about-face and approved his request to delay his commission when he received a call Tuesday from Defense Secretary Lloyd J. Austin III on an Arlington, Va., phone number.
"I was just in shock that I was on the phone with the Secretary of Defense," Kinley told ESPN. "But he informed me that he had made the decision to reverse the ruling and he was happy he made the decision. He said this was the correct decision and that he's just looking forward to me taking advantage of it."
Kinley signed as an undrafted free agent with the Bucs in May and attended the team's rookie minicamp before returning to the Naval Academy to deliver a commencement speech in front of Vice President Kamala Harris at the commencement ceremony.
But in June, acting secretary of the Navy, Thomas W. Harker, declined Kinley's request to delay his commission without an explanation.
"I was heartbroken, I was speechless," Kinley said. "I really didn't know what the think. And then I just realized this was another obstacle on the journey. I realized this was going to make me a stronger person."
The situation received national attention. Kinley did a series of interviews with national media. Florida Senator Marco Rubio even wrote to President Joe Biden, urging him to intervene.
"I am confident that Cameron will represent the Navy well in the NFL, just as he did as a standout athlete and class president at the Naval Academy," Biden said in a statement Tuesday. "After his NFL career is over, he will continue to make us proud as an officer in the United States Navy."
Kinley received support rom the NFL Players Association, lawmakers and others. With 22 returning starters from their Super Bowl 55 championship team, Kinley faces some long odds to make the Bucs' roster. The young secondary is mostly intact and the Bucs have experienced depth behind their starters with veterans such as Ross Cockrell, Antonio Hamilton and Herb Miller.
But Kinley opened some eyes during rookie minicamp. This experience is proof that he won't back down.
"It's kind of the mindset that I've had since I began playing the game of football," Kinley said. "Don't let anybody outwork you, and give 110 percent. So I'm excited about it. I definitely have a chip on my shoulder."
©2021 Tampa Bay Times.
Visit tampabay.com.
Distributed by Tribune Content Agency, LLC.