Defense secretary grants Cameron Kinley chance to pursue NFL career with Bucs
by
Rick Stroud
Tampa Bay Times
July 6, 2021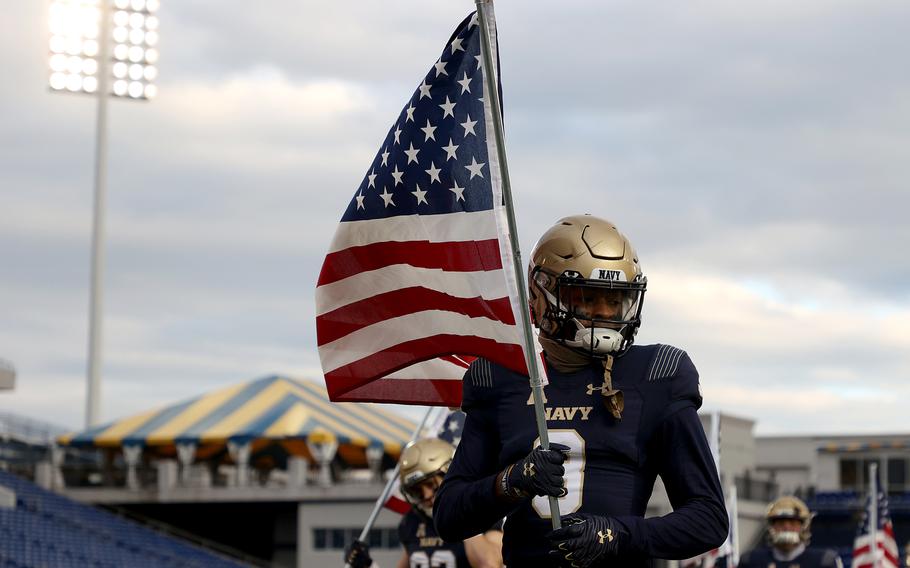 TAMPA, Fla. (Tribune News Service) — Navy defensive back Cameron Kinley was granted his wish Tuesday to pursue an NFL career with the Bucs by the U.S. Secretary of Defense, retired General Lloyd Austin.
Upon graduation, Kinley initially was denied his request to delay his commission. But Austin will allow him to sign with the Bucs as an undrafted free agent and attend training camp.
"Today I was informed the Secretary of Defense will be allowing me to continue my journey with the Tampa Bay Buccaneers and attend training camp at the end of this month," Kinley said in a statement. "I am extremely appreciative of Secretary Austin's decision and I am excited to represent our fine military in the National Football League. This past month has been very challenging and I'm thankful for everyone who supported me in any way."
Kinley made a good impression on the Bucs during their rookie minicamp in May but was blindsided after learning his request to have his commission delayed was denied by Acting Secretary of the Navy Thomas W. Harker.
According to Kinley's agent, Ryan Williams-Jenkins of Devine Sports and Entertainment, the Navy had promised Kinley it would delay his commission so he could pursue a career in the NFL when it recruited him out of Memphis.
"I'm well aware and embrace the commitment that I made to serve when I arrived at the Naval Academy, and I'm not asking to set aside that commitment," Kinley said in a letter to U.S. Senator Marsha Blackburn (R-Tennessee) in June. "Instead, I want to represent my country and the Navy as an NFL player just as other players have been able to do."
After efforts to delay his commission were denied, Kinley, the Navy class president, went on a media campaign to tell his story in hopes the Defense Department would reverse course.
"This was no easy feat and we worked tirelessly to make it happen," Devine Sports and Entertainment said in a statement.
Kinley was the U.S. Naval Academy's 2021 class president and captain of the football team. He gave a speech and introduced Vice President Kamala Harris during a commencement ceremony.
Not only did Harker deny Kinley's opportunity to play in the NFL, he wouldn't allow him to appeal the decision.
A year ago, Kinley's Navy teammate, receiver Malcolm Perry, had his commission delayed so he could sign and play for the Miami Dolphins as a seventh-round draft pick. This year, four players from other service academies ― Parker Ferguson, Nolan Laufenberg and George Silvanic of the Air Force Academy and Jon Rhattigan from West Point ― have signed with NFL clubs.
Bucs coach Bruce Arians has said the team would like to see Kinley compete for a roster spot in training camp, which begins July 24."It's kind of a catch-22," Arians said. "I know he wants to attempt to be a professional football player, but he obviously means a ton to the Navy. So I'll leave that up to them. Would love to have him, because I thought he showed promising signs when he was here."
Kinley still faces tall odds of earning a roster spot with the Bucs, who returned all 22 starters from their Super Bowl 55 championship squad.
©2021 Tampa Bay Times.
Visit tampabay.com.
Distributed by Tribune Content Agency, LLC.