Rubio asks Biden for waiver so Navy star Cameron Kinley can play for NFL's Buccaneers
by
Joey Knight
Tampa Bay Times
June 21, 2021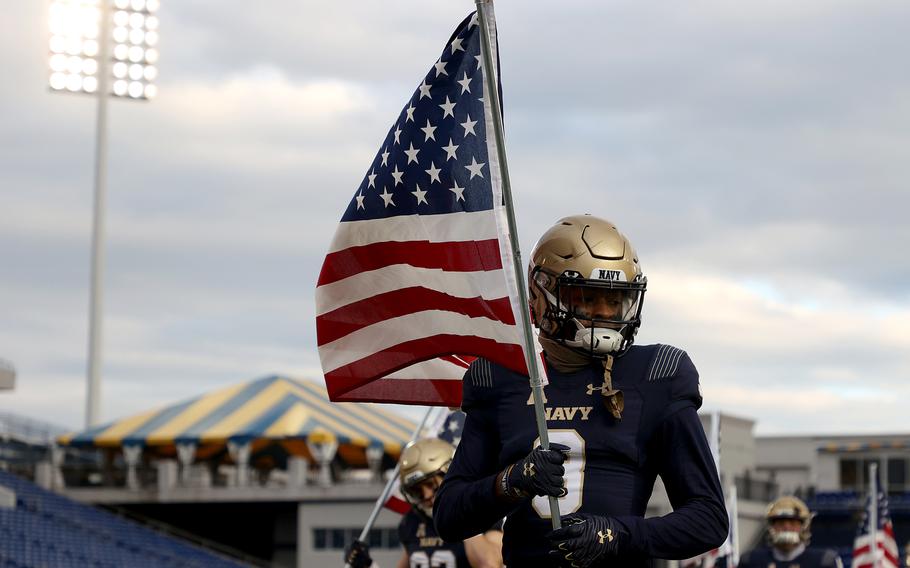 TAMPA, Fla. (Tribune News Service) — The plight of Tampa Bay Buccaneers rookie free agent defensive back (and U.S. Naval Academy graduate) Cameron Kinley evidently has gained bipartisan empathy.
U.S. Sen. Marco Rubio of Florida has sent a letter to President Joe Biden, urging him to grant a waiver to Kinley that would delay his military service so Kinley can pursue an NFL career. The full text of the Republican senator's letter can be found here.
"In years past, the U.S. Department of Defense has issued many waivers to allow athletes to temporarily delay their service to our nation to pursue their professional sports dreams," Rubio wrote. "Unfortunately, Mr. Kinley seems to be the exception, and without reason."
The Naval Academy's 2021 class president and captain of the Midshipmen football team, Kinley wasn't selected in the recent NFL draft but joined the Bucs as an undrafted free agent and shined at their rookie minicamp in May.
But his request to have his commission delayed was denied by Acting Secretary of the Navy Thomas W. Harker, who didn't allow Kinley to appeal the decision.
Kinley's agent, Ryan Williams-Jenkins, said the Navy had told Kinley it would delay his commission so he could also pursue an NFL career. Meantime, four players from other service academies have signed with NFL teams. Last year, Navy quarterback Malcolm Perry had his commission delayed so he could sign and play for the Dolphins as a seventh-round draft pick (as a receiver).
"It's kind of a catch-22," Bucs coach Bruce Arians told reporters recently. "I know he wants to attempt to be a professional football player, but he obviously means a ton to the Navy. So I'll leave that up to them. Would love to have him, because I thought he showed promising signs when he was here."
All students who attend the Naval Academy do so on a full scholarship in return for five years of active duty service upon graduation.
"Mr. Kinley was permitted to train and participate in a Pro Day, which was hosted at the Naval Academy," Rubio wrote to Biden. "He was also allowed to attend a Rookie Minicamp with the Buccaneers. Yet, Acting Secretary Harker denied his request for deferment without cause, and will not allow for an appeal.
"Mr. Kinley is not seeking to terminate his commitment to the Navy. Far from it. He wishes to promote service to our great nation from one of the country's largest stages. I implore you to right this wrong."
©2021 Tampa Bay Times.
Visit tampabay.com.
Distributed by Tribune Content Agency, LLC.