Navy says 'no' to Cameron Kinley's bid to join the NFL's Tampa Bay Buccaneers
By
The Tampa Bay Times
June 7, 2021
---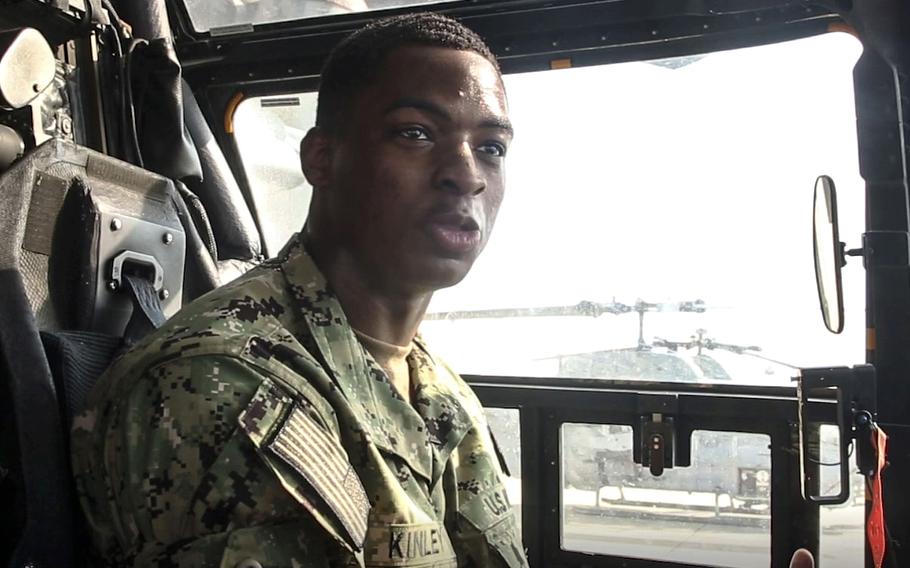 TAMPA, Fla. (Tribune News Service) — When defensive back Cameron Kinley was being recruited out of high school by the U.S. Naval Academy, he was assured he would be able to also pursue his dream of playing in the NFL like other Midshipmen.
But the undrafted Bucs free agent's request to have his commission delayed was denied by acting Secretary of the Navy Thomas W. Harker, ending his pro football career before it could get started.
Kinley was the U.S. Naval Academy's 2021 class president and captain of the football team. He gave a speech and introduced Vice President Kamala Harris during a commencement ceremony last week.
Bucs coaches were impressed with Kinley during rookie minicamp, where he intercepted quarterback Kyle Trask and made several other pass breakups.
Not only did Harker deny Kinley's opportunity to play in the NFL, he won't allow him to appeal the decision.
"As a Naval Academy graduate, football player and decorated combat veteran, I understand Cameron's commitment. I also understand there are ways he can fulfill his commitment while representing the Navy and playing professional sports," said Ryan Williams-Jenkins, Kinley's agent and the co-founder of Divine Sports and Entertainment.
"I played with three-time Super Bowl champion Joe Cardona, who still serves our country as a Navy reservist. If there is a directive and precedent allowing other service academy athletes to pursue this opportunity, what makes Cameron different? It is important to note that this could have a long-term impact on his mental health going forward. He wants to fulfill both of his childhood dreams, playing in the NFL and honorably serving his country."
Coming out of Lausanne Collegiate School in Memphis, Kinley was a three-sport star who earned varsity letters in basketball, football and track. His dream was to attend Vanderbilt. He also took visits to the U.S. Air Force Academy, Princeton and Yale.
According to Williams-Jenkins, the Navy told Kinley they would delay his commission so he could also pursue an NFL career.
A year ago, Kinley's Navy teammate, receiver Malcolm Perry, had his commission delayed so he could sign and play for the Miami Dolphins as a seventh-round draft pick.
"It's the same provisions that are in place, so nothing has changed," Williams-Jenkins said. "It's just the decision that was made by the one individual."
The news comes a day before Kinley was expected to report to the Bucs' mandatory, full-squad minicamp.
©2021 Tampa Bay Times. Visit tampabay.com. Distributed by Tribune Content Agency, LLC.
---
---
---
---