Protect veterans with all related respiratory disorders
By
Special to Stars and Stripes
June 28, 2022
---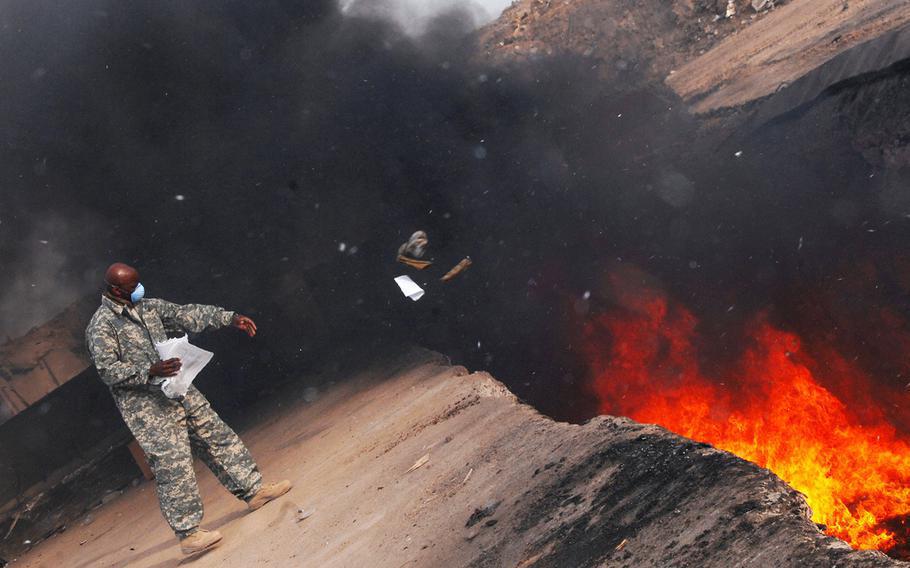 Last week, the Senate took a big step to pass the bipartisan Sergeant First Class Heath Robinson Honoring Our Promise to Address Comprehensive Toxics (PACT) Act that supports veterans with medical conditions related to burn pits and other toxic exposures. Historic in scope, the bill relieves the heavy burden of proof that veterans have experienced in establishing service connection for deployment related illnesses. While the PACT Act answers a longstanding call from veterans, we now need to ensure that it benefits all who are in need.
The Department of Veterans Affairs has already linked asthma and several malignancies to toxic exposures, but it has failed to do the same for deployment related diseases that are more difficult to diagnose. One of these disorders is constrictive bronchiolitis, a toxic inhalation lung disease first linked to Fort Campbell, Ky., soldiers who served in Iraq.
Those affected were physically fit and healthy when deployed in 2003 but later experienced severe exercise limitation following a year of service. They were incapable of completing a two-mile run within regulation time and were considered physically unfit per Army standards. The explanation for their exercise limitation proved to be elusive as standard diagnostic tests, including X-rays and pulmonary function testing, failed to explain why previously healthy and athletic soldiers were now too limited to continue to serve.
As the numbers of symptomatic soldiers grew, Vanderbilt Medical Center, including my pulmonary clinic, were asked to assist in their evaluations. Their stories of exercise limitation were convincing and appeared inconsistent with normal or near normal non-invasive testing. Initially a few, and over time, dozens of symptomatic deployers were referred for more invasive surgical lung biopsy. The biopsies demonstrated constrictive bronchiolitis, a pathologic change indicating toxic inhalation. Almost 300 veterans have had biopsies demonstrating toxic lung injury, but this number represents a fraction of symptomatic deployers, possibly in the thousands, who have not had this procedure.
Meanwhile, the Department of Defense's STAMPEDE study evaluated hundreds of service members with exercise limitations and found that between 30 and 40% did not have an explanation for their symptoms. These deployers had exposures and symptoms that mirrored those with biopsy proven toxic lung injury — supporting the concern that thousands of post-9/11 service members may be similarly affected.
As currently drafted, the Honoring Our PACT Act includes constrictive bronchiolitis as one of the diseases associated with toxic inhalation. While this is a positive development, the bill does not include language on how the VA will diagnose conditions like this. Will the VA create a system to non-invasively evaluate veterans with respiratory disorders? Or will the VA continue the pattern of placing the burden of proof on the veteran and require an invasive surgical biopsy to receive care and benefits?
The Honoring our PACT Act was created to relieve our veterans of this burden of proof and the VA health care system must create a unique program of non-invasive medical assessment for respiratory disorders. The VA will need to expand the number of Airborne Hazards and Burn Pit Centers and to accelerate development of emerging technologies that appear to have the capacity to non-invasively detect toxic lung injury.
Our service members willingly entered theaters of war with the promise that we would take care of them when they returned home. Senate and House sponsors have acknowledged that fulfilling the promise to the 3.5 million who have served will be costly. As a country, we must acknowledge that our veterans and their families have already collectively paid a price far exceeding what Congress may allocate. Opponents to this legislation frequently argue that some of the illnesses are conclusively established as being related to deployment. So be it. We cannot require our veterans to prove this service connection any longer. This is the foundation of the Honoring Our PACT Act, and we owe them this medical care.
President Joe Biden has outlined his personal stake in this issue with the loss of his son, Beau, from a brain tumor following his deployment to Iraq. The president has asked Congress and the VA to offer presumption for several malignancies and respiratory disorders such as constrictive bronchiolitis. This is the only way that we can fulfill our country's commitment to support those who have so bravely and honorably served.
Robert Miller is a Nashville, Tenn.-based pulmonologist and professor of Clinical Medicine at Vanderbilt University Medical Center.
---
---
---
---