Episode 5: The rise of China, part three — war with China
By
Stars and Stripes
September 14, 2021
---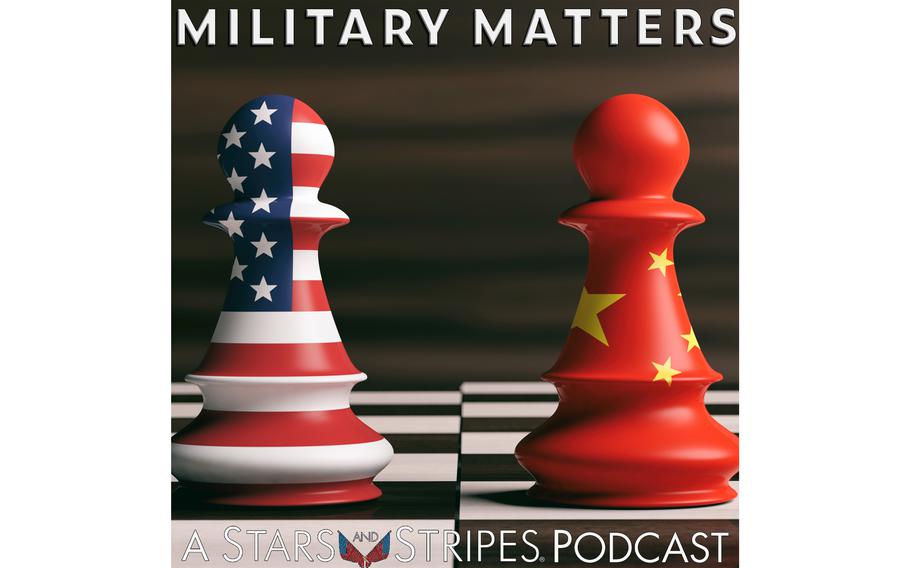 Military Matters' previous episodes on the growing threat from China examined the country's rise as a global leader and its efforts at espionage against the United States. In the third and final episode of the series, co-host Jack Murphy and guest Roger Cliff take a look at the worst-case scenario: war.
Cliff holds a Ph.D. in international relations from Princeton University and is a research professor of Indo-Pacific affairs in the Strategic Studies Institute at the U.S. Army War College. He helped author a 2007 study for the Rand Corporation titled "Entering the Dragon's Lair," about a possible armed conflict between China and the United States and is the author of the book "China's Military Power: Assessing Current and Future Capabilities."
Cliff identified three "clash points" that could spark an armed confrontation with China. Perhaps most obvious would be if China attempted to use force to invade Taiwan, which China claims as part of its territory even though the island has been self-governing since 1949 and a full democracy since 1996, Cliff said. A conflict could also arise from China and the Philippines' overlapping claims to islands in the South China Sea. The final clash point is the Senkaku Islands, which are claimed by Japan and recognized by the U.S., but also claimed by China.
"I think it's important not to underestimate the symbolic importance of these territories to the leaders in Beijing," Cliff said. "The Communist Party of China, which controls the country and has since 1949, has built its legitimacy really on two pillars. One is, at least in recent years, delivering ever rising standards of living in China, but the other is restoring China to what is seen as its proper place in the international system as one of the dominant powers and most significant civilizations in the world. And all these territories are really symbols of China's period of weakness in the 19th and early 20th century."
In a war with the U.S., China's strategy would likely be to wear down the military and deplete its resources, according to Cliff's Rand Corporation study from 2007. However, things have changed since then, and China is building up war materiel such as aircraft carriers in preparation for a more conventional battle.
"The tactics may be asymmetrical, but the forces that China's building look very much like ours," Cliff said. "In fact, aircraft carriers, you know, fourth and fifth generation fighter jets, even the ground forces, they have a main battle tank that looks quite similar to the U.S. M1A1 and so on. The main asymmetrical weapon that people have pointed to is China's ballistic missiles. … Even more recently, China's developed ballistic missiles that could be used to attack ships at sea, such as an aircraft carrier. And this is a capability that no nation has ever fielded before."
The nuclear capabilities of the U.S. and China must also be considered in a possible future conflict.
"Until now the U.S. has enjoyed overwhelming nuclear dominance over China," Cliff said. "However, there are indications that China is engaged in a significant buildup of its nuclear forces, and it is possible that in the next decade or so, China's strategic nuclear weapons may begin to approach the number that the U.S. and Russia have. But in any case, there is a nuclear shadow that hangs over any conflict between the United States and China."
You can find Military Matters on Twitter @stripesmmpod.
Follow Jack Murphy on Twitter @jackmurphyrgr and Rod Rodriguez @rodpodrod.
A transcript of the episode can be found here.
Go to www.stripes.com use promo code PODCAST and save 50% on your digital subscription.
---
---
---
---