US airlift hub in Tokyo revives cherry blossom festival as COVID-19 slide continues
By
Stars and Stripes
March 8, 2022
---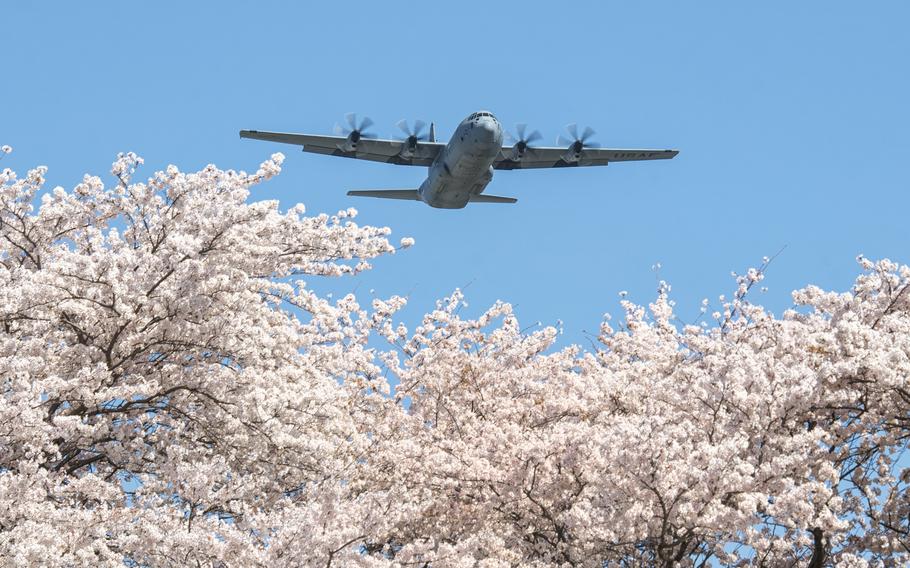 Stars and Stripes is making stories on the coronavirus pandemic available free of charge. See more stories here. Sign up for our daily coronavirus newsletter here. Please support our journalism with a subscription.
TOKYO – The U.S. Air Force's airlift hub in western Tokyo is confident enough of its public health measures that it has scheduled its Sakura Spring Festival, canceled two years running due to the coronavirus pandemic, for late March.
The event is open to Japanese citizens to come and see the sakura, or cherry blossoms, that line the base streets in some quarters, and to take part in activities. It is scheduled March 26.
"This year offers live music performances, food vendors, games for all ages, and views of flowering Sakura blossoms throughout the venue," said an announcement on social media Tuesday by the air base. "We encourage all attendees to celebrate this local tradition as a way for Yokota and local Japanese residents to continue strengthening the invaluable bond of friendship they share."
As for COVID-19, "we are confident we can have a successful outdoors event while following current public health emergency and protective measures," base spokesman 1st Lt. Danny Rangel said in an email Tuesday to Stars and Stripes.
Yokota officials "are continually assessing public health conditions and will evaluate the most up-to-date information and procedures to help ensure the safety of our personnel and festival attendees," he said.
Masks, for example, are required on Yokota except outdoors for individuals who are fully vaccinated and can maintain social distancing, according to a public health order updated March 1.
Yokota has reported 601 cases of COVID-19 since Jan. 5. The sixth phase of the pandemic created record-high numbers of new cases. The omicron variant spreads more easily than preceding variants, but is considered less virulent, according to the Centers for Disease Control and Prevention.
Marine Corps Air Station Iwakuni, south of Hiroshima, in mid-February canceled its Friendship Festival, a larger event scheduled in May, due to the pandemic. Yokota also has a Friendship Day tradition that brings thousands of visitors to the base for food, static displays of aircraft and entertainment. The base is planning for the event this year.
Tokyo on Tuesday reported another 8,925 people had tested positive for the coronavirus, about 2,900 fewer than a week prior, according to public broadcaster NHK.
U.S. Forces Japan on Monday reported 98 new COVID-19 cases at 14 U.S. installations over the previous 24 hours. None are considered serious, and nobody was hospitalized, according to USFJ's update. The command last reported 85 new cases on Friday.
Marine Corps Air Station Futenma accounted for 24 new cases followed by Kadena Air Base with 15, according to USFJ. Both installations are on Okinawa.
MCAS Iwakuni reported 14 and Yokosuka Naval Base, south of Tokyo, had 12, according to USFJ.
Also Tuesday, MCAS Iwakuni in a news release said 21 people there tested positive on Monday and another five over the weekend that were missed in earlier reports.
Yokota, where USFJ is headquartered, separately reported 20 people tested positive for COVID-19 between Friday and Monday, according to an update on the base website Tuesday.
Okinawa prefecture said another 824 people tested positive Tuesday, nearly 34% more people than the previous day, according to the prefectural Department of Public Health and Medical Care. Fifteen people in the island's U.S. military population also tested positive, according to the department's daily update.
Stars and Stripes reporter Mari Higa contributed to this report.
---
---
---
---