'Why our job is awesome': Female airlifters host Fly Girls event for students at Yokota
By
Stars and Stripes
March 8, 2022
---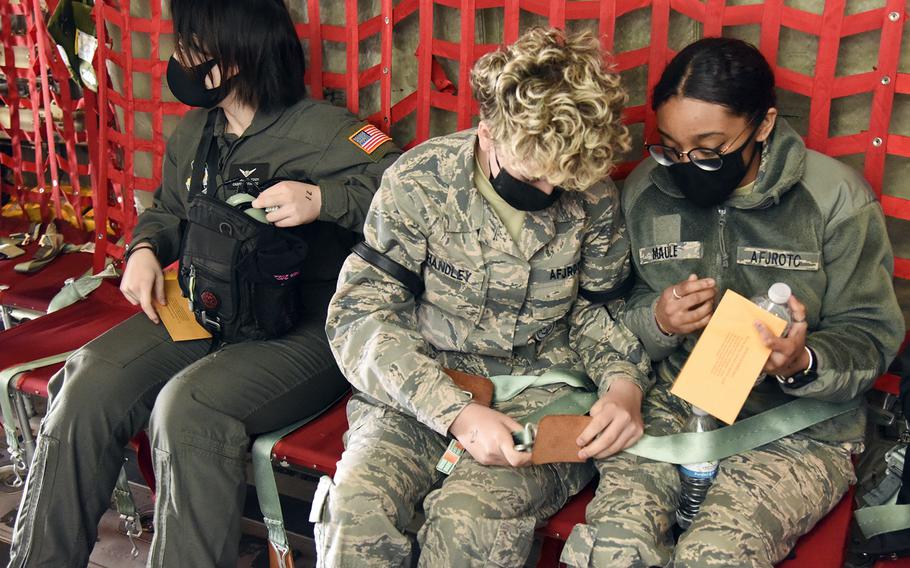 YOKOTA AIR BASE, Japan — The 36th Airlift Squadron celebrated women in aviation Tuesday in western Tokyo by taking Yokota High School students aloft and talking about women's achievements in the air.
Air Force women from the squadron shared their stories at the Fly Girls event on International Women's Day. About 80 students — young women and men — buckled into a C-130J Super Hercules for a flight over Tokyo and nearby Mount Fuji.
The vice commander of Yokota's 374th Airlift Wing, Col. Julie Gaulin, opened the event with a history lesson on the Woman Airforce Service Pilots, or WASPs, of the World War II era. They ferried aircraft from factory to flightline, tested and delivered planes for repair, towed targets and taught male pilot cadets to fly, according to Army.mil.
These were the first women to fly for the U.S. military, paving the way for those who came after them, Gaulin said.
The Fly Girls Women in Aviation Operations event demonstrates how women serve in today's Air Force, said Master Sgt. Lucy Vieira, a Super Hercules loadmaster.
"I think it's important to showcase what we do," the 41-year-old Chicago native told Stars and Stripes. "When I came in, there was not a lot of women in Air Force, let alone a lot of women in flight suits. This is my second time in this squadron and there was a period of a couple of months where I was the only female operator in this building across three career fields."
A lot has changed over the past five years, Vieira said.
"I'm really glad to see that more women are coming in," she said.
Of nearly 329,600 active-duty Air Force members, 70,246 are women, or 21.3%, according to the Air Force Personnel Data Center. Women make up 22.8% of the officers and 21% of the enlisted ranks.
Women first entered pilot training in 1976, navigator training in 1977 and fighter pilot training in 1993, according to the personnel center. As of February, of the 12,451 pilots with the rank of lieutenant colonel or below, 960 are women, or approximately 8%.
The Air Force is a place where a person's gender doesn't affect their job or success in the military, said Capt. Madeline Atkinson, a Super Hercules instructor pilot and the squadron's chief of training.
"I wanted to be a pilot since I was like 8 years old," Atkinson, 29, of San Anselmo, Calif., told Stars and Stripes at the event. "I was lucky enough that there have always been men and women in the roles of pilots, commanders, and leaders. I've always seen that and just to continue to propagate that and to make sure that they see that it's both genders. It's not just men, it's not just women, it's both."
The students split up into two groups and boarded the Super Hercules. During the flight, they took turns viewing the cockpit, Atkinson said.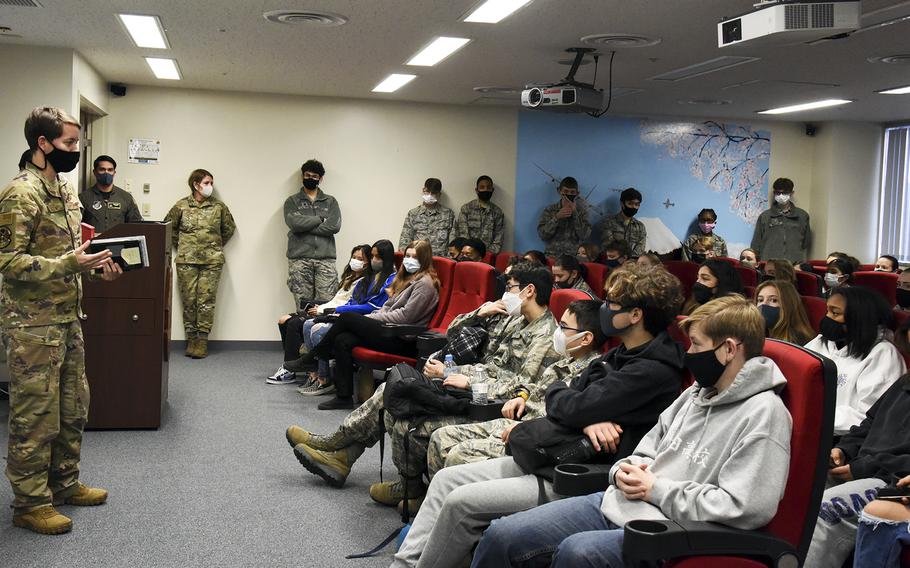 "They get to see what the view is like and what we do," she said, smiling. "And what it looks like in an airplane and why our job is awesome."
Ninth-grader Kayla Bogdan, 15, said flying over Mount Fuji was her favorite part of the event.
"That was a unique experience that I will always remember," she told Stars and Stripes. "Today I learned about some interesting career paths to take in aviation that I had never heard of before."
After the flight, the students ate lunch and the women of the 36th Airlift Squadron answered their questions.
Vieira described her job as an Air Force loadmaster. She oversees loading the aircraft, passenger handling, helping perform air and emergency evacuations and maintaining the cargo compartment, she said.
Events like Tuesday's show young women that the military is a possible career choice for them, Vieira said.
"About five years ago I ran to a super store after work, and I was still in uniform," she said. "And there was a little girl there who was probably 6 years old, and she looked at me wearing my uniform. And she looked at her mom and she said, 'Mommy I didn't know we could be in the military.'
"That really struck a nerve. At 6 years old, she already had the notion that she would be excluded based on her gender alone. So, I think it's important that she realizes she can do whatever she wants."
---
---
---
---