Sailors denied a COVID-19 vaccine exemption face discharge after five days, Navy says
by
Wyatt Olson
Stars and Stripes
November 16, 2021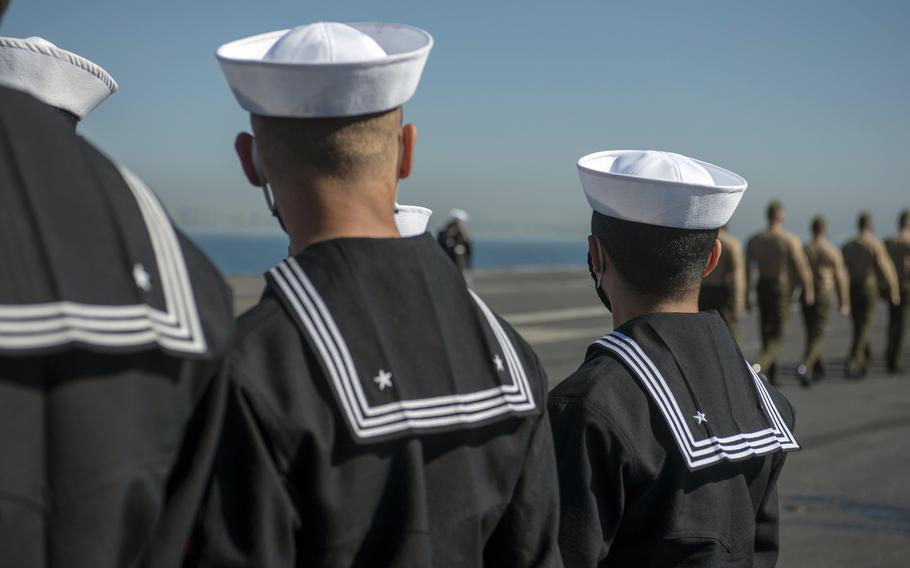 The Navy will give sailors who receive no exemption to the coronavirus vaccine mandate five days to start receiving their shots before facing separation from the service, according to official guidance to commanders Monday.
Defense Secretary Lloyd Austin in August ordered that all service members be vaccinated against the coronavirus but left the timeframe up to individual services. Last month, the Navy said it would discharge sailors who refuse the vaccine unless they are given an exemption after the Nov. 28 deadline.
"In order to ensure a fully vaccinated force, it is U.S. Navy policy to separate all Navy service members who refuse the lawful order to receive the COVID-19 vaccination," Vice Adm. John Nowell Jr., the chief of naval personnel, said in a news release Monday.
"The least favorable characterization of service for Navy service members refusing the vaccine, without extenuating circumstances, will be GENERAL (under honorable conditions)," Nowell said.
The guidance suggested that extenuating circumstances could lead to a more favorable level of separation but did not elaborate on the details.
The Navy is reviewing requests by sailors for medical and religious exceptions to the COVID-19 vaccination.
"Sailors requesting these exemptions will not be processed for separation or be subject to administrative consequences for refusal while their request is being adjudicated," the news release said.
The service has not announced how many sailors have requested or received exemptions.
About 95% of the Navy's active-duty force is fully vaccinated, with more than 99% having received at least one shot of a two-shot series, according to the release. The Navy has roughly 350,000 active-duty sailors.
If a sailor fails to start vaccinations five days after being denied an exemption, commanders are directed to begin processing the discharge.
"Decisions on whether to suspend or go ahead with separation after that deadline will be made by the Navy's Consolidated Disposition Authority," the news release said.
Commanders have the option of temporarily reassigning sailor with pending exemption requests — based on readiness and mission requirements — but must first get approval from the first flag officer in their chain of command, according to the release.
Sailors receiving a general discharge could lose eligibility for some benefits from the Department of Veterans Affairs, such as the GI Bill, the news release said.
Sailors separated for refusing the vaccine would not be eligible to reenlist, and any pending agreements for reenlistment would be canceled, the news release said.
Sailors could also be on the hook to repay costs of education and specialized training.
"If in doubt as to how to adjudicate issues related to a Navy service member refusing the vaccine, seek guidance from your chain of command, your staff judge advocate, or the [Consolidated Disposition Authority] before acting," Nowell said in the news release. "In all cases, you are accountable to ensure the health and safety of your command while treating every Navy service member with dignity and respect."
---
---
---