NDAA amendment backed by Republican senators would bar dishonorable discharges for troops who refuse coronavirus shots
by
Corey Dickstein
Stars and Stripes
November 4, 2021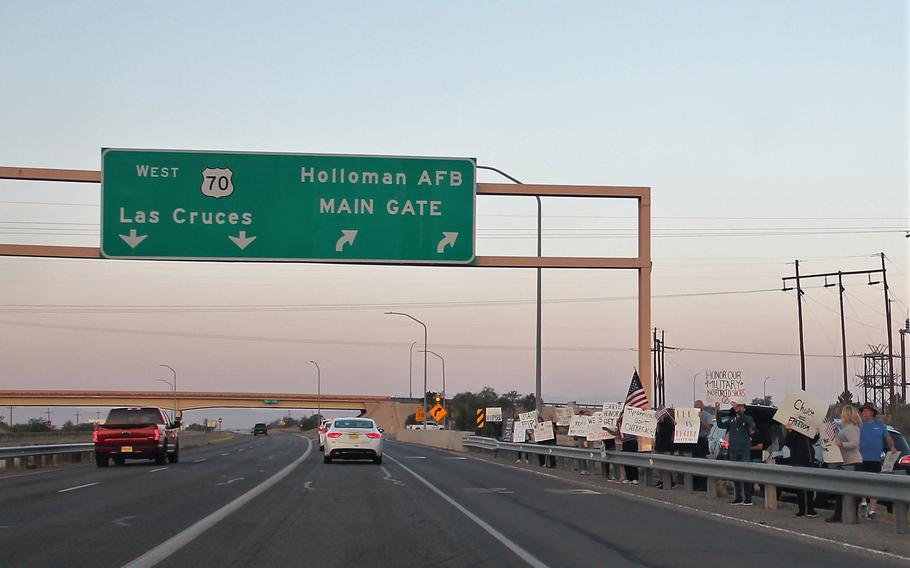 Service members who refuse the coronavirus vaccine would receive only honorable discharges from the military under Republican-sponsored legislation introduced Thursday.
The proposed amendment to the pending 2022 National Defense Authorization Act was introduced by Sen. Roger Marshall, R-Kan., who said it would protect troops who object to the vaccine mandated earlier this year by the Pentagon. Marshall said it was especially important to protect thousands of service members who have applied for religious-based exemptions to the vaccine, none of which have been approved to date by military officials.
"Think about the consequences of a dishonorable discharge," Marshall said Thursday, listing off several including the loss of medical and education benefits, gun-ownership rights, and the ability to reenlist in another military branch. "This is a big issue. It is a big deal."
Marshall's bill largely matches language included in the House-passed version of the NDAA, the annual must-pass bill that authorizes Pentagon spending and sets policy priorities. The amendment Thursday was endorsed by 10 additional Republican senators — Kevin Cramer of North Dakota, Roger Wicker of Mississippi, Ron Johnson of Wisconsin, Rick Scott of Florida, John Kennedy of Louisiana, Tommy Tuberville of Alabama, Ted Cruz of Texas, James Lankford of Oklahoma, Shelley Moore-Capito of West Virginia, and Cindy Hyde-Smith of Mississippi.
''Notwithstanding any other provision of law, a member of the armed forces subject to discharge on the basis of the member choosing not to receive the [coronavirus] vaccine may only receive an honorable discharge," reads the amendment to the NDAA, which the Senate has yet to vote on.
Meanwhile, it remains unclear what will happen to those service members who ultimately decline the vaccine and are not granted an exemption. Pentagon officials have said such individuals would likely face administrative actions or noncriminal punishments, such as rank reductions, long before commanders moved to court-martial them for failure to follow orders. A conviction for failing to follow orders could lead to a dishonorable discharge and up to two years in prison, according to the Uniform Code of Military Justice.
However, Defense Secretary Lloyd Austin has called for "compassion and understanding" from commanders as they deal with subordinates who decline the vaccine, John Kirby, Austin's top spokesman, said this week.
Republicans speaking alongside Marshall on Thursday said they worried the Pentagon would not grant any waivers for service members who cite religious objections to the vaccine. They cited some 40 Navy SEALs seeking an accommodation based on "sincere religious objection to the vaccine," according to their attorney Mike Berry of the First Liberty Institute, a Christian conservative legal group based in Texas.
"When you join the United States military, you certainly give up some of your freedoms. We all recognize that," said Berry, a Marine and Afghanistan war veteran who now serves in the Marine Reserve as a lieutenant colonel. "You do not give up your religious freedoms when you serve our country. And yet that is exactly what [the SEALs] are dealing with today — being forced to choose between their faith and serving their country."
Berry declined to provide specifics about his clients' objections or whether they had objected to any of the other 17 vaccinations required by the Pentagon for military troops.
He said the SEALs had differing reasons for their objections, but each had spent time reflecting and praying on the issue and determined the vaccine "violates their conscience and their sincerely held religious beliefs."
"I can tell you that these Navy SEALs each take their faith very, very seriously," Berry said. "And they don't want to be kicked out of the military."
The legislation introduction comes just days after the first of the Pentagon's military services passed its vaccine deadline. The Air Force passed its mandate deadline for active-duty airmen and Space Force guardians on Tuesday. The services said 96% of active-duty airmen and guardians had been fully vaccinated by Tuesday and only 3% of the about 330,000 active airmen and guardians had not received any shots or been approved for an exemption.
Service officials have approved 1,886 waivers of the vaccine mandate, primarily for medical reasons, the Air Force said Wednesday. It will spend the next month considering the cases of almost 5,000 troops who submitted religion-based exemption requests. Service officials said 800 airmen and guardians outright refused the vaccine without seeking an exemption.
The other services have later deadlines and have not disclosed how many service members have sought exemptions.
Defense Department civilians must be vaccinated by Nov. 22, while active-duty troops in the Marine Corps and Navy must be vaccinated by Nov. 28, and soldiers have until by Dec. 15. National Guard and reservists have later deadlines in each of the services.
More than 250,000 military troops have been diagnosed with the coronavirus since the pandemic's start last year, according to the Pentagon. To date, 73 service members have died of complications related to the virus.
Marshall's amendment does nothing to end the Pentagon's mandate for the coronavirus or other vaccines. However the senator, a physician and former Army doctor, said he opposes the mandate, though he chose to get vaccinated.
"I support the vaccine," Marshall said Thursday. "I don't support mandates. I don't support one-size-fits-all."