Pentagon spells out penalties for civilian employees who refuse the coronavirus vaccine
by
Caitlin Doornbos 
Stars and Stripes
October 20, 2021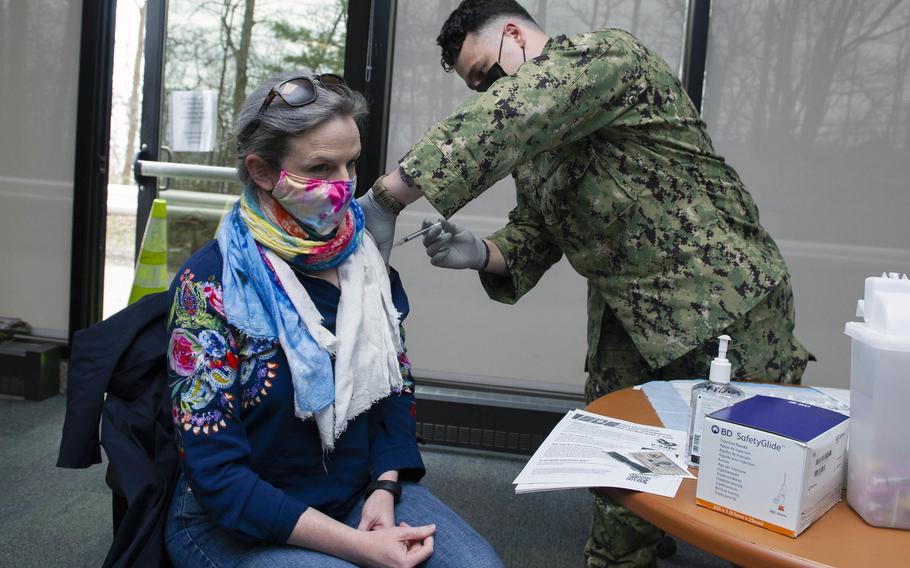 WASHINGTON — Defense Department officials have laid out how they will remove employees who refuse to comply with the federal government's coronavirus vaccine requirement, according to a Pentagon memo released Monday.
Defense Department civilian employees who are not fully vaccinated against the coronavirus after Nov. 22 without a pending or approved exemption request will be fired. New employees must be fully vaccinated by their start date for work or Nov. 22, "whichever is later," according to the memo.
The Pentagon does not consider a person fully vaccinated until two weeks after the last shot in the series, meaning the final day to meet the deadline to receive the last injection is Nov. 8. Two available vaccines — by Moderna and Pfizer — require two shots. The Johnson & Johnson vaccine is administered in a single dose.
The order also applies to defense contractors and civilian employees who work remotely.
However, before a refusing employee is terminated, defense officials listed two "progressive enforcement actions" that employers should take to convince personnel to get vaccinated.
An employee should first receive a "five-day period of counseling and education," according to the memo. If the person still declines the vaccine, they can be suspended without pay for 14 days or less before they are "removed from federal service for failing to follow a direct order."
Those who have approved religious or medical exemptions will be required to regularly test for the coronavirus, according to the memo. Teleworking employees are exempt from that requirement but must submit proof of a negative coronavirus test 72 hours before entering a Defense Department facility.
However, the Pentagon has yet to release guidance on processing exemption requests. That information is forthcoming, but in the meantime "DOD components should take no actions on any exemption requests received from DOD employees," according to the memo.
"Exemptions will be granted in limited circumstances and only where legally required," according to the memo.
---
---
---