Another US base lowers its health protection status to permit widespread travel in Japan
by
Joseph Ditzler
Stars and Stripes
October 15, 2021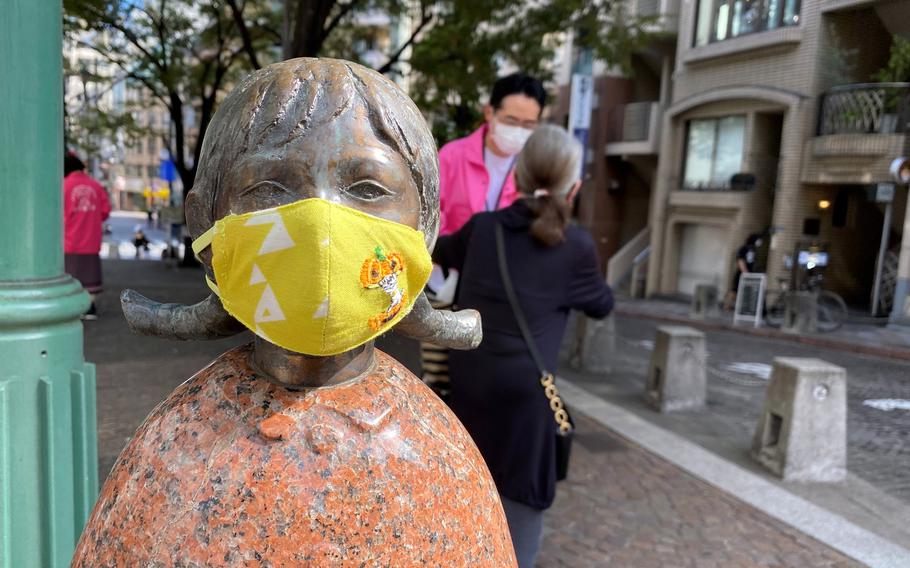 TOKYO – Another U.S. military base in Japan lowered its health protection condition to the second-lowest level, Alpha, the second installation to do so as new coronavirus cases decline across the country.
Misawa Air Base, 400 miles north of Tokyo, reverted to Alpha on Friday as the number of new cases in the surrounding community continues to fall, the pressure on local health-care facilities has eased and vaccination rates on and off the base have risen, base spokesman Maj. Cody Chiles said by phone Friday to Stars and Stripes.
"The vast majority of service members have been vaccinated" in compliance with a Defense Department directive mandating COVID-19 vaccinations for all service members, Chiles said. In addition to Air Force personnel, the Army, Navy and Japan Air Self-Defense Force have personnel stationed at Misawa.
Chiles said the majority of civilian DOD employees and family members are also fully vaccinated. He declined to say how many or what percentage of the population is vaccinated.
He said "a few" service members requested vaccination waivers on religious grounds and were referred to a review board.
"Misawa was very fortunate," he said. "We had a very low number of COVID-19 cases over the past year. I would say that can be attributed to the remoteness of our location, in addition to a very thorough COVID-mitigation process that had been in place."
Most new cases at the air base arrived with personnel from outside the area, he said.
Yokota Air Base, the headquarters for U.S. Forces Japan in western Tokyo, moved to condition Alpha on Oct. 6. The lowest health protection condition is O, or routine, and indicates no community disease transmission.
Condition Alpha represents a "limited health alert," according to Defense Department definitions. In practical terms, it means Misawa residents may travel anywhere throughout Japan, Chiles said.
The change also means fully vaccinated personnel may once again visit bars, clubs and karaoke establishments throughout Japan. Unvaccinated personnel are only authorized to visit those places in Misawa city. Everyone at Misawa, regardless of vaccination status, must wear a mask while off base.
Elsewhere in Japan, U.S. bases reported six new cases of COVID-19, the coronavirus respiratory disease, during the past week.
Kadena Air Base on Okinawa reported four people have tested positive since Oct. 9. The base has nine active cases, according to a weekly update on the base website.
Yokosuka Naval Base, the homeport of 7th Fleet south of Tokyo, said one person has turned up positive for the virus since Tuesday, an immunized individual discovered during a medical screening, according to a base news release Friday. The naval base has seven COVID-19 patients.
U.S. Army Japan, headquartered at Camp Zama 26 miles southwest of central Tokyo, has reported one new coronavirus case since Oct. 6, a new arrival to Japan, according to an Army news release.
South Korea update
The U.S. military command in South Korea reported 31 people tested positive for COVID-19 between Sept. 30 and Oct. 7, according to a news release Friday.
Thirteen people developed symptoms of COVID-19: three service members and two Defense Department civilian employees at Camp Humphreys, three service members and a family member at Osan Air Base and three service members and a South Korean employee at Camp Casey, according to U.S. Forces Korea.
Contact tracing discovered another nine individuals between Oct. 1 and Oct. 7: one service member, a family member, two civilian contractors and a South Korean employee at Humphreys; a service member at Osan; a service member at Daegu; and one service member and a South Korean employee at Camp Casey, USFK said.
Surveillance testing discovered five cases between Oct. 3 and Oct. 7: three service members at Humphreys, one at Camp Casey and one at Camp Hovey.
Medical evaluations turned up three at Camp Casey between Sept. 30 and Oct. 4: a family member at Humphreys and one service member and one South Korean employee at Camp Casey, according to USFK.
Finally, one service member at Kunsan Air Base tested positive Oct. 5 prior to a flight off the peninsula.