Archbishop says Catholics in military can say no to vaccine if they have objections of conscience
by
John Vandiver
Stars and Stripes
October 13, 2021
Roman Catholic service members may refuse the coronavirus vaccine if they have a conscientious objection to the inoculation, which in certain cases was developed with cell lines derived from abortions, the archbishop for the military services said Tuesday in a statement.
Timothy P. Broglio, who heads the archdiocese in the United States, reiterated the Catholic Church's position that it is "morally permissible" to receive the COVID-19 vaccinations available in the U.S., the statement said. But that doesn't preclude a person from forming a sincerely held religious belief to the contrary, Broglio said.
"Accordingly, no one should be forced to receive a COVID-19 vaccine if it would violate the sanctity of his or her conscience," he said.
Broglio's statement, first reported by Defense One, comes as the Pentagon moves ahead with a mandate for all troops to be fully vaccinated by late November, barring medical or religious exemptions.
Broglio singled out the Johnson & Johnson vaccine as "more problematic" than its counterparts from Pfizer and Moderna. That's because the former was developed, tested and produced with abortion-derived cell lines, he said.
"If it were the only vaccine available, it would be morally permissible," Broglio said. "But the faithful Catholic is to make known his or her preference for a more morally acceptable treatment."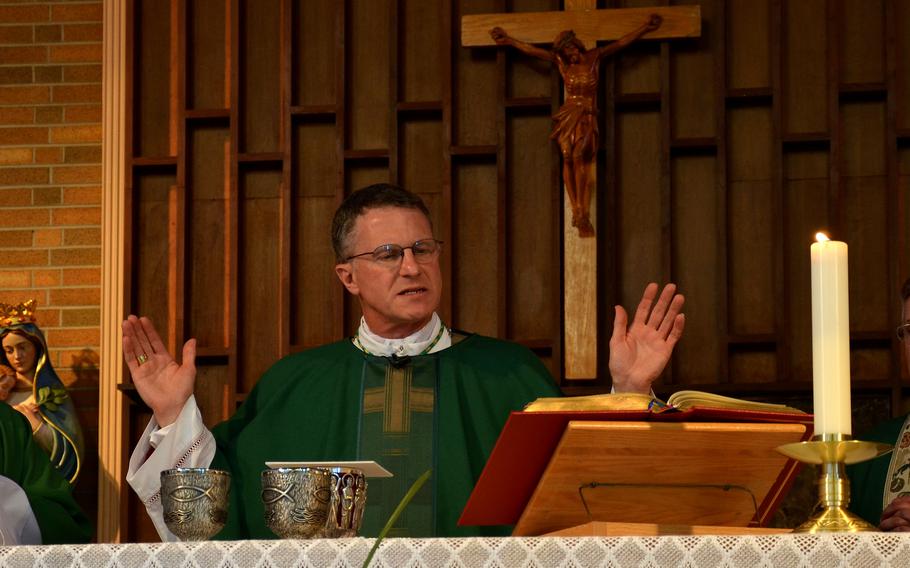 Broglio added that although the Pfizer and Moderna vaccines had been tested using a cell line derived from abortions, that type of linkage is considered "remote material cooperation with evil" and therefore "is never sinful."
The Vatican's Congregation for the Doctrine of the Faith said in December that taking a vaccine derived from a fetal cell line did not constitute "formal cooperation with abortion."
COVID-19 vaccines do not contain fetal cells. The cell line used for certain vaccine development came from two abortions in the 1970s and 1980s, according to the Michigan Department of Health and Human Services website.
The cells from those decades continue to divide and "grow in a lab as a cell line," the website says.
Broglio said that those who refuse vaccines must take steps to mitigate the spread of the coronavirus for the sake of the "common good" by wearing face coverings, practicing social distancing, undergoing routine testing and quarantining.
In addition, those troops should remain open "to receiving a treatment should one become available that is not derived from, or tested with abortion-derived cell lines," Broglio said.
So far, 96.7 % of active-duty personnel have received at least one vaccine dose, while 83.7% are fully vaccinated, Pentagon spokesman John Kirby said Tuesday.
Medical exemptions from COVID-19 vaccination for service members must be approved by a health care professional. Religious exemptions are granted or denied by the military services.