US military bases near Tokyo ease coronavirus restrictions as case numbers continue to fall
by
Joseph Ditzler
Stars and Stripes
September 24, 2021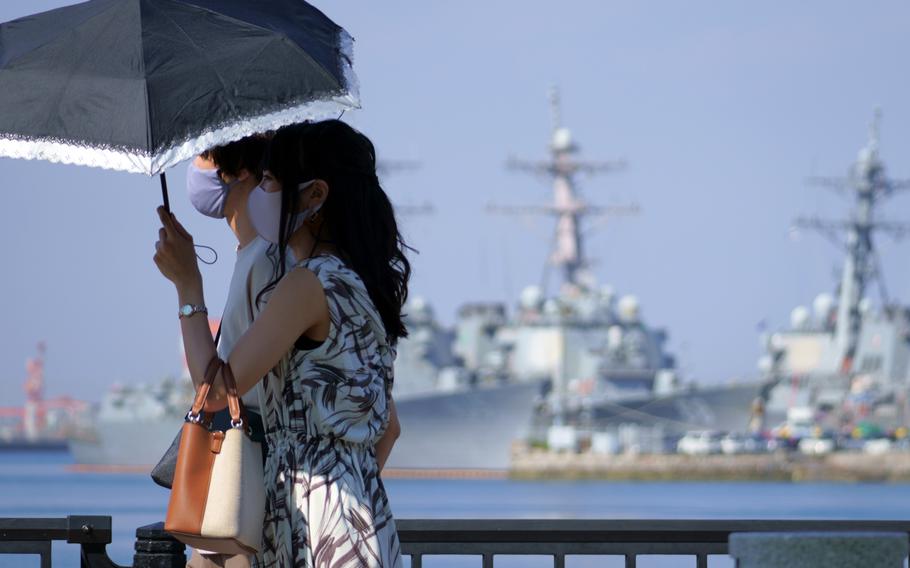 TOKYO — The falling number of COVID-19 cases in Japan's capital city prompted U.S. military bases in the metropolitan area to ease travel restrictions meant to curb the virus' spread.
Tokyo reported 235 people had tested positive for the coronavirus Friday, according to public broadcaster NHK. That is the lowest daily case count since 188 on Nov. 24, according to metro government data.
The seven-day average of new cases is at 469.3, below 500 for the first time since June 29, NHK reported.
However, the number of seriously ill COVID-19 patients is still relatively high at 139, though that number continues to fall, according to NHK and metro data online.
Yokota Air Base, the headquarters of U.S. Forces Japan in western Tokyo, on Thursday lifted a prohibition on its personnel visiting the central wards of Tokyo. The measure was imposed as the most recent and severe wave of COVID-19 swept the area.
Likewise, Yokosuka Naval Base and the Army's Camp Zama, in neighboring Kanagawa prefecture, lowered their risk levels for Tokyo, permitting more travel and activities there. Naval Air Facility Atsugi maintained its off-limits order for Tokyo but lowered it for parts of the surrounding Kanagawa.
"We've observed a dramatic drop in cases around the whole region, that reduction has resulted in the low-threat opening of activities and travel in almost every city in Kanagawa, save for about six spots," NAF Atsugi's commander, Capt. Manning Montagnet, said in a Facebook video Thursday. "But we're essentially green in all our surrounding cities."
Some restrictions still apply, and authorities reminded their commands that the area is under a state of emergency imposed by the government of Japan until Sept. 30.
U.S. military installations in Japan reported another 29 new cases of COVID-19 for the week. Kadena Air Base on Okinawa accounted for most of those — 24 since Sept. 18 — according to a weekly summary Friday on its website.
Yokota reported four new infections since Tuesday, according to the weekly summary on the base website. One person, a new arrival to Japan, came up positive while on restricted movement. The remaining three were identified as close contacts of another infected individual.
The base has 17 patients under observation by medical authorities.
Yokosuka, the homeport of the Navy's 7th Fleet, reported one new case since Tuesday, according to a Friday news release. That individual, who is immunized, had fallen ill with COVID-19 symptoms. The base is monitoring three coronavirus patients.
Okinawa prefecture, where the bulk of III Marine Expeditionary Force is stationed, reported 61 new cases and four deaths, according to the prefectural Department of Public Health and Medical Care.
Japan on Tuesday reported 3,604 newly infected people and 49 deaths related to COVID-19, according to the Johns Hopkins Coronavirus Resource Center. More than half, 55%, of Japan's population, or nearly 70 million people, are fully vaccinated.
Stars and Stripes reporter Mari Higa contributed to this report.