CDC advisers considering who should get Pfizer coronavirus booster
by
Lena H. Sun and Laurie McGinley
The Washington Post
September 23, 2021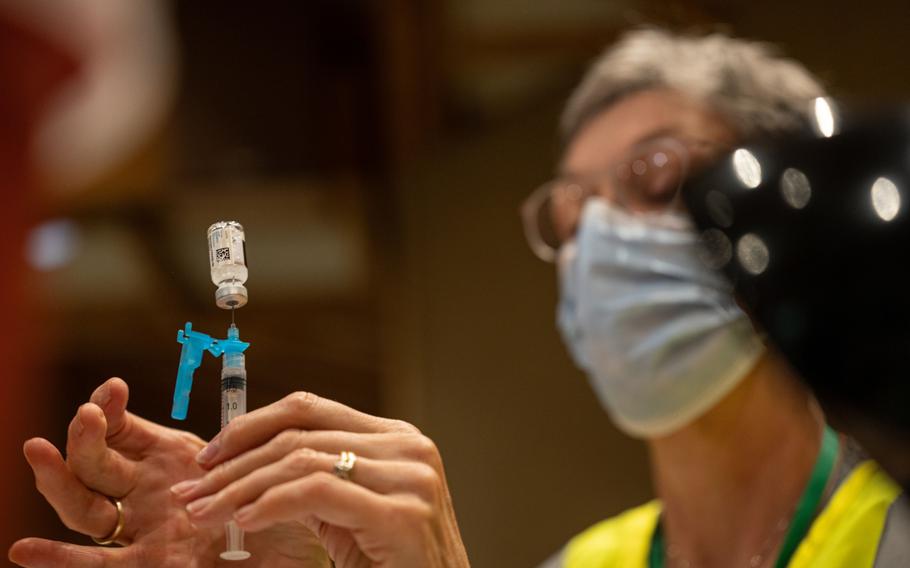 A federal advisory panel to the Centers for Disease Control and Prevention is meeting Thursday to recommend who should get a booster shot of the Pfizer-BioNTech vaccine.
The panel is expected to provide additional guidance following the Food and Drug Administration's action Wednesday authorizing Pfizer boosters for people 65 and older and for adults at high risk of severe illness from the coronavirus, including people, such as teachers and health-care and grocery store workers, whose jobs put them at higher risk of infection.
CDC director Rochelle Walensky is expected to accept the recommendation of the Advisory Committee on Immunization Practices within hours, paving the way for tens of millions of adults to get a third Pfizer shot six months after completing the original two-shot regimen. The shots are expected to be available immediately at locations where the Pfizer vaccine is already being administered, including pharmacies, clinics and some doctor's offices.
"You are tasked with difficult decisions — weighing the risks and benefits, extrapolating from sometimes a wealth and sometimes a paucity of data available, applying an equity lens to your actions, and doing all of this while reflecting on your own experiences on the pandemic front lines," Walensky told committee members before they began deliberations. "What has been your north star, and what drives my own thinking every day, is a commitment to follow the science to improve the health of as many Americans as possible."
She added: "Like you, I am approaching this decision with an interest in doing what is right for public health. And, like you, I can't close my eyes to my experience as a clinician. Collectively, we want to do what is right for the millions of Americans over the age of 65 or in long term care facilities who are at high risk for severe complications of COVID-19. And like you, I'm also thinking about the 25-year-old man with cystic fibrosis who may walk into our clinic, nervous about his risk of one more hospitalization. And, also of the 35-year-old pregnant resident physician, working in a Tennessee ER, and with a 1-year-old at home.
"It is in these complicated decisions where ACIP has always led, valuing safety, equity and access for those at risk, and it's here where I am grateful for your guidance," Walensky said.
Walensky also said the administration's collective goal is to protect as many people as possible from infection, hospitalization and death.
Some experts said the FDA's action Wednesday was somewhat unusual because the regulatory agency typically determines whether a vaccine is safe and effective for a broad group, instead of designating certain groups as eligible, while the CDC's vaccine panel focuses on recommending which groups should get it.
The CDC panel has been grappling with that recommendation. Panel members have said boosters should be prioritized for people who were among the first to be vaccinated, including health-care workers, people in nursing homes and the elderly.
But because the FDA authorization pertains only to third doses of the Pfizer-BioNTech vaccine, and federal guidance encourages consumers to get boosters from the maker of their original doses, many policy questions remain about implementation. State health officials, hospital administrators and clinicians need guidance now, they say, on whether they can mix and match booster shots from the two other authorized vaccines, Moderna and Johnson & Johnson.
Federal officials have suggested clearance of booster shots for Moderna and Johnson & Johnson could happen in a few weeks.
An estimated 26 million people are at least six months past their second Pfizer dose, according to the CDC. About half are 65 and older. Another 23 million people are at least six months past their second Moderna shot, and about 3.3 million people are at least six months past their one shot of the Johnson & Johnson vaccine.
The Biden administration had been hoping it could offer boosters beginning this week to any fully vaccinated adults eight months after their second shot to reduce viral transmission and curb the pandemic. That broad plan ran into opposition from outside experts and some of the government's own vaccine scientists, who argued that two doses of the vaccines still offer robust protection against serious illness and hospitalizations, even if some data indicate waning protection against less serious cases.
Administration officials Thursday said they were privately hoping the CDC and its advisers would make a recommendation similar to, or at least compatible with, the FDA's authorization so that the government did not deliver differing, confusing messages on who should get the booster and when.
How the committee defines the high-risk populations described in the FDA's authorization "will shape the degree to which this first phase of the booster rollout is seen as a narrow, targeted effort to reach only a few slices of the Pfizer-vaccinated population or something closer to the start of open season for booster doses," said Jason L. Schwartz, associate professor of health policy and the history of medicine at the Yale School of Public Health.
The panel's recommendations "will shape how public health officials talk about the importance of a third dose, and how two doses of an mRNA vaccine are viewed in terms of the adequacy of protection it provides, overall," Schwartz said in an email Thursday.
Consumers are already confused, he said.
"This has to be far from what the White House wanted, as the events of the past month have created so much confusion surrounding the necessity and urgency of boosters for the fully vaccinated, while taking attention away from the much more pressing need to reach the tens of millions of Americans who are eligible for vaccination but have yet to receive their initial doses," Schwartz said.
From a practical standpoint, experts said the actions are likely to allow for anyone 18 or older to get a booster shot. Consumers are not required to get a prescription or a letter from their doctors.
"In reality, anyone who wants a booster will get one as has already been happening," said one federal health official who spoke on the condition of anonymity because they were not authorized to speak publicly.
Federal health officials have already authorized a third shot of Pfizer and Moderna vaccines for people with weakened immune systems, such as cancer patients and organ-transplant recipients.
This is a developing story. It will be updated.