Tokyo announces 4,220 new COVID-19 cases; US military in Japan reports 56
by
Joseph Ditzler
Stars and Stripes
August 24, 2021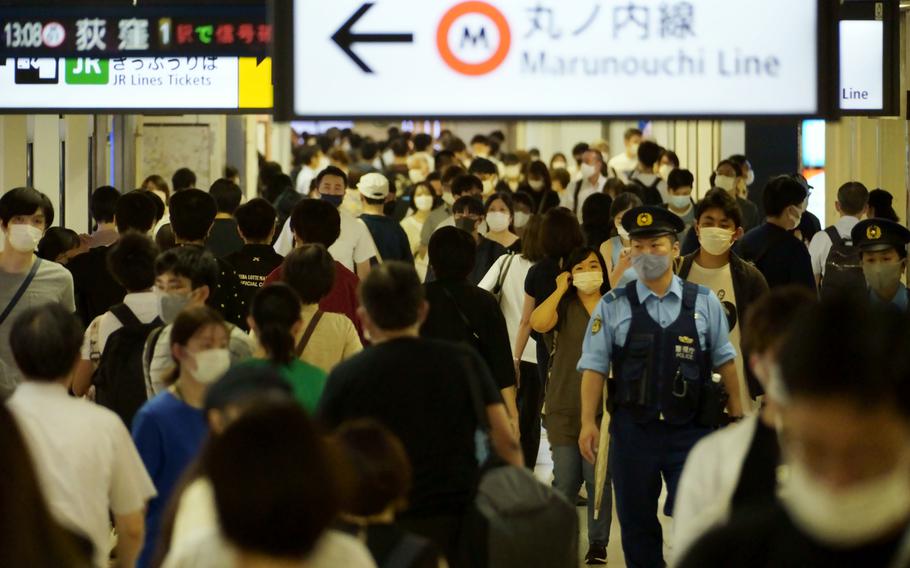 TOKYO — The capital of Japan reported another 4,220 people infected with coronavirus Tuesday, the opening day of the delayed 2020 Paralympics.
For a second consecutive day, the number of new cases in Tokyo was less than a week ago, according to public broadcaster NHK and the metropolitan government. Tuesday's count was 157 fewer than the same day last week.
Japan reported 16,943 new cases of COVID-19, the coronavirus respiratory disease, and 32 related deaths on Monday, according to the Johns Hopkins Resource Center. The country has fully vaccinated 52 million people, or 41% of its population.
U.S. military bases in Japan reported 56 new COVID-19 cases on Tuesday.
The Marine Corps on Okinawa had 27 people test positive within the past day, according to a Facebook post by Marine Corps Installations Pacific. The Marines have reported 154 new infections so far this month.
Okinawa prefecture is seeing its own record-breaking surge and reported 750 cases Tuesday, according to the Department of Public Health and Medical Care. The infection rate — 308.46 per 100,000 people — is the highest among Japan's prefectures.
The virus is reaching especially into younger age groups, according to Okinawa Gov. Denny Tamaki.
COVID-19 is affecting Marines, civilian employees and family members, a spokesman for III Marine Expeditionary Force told Stars and Stripes by email Tuesday.
"That said, we are seeing an increased transmission rate among cohabitants isolating with a COVID positive case," wrote Capt. Gabriel Adibe.
The Marines expect service members and civilians on Okinawa "to take this deadly disease seriously," he said. "We are in this fight together, and it takes all hands to fight the virus."
Farther north, 28 cases have popped up at Yokosuka Naval Base, homeport of the 7th Fleet south of Tokyo, since Friday, according to a news release from the base.
Ten unimmunized people affiliated with the Navy tested positive: nine after falling ill with COVID-19 symptoms and one during contact tracing. Six unimmunized base employees also tested positive after falling ill, according to the base.
Another 12 immunized people affiliated with the Navy tested positive after falling ill.
The naval base is monitoring 68 people with the virus. The summer caseload there has increased from 12 in June to 107, so far this month.
Marine Corps Air Station Iwakuni, south of Hiroshima, had one person in restricted movement tested positive, according to a base news release Tuesday. The base has reported seven cases so far this month.
Stars and Stripes reporter Mari Higa contributed to this report.