Guam announces proof-of-vaccine mandate; Air Force lifts ban on bars, nightclubs
by
Matthew M. Burke
Stars and Stripes
August 23, 2021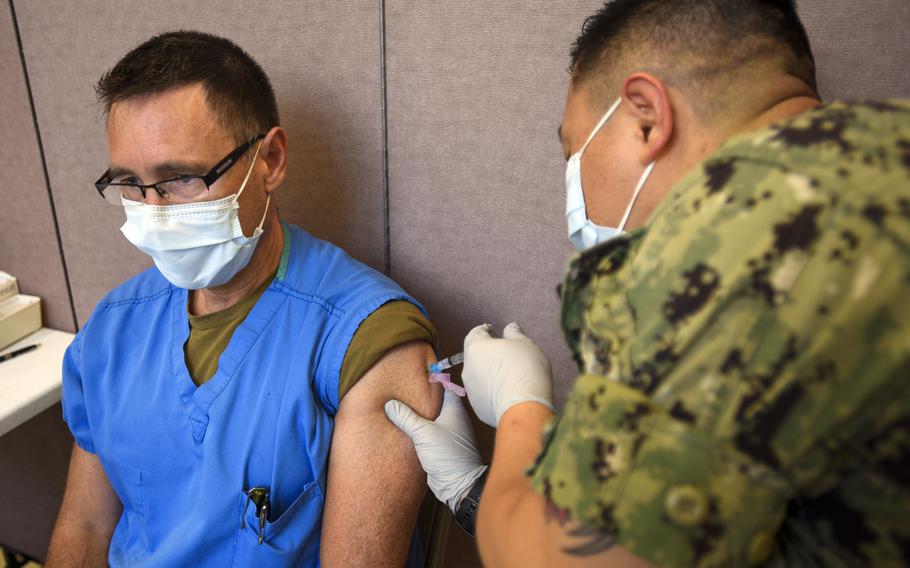 The territorial government on Guam is imposing a proof-of-vaccination policy for myriad activities, from movie theaters to ocean cruises, starting Labor Day.
Gov. Lou Leon Guerrero signed an executive order Friday requiring businesses and large gatherings to check for proof of vaccination from clients and participants ages 12 and older. Anyone without proof will be denied service, according to the order.
About 80% of the island's 169,000 people are vaccinated. But tens of thousands of people remain unvaccinated, "which renders them still vulnerable to infection, to suffering severe symptoms once infected and to infecting others," Guerrero wrote in her order. "It is beyond reasonable dispute that these vaccines save lives."
The commander of Andersen Air Force Base on Aug. 17 relaxed prohibitions on service members at Andersen visiting clubs, bars and lounges and lifted limits on gatherings, according to a post Wednesday on Andersen's official Facebook page. Brig. Gen. Jeremy Sloane had imposed those restrictions Aug. 5 amid a rising spate of new coronavirus infections.
"We have successfully plateaued the rise in COVID-19 cases" on the base, Sloane wrote on Facebook. But, he added, "the island continues to experience a high number of positive cases."
Sloane asked service members at Andersen to maintain mask discipline and make smart decisions when it comes to large gatherings and confined spaces like bars.
About 76% of Defense Department employees including service members on the island are vaccinated, Joint Region Marianas spokeswoman Lt. Cmdr. Katie Koenig wrote in an email to Stars and Stripes on Monday.
Guam's proof-of-vaccination policy takes effect Sept. 6, according to the territory's Department of Public Health and Social Services. The department released guidance on the policy Saturday.
The policy affects anyone involved in a business or activity, including staff, employees, patrons and participants. It covers organized contact sports and competitions, theaters, museums, gyms, fitness centers and dance studios, as well as shopping malls, food courts, bowling alleys, concerts and other large gatherings. Also included are eating and drinking establishments with in-person, indoor and outdoor dining, except those at school facilities.
The vaccination status of each individual must be verified prior to entry, the memo said. Written "self-attestation," or vouching for oneself, will not be accepted as proof.
Anyone without proof may pick up take-out food, provided they wear a mask, or use the restroom on the premises, according to the department memo.
Acceptable proof includes a Centers for Disease Control and Prevention card, a copy of the card, a photo of the card on a phone or other electronic device, documentation from a healthcare provider, printed WEB-IZ documentation or a personal, digital COVID-19 vaccine record, according to the department memo.
A Guerrero spokeswoman did not respond to an email request seeking comment on Monday.
Guam has seen a spike in COVID-19 cases in recent weeks from a handful of cases a day to dozens. The health department reported 51 new cases on Sunday, compared with 14 cases the month prior, Guam's Joint Information Center said.
Guam has accounted for 9,394 cases of the coronavirus during the pandemic, according to the Joint Information Center on Sunday.
The infection rate within the U.S. military on Guam has generally trended along with the local population, Koenig wrote. Summer exercises that brought visiting American, British and Japanese troops led to a spike in cases.
Koenig said the military is monitoring 83 infections, 35 of which occurred in vaccinated individuals.