Another 5,000-plus new coronavirus cases in Tokyo; 24 for US military in Japan
by
Joseph Ditzler and Hana Kusumoto
Stars and Stripes
August 18, 2021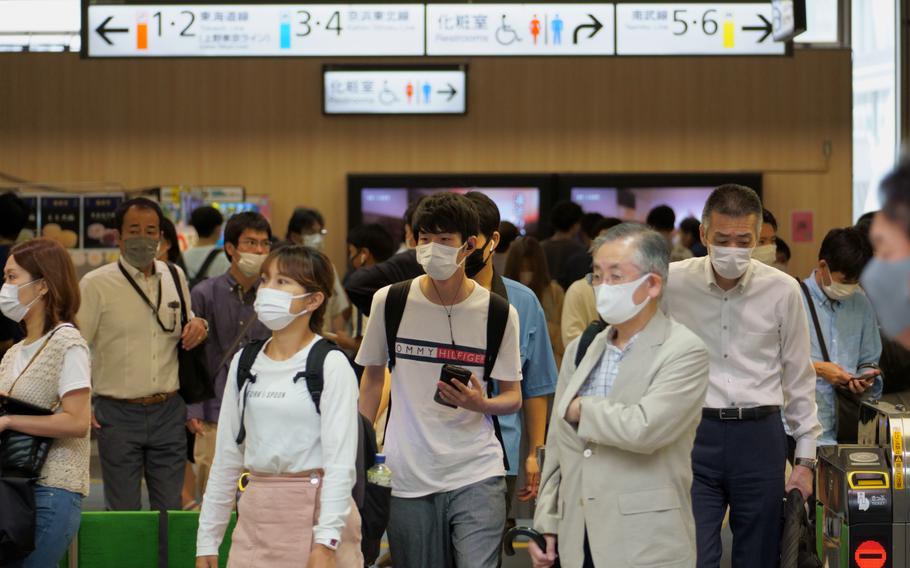 TOKYO — The coronavirus pandemic appeared far from relaxing its grip Wednesday on Japan's capital city, one of the world's largest metro areas, where the one-day count of newly infected people exceeded 5,000 for the fourth time this month.
The Tokyo Metropolitan Government reported 5,386 people had tested positive Wednesday, the second-highest one-day total of the pandemic, according to public broadcaster NHK and metro government data. Six people died of complications of COVID-19, the coronavirus respiratory disease, according to NHK, citing metro sources.
The seven-day moving average, 4696.6, is the highest it's been during the pandemic.
Meanwhile, U.S. military commands in Japan and South Korea reported 38 people newly infected with the virus. Four bases in Japan accounted for 24 cases.
U.S. Army Japan said 13 people have tested positive for COVID-19 between Aug. 11 and Wednesday, according to an Army news release. Five fell ill with symptoms of the disease, three were in restricted movement as new arrivals to Japan and five had been quarantined as close contacts, the Army said.
The Marine Corps reported eight new COVID-19 cases within its community on Okinawa, according to a Facebook post Wednesday by Marine Corps Installations Pacific.
Sasebo Naval Base, on Kyushu Island, identified two newly infected individuals on Tuesday, according to a Facebook post by the base on Wednesday. Marine Corps Air Station Iwakuni, south of Hiroshima, said one person there tested positive, according to a news release Wednesday.
In Tokyo, many infections occurred in younger age groups: 1,661 cases among people in their 20s, 1,137 among people in their 30s and 892 among people in their 40s, according to NHK.
Japan reported another 19,860 infected people, just shy the record Aug. 13 of 20,400, and 47 deaths, according to the Johns Hopkins Coronavirus Resource Center on Wednesday. Nearly 38% of Japan's population are fully vaccinated.
Prime Minister Yoshihide Suge, at a news conference Tuesday, promised to secure more hospital beds and hotel rooms, among other measures, for people who need treatment and space in which to recover.
The national government has called on department stores and shopping malls to limit the number of shoppers, and asked people to limit their trips to crowded areas. Suga also called businesses to promote teleworking and limit those going to work by 70%.
"We are in a critical state," he said.
Tokyo and the three prefectures surrounding the city, along with Osaka and Okinawa are under a state of emergency until mid-September. Another seven prefectures, including Kyoto, are set to join that list on Friday.
Okinawa reached another one-day high Wednesday with 761 new cases, exceeding the prior peak on Saturday, 752.
South Korea update
In South Korea, the U.S. command on Tuesday reported 14 of its people tested positive for the virus between Aug. 10 and Monday.
Two service members at Osan Air Base, and one each at Camp Humphreys, Daegu Garrison and on temporary duty in South Korea fell ill with COVID-19 symptoms between Friday and Monday, according to a U.S. Forces Korea news release.
A family member at Osan also fell ill; four at Daegu and one at Humphreys were discovered during contact tracing, according to USFK. One family member at Osan tested positive Aug. 13.
Two South Korean employees, one at Daegu and one at Humphreys, tested positive on Aug. 12, USFK said.
Stars and Stripes reporter Mari Higa contributed to this report.