'They will never be forgotten': Yokosuka honors 2017 Navy collision victims, other fallen sailors
By
Stars and Stripes
September 22, 2022
---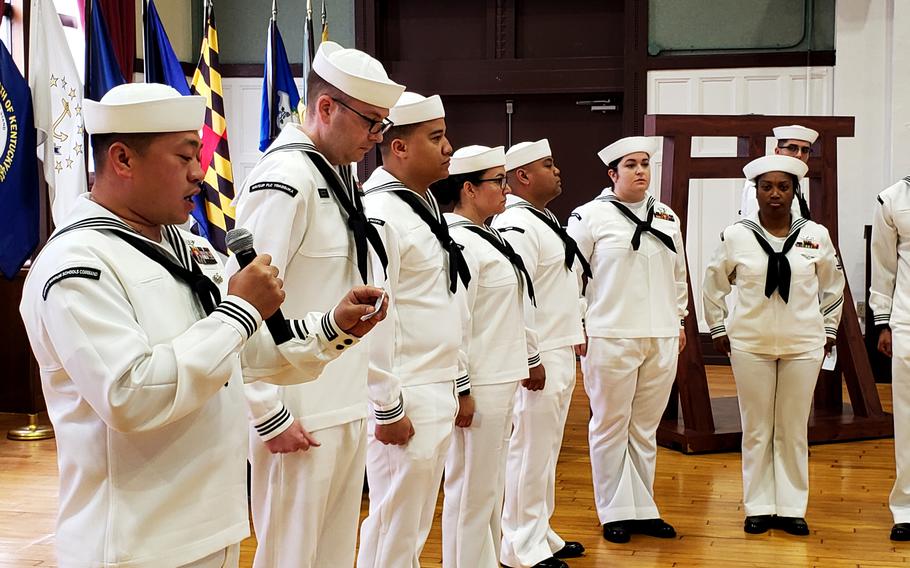 YOKOSUKA NAVAL BASE, Japan — Dozens of white flowers were carefully placed at a memorial service here Thursday as guests recalled the sailors who lost their lives this year and in destroyer collisions in 2017.
Around 50 sailors and civilians, including three Gold Star families, gathered inside an auditorium on Command Hill at Yokosuka to take part in the memorial, part of the Navy Gold Star Program's Bells Across America for Fallen Service Members.
Following a prayer and remarks from base commander Capt. Les Sobol, sailors in dress whites read out the names of more than 180 sailors who died this year across the Navy.
At the end of the ceremony, the sailors and other guests were encouraged to place flowers in front of a list of the names and bow, mirroring a Japanese funerary practice called "kenko."
"I think in our day in and day out, it's easy to get lost in what's urgent versus what's important," Yokosuka's chaplain, Cmdr. David Kim, told Stars and Stripes after the ceremony. "It's times like this where we can pause and remember and just remind each other as a community that we're here for each other."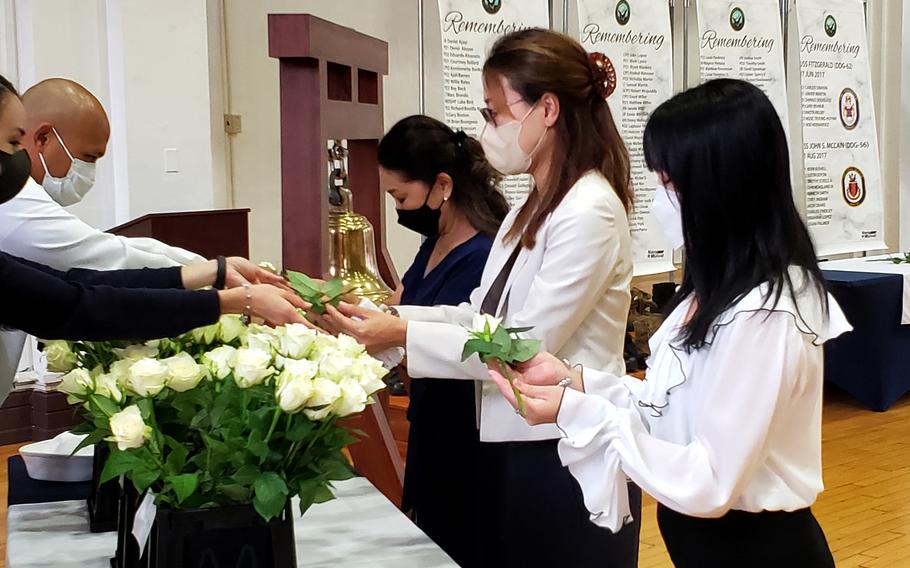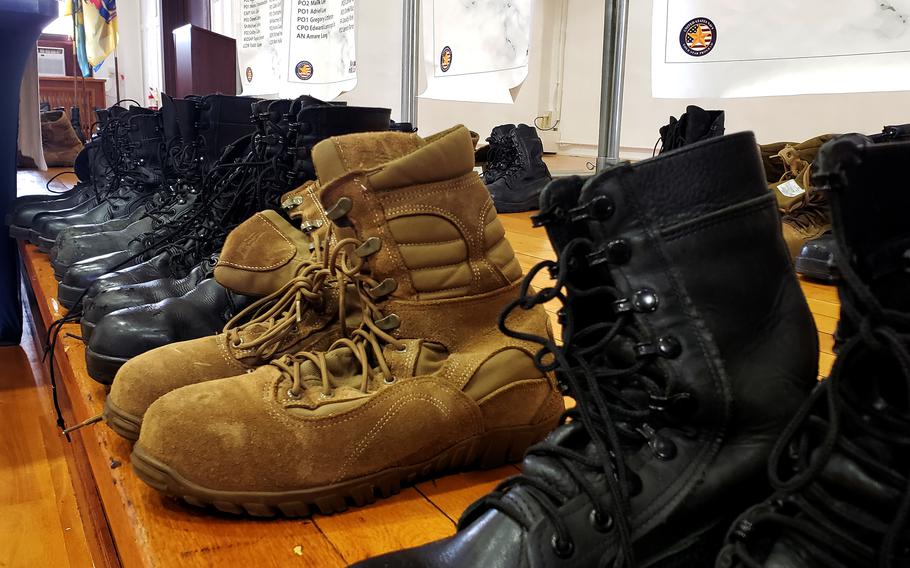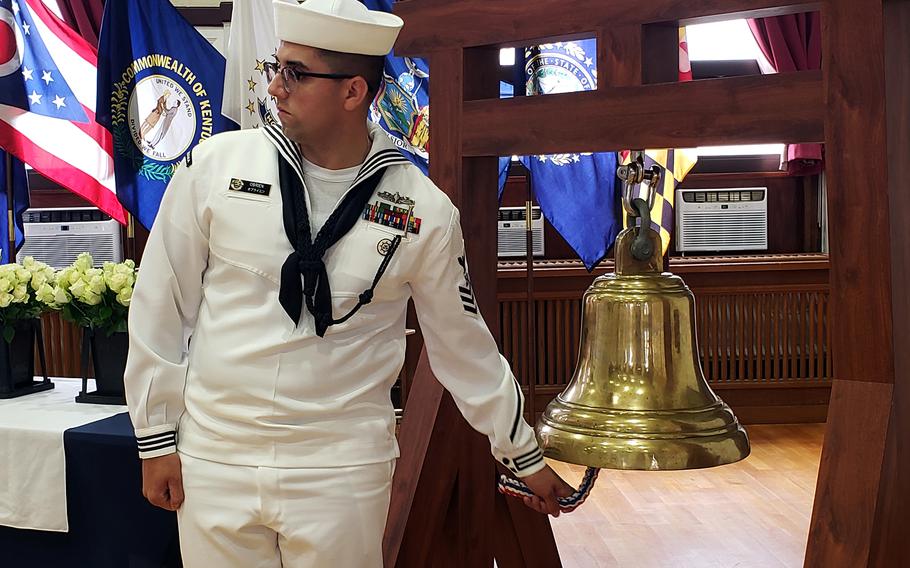 This year marks the seventh annual Bells Across America memorial worldwide, but just the second commemoration at Yokosuka, which started the practice last year.
The ceremony also remembered the 17 sailors who died aboard the USS Fitzgerald and the USS John S. McCain in 2017.
In June of that year, the Fitzgerald collided in Japanese waters with a Philippine-flagged container vessel, killing seven sailors. Just two months later, 10 sailors died aboard the McCain after the ship collided with a Liberian-flagged tanker near Singapore.
Riho Findley, the wife of Chief Petty Officer Charles Findley, who died aboard the McCain, told Stars and Stripes that the years following the collisions were extremely difficult for her and the other families.
After the Fitzgerald and McCain shifted their homeports in the United States, it was even easier to feel forgotten, she said.
"But today, I felt that people were actually taking the opportunity to remind everybody that family members of the ships' sailors are still here," she said.
Sobol said service members and their families will never be forgotten.
"It's my sincere hope that this serves as a reminder that they're still part of our team and that we care for them deeply and we'll never forget the sacrifice of their family members," he told Stars and Stripes after the ceremony.
Makiko Walker, wife of Chief Petty Officer Demond Walker, and Kaori Thomas, wife of Petty Officer 2nd Class Adam Thomas, expressed thanks that their husbands' memories were also being honored.
Adam Thomas died last year following a motorcycle accident; Demond Walker died while on overnight duty in 2015.
"Today means a lot to me because my husband passed away seven years ago; in daily life, it sometimes feels like everyone else has moved on and I'm the only one remembering him," Walker said. "So, today, this is like we're remembering our fallen heroes and we're keeping their memories alive."
---
---
---
---