Amerigo the beautiful: 60 years later, another US aircraft carrier sails with historic Italian ship
By
Stars and Stripes
September 6, 2022
---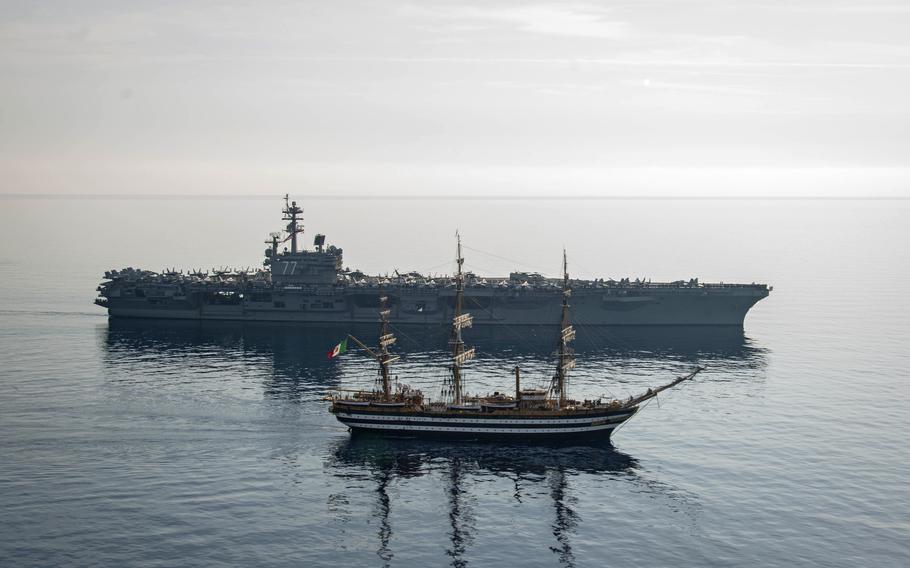 NAPLES, Italy — The aircraft carrier USS George H.W. Bush recently sailed alongside the Italian navy's Amerigo Vespucci, a historic reenactment some six decades in the making.
The carrier hailed Vespucci in the Adriatic Sea on Thursday, U.S. Naval Forces Europe-Africa/U.S. 6th Fleet said in a statement.
The Italian three-mast ship, launched in February 1931, identified itself by name and as "a senior national vessel in active duty."
"Amerigo Vespucci, you are still the most beautiful ship in the world," the George H.W. Bush replied.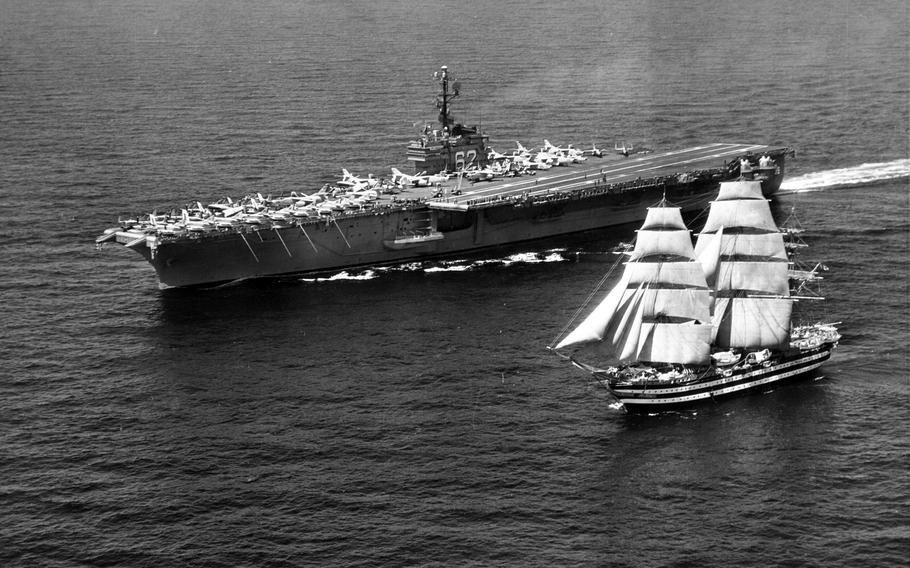 The exchange re-created similar events on July 12, 1962, when the aircraft carrier USS Independence sailed past the full-rigged Vespucci in the Mediterranean Sea, calling it the most beautiful ship in the world, according to the statement.
Vespucci, a namesake of the famous Italian explorer for whom America is named, is homeported in La Spezia, Italy, according to the Italian navy website.
It is the oldest unit in service in the Italian navy and serves as a training ship for Italy's naval academy sailors, among other students, the website states.
Italian navy Capt. Max Siragusa, commanding officer of Amerigo Vespucci, said the re-creation was a fitting capstone to his naval career that includes traveling aboard the ship to the U.S. in 1992 and, later, serving on the USS Abraham Lincoln in the Persian Gulf as part of a one-year exchange with the U.S. Navy.
The event also was meaningful for sailors aboard George H.W. Bush.
"This was an amazing opportunity to honor and reinforce the partnership between our two navies, our countries, and the legacy of U.S. Navy aircraft carriers in maritime diplomacy," said Capt. David-Tavis Pollard, commanding officer of George H.W. Bush.
The George H.W. Bush Carrier Strike Group recently deployed to U.S. 6th Fleet, part of a U.S. and NATO effort to reassure allies in response to Russia's war on Ukraine. Last month, George H.W. Bush relieved the Harry S. Truman Carrier Strike Group, which had been on duty in the region since December.
---
---
---
---